And then there were some
By Fang Aiqing | China Daily | Updated: 2020-05-23 11:42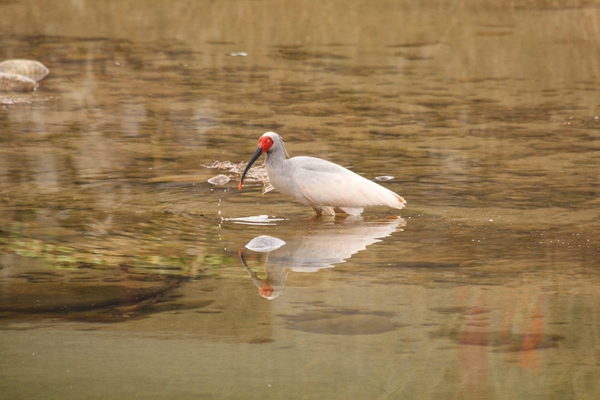 When construction was in full swing in the years of Japan's economic boom, Sato lobbied the government to promote the importance of protecting the bird that had become an emblem of Sado Island, to ban hunting in certain areas and to reduce the use of pesticides.
From then it became a joint effort of the islanders. They guaranteed some water fields not covered with snow in winter and cultivated loaches in pesticide-free environment. They scattered so many loaches into the fields that the crested ibises could still find something to eat after the crows scared them away and took a share of their food.
Donations and letters for Sato flooded in from around the country.
Because Sato and Takano had both taken care of injured crested ibises for a time, from the late 1960s Japanese people began to nurse hopes that artificial rearing and reproduction could help save the bird from extinction. Debate about whether to let the last birds breed in the wild or in captivity with the help of technology raged in those years.
In 1967 a crested ibis conservation center was built in the Shimizudaira area of the island, near Takano's hometown, and he joined in the work there. It was he who years earlier had told Sato, who favored artificial reproduction, that it was unlikely to work. Eventually Sato became an opponent of artificial reproduction, while Takano joined in an effort using the method to save the birds.
In the same year a bird lover named Kintaro Uji befriended a crested ibis on the island, and over months of loving daily feeding and spending days watching over the bird gained its confidence. Eventually it was decided that the bird, named Kin in honor of Uji, should be taken from the wild for breeding, and in 1968 it became the conservation center's sole inhabitant.
Uji, who would die in 1984 aged 82, is said never to have got over his guilt for betraying his friend, and for years visited a shrine praying that it would live a long life and successfully give birth to offspring.
Considering the fact that most wild crested ibises failed to survive for long in the conservation center, later actions in Japan-including capturing fledglings, collecting bird eggs for artificial hatching, and capturing the remaining five wild crested ibises for artificial reproduction in 1981-may now seem draconian, even if those involved no doubt had the best of intentions.
The decision for maximum human intervention in protecting the last crested ibises was rooted in the fear that they could not protect themselves in the wild. At the same time the forces of economic development and environmental conservation competed with one another, even as there was a heightened public awareness of the cultural values that the bird embodied.
In 1981, when Japan's crested ibises seemed to be in their death throes, seven wild crested ibises were found in Yangxian county in Shaanxi province of China. The Chinese chose to let the healthy crested ibises multiply naturally. Only weaker ones would be brought up by humans, and the first successful artificial incubation took place in 1989.
Since 1985 the two countries have worked together to protect the species, Japan borrowing or introducing crested ibises from China, and China receiving technical support and donations from Japan.
More than 500 descendants of the seven crested ibises found in Yangxian county now live in Japan, Xinhua News Agency has reported.
Wang Xin, Chinese translator of Last Words of the Crested Ibis, says that at first he could not understand Sato's devotion and sacrifice for the crested ibis.
Wang says he eventually realized that the bird was a salve for Sato's World War II memories. Seeing his companions die on the battlefield, or being unable to be treated properly for their injuries, Sato learned to cherish life and treasure beauty.
On October 13, 2003, an obituary appeared in the Japanese newspaper The Asahi Shimbun. It began:"Japan's last crested ibis born in the wild died last Friday... on Sado Island."
That ibis was Kin, aged 36, which made it a centenarian in human terms, the paper said, adding that Uji's prayers for a long life for his friend had been answered.
On Sept 25, 2008, 10 captive crested ibises were released into the wild of Sado Island.
On seeing them, Sato said:"Today is the happiest day in my 60 years of protecting crested ibises. Before the last five Japanese-born crested ibises were captured I always worried about them on rainy, snowy and windy days. Twenty-seven years have passed, and the worries are back again."
In April 2012 three crested ibis chicks were hatched on Sado Island, the first time chicks had been hatched in the wild in Japan in 36 years, and the Japan Times reported that all three of the baby chicks briefly left their nest on May 27 that year.
Sato died in 2014 aged 95.