Chinese medical expert reunites with colleagues in Africa to fight pandemic
By ZHANG YU in Shijiazhuang, Hebei province | China Daily Global | Updated: 2020-05-28 09:17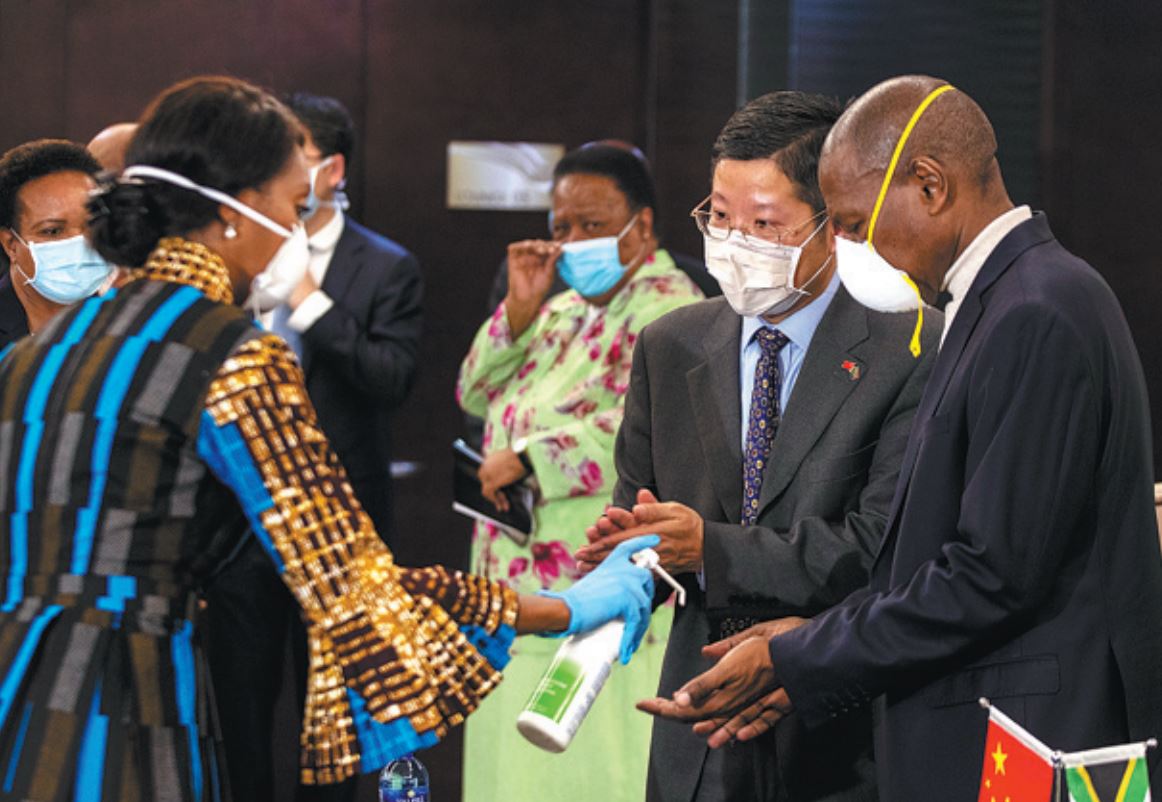 When Wang Junhui met with his old friends at Sino-Congo Friendship Hospital in Kinshasa, the capital of the Democratic Republic of Congo, after saying goodbye two years ago, he was so excited. But he also regretted that they couldn't hug each other as before.
"We must keep social distance to avert the infection risk," said Wang, who led a 12-strong team of medical experts from China's Hebei province to the DRC from May 12 to 23 to help the country fight COVID-19.
According to the Africa Centres for Disease Control and Prevention, as of Wednesday, the DRC-a country in Central Africa with a population of around 85 million-reported 2,546 COVID-19 cases, including 68 deaths and 365 recoveries.
"I worked at the hospital from 2016 to 2018 and was familiar with the country and its people," Wang said.
Back then, he was a member of a Chinese medical team sent to help the country improve its health services.
"They are so grateful for us coming at this critical time," Wang said.
Wang's team shared with the hospital staff the Chinese experience in management of isolation wards, methods of disinfection, and treatment of patients in critical condition.
During their 12-day stay, they attended almost 30 sessions, including experience sharing, the training of local medical and community workers, and helping the country to improve its capacity for nucleic acid tests.
They left for the Republic of Congo on Saturday for similar work, and will go to the Democratic Republic of Sao Tome and Principe on Sunday and then return to China on June 9.
Wang said he was impressed how colleagues in Africa had done a great job of combating the COVID-19 pandemic.
World Health Organization Director-General Tedros Adhanom Ghebreyesus has said Africa is so far the least-affected region of the world amid the pandemic, and the continent hasn't seen a mass outbreak, according to Xinhua News Agency.
Figures from the Africa CDC showed that as of Wednesday, the continent had reported a total of 119,391 confirmed cases of COVID-19, with 3,589 deaths and 48,618 recoveries.
The confirmed COVID-19 cases in Africa accounted for 1.5 percent of the world's cumulative number, and its deaths from the disease accounted for less than 0.1 percent of the global total, Ghebreyesus said.
Wang Xiaochun, a senior adviser on disease control with the Africa CDC, said, "Fast reaction and early strict measures are crucial to slow the virus spread in Africa."
He said that within a week of the first confirmed case in Africa on February 15, most African countries launched measures, including border closures, travel restrictions to and from specific countries, national and partial lockdowns, curfews and suspending of schools.
A relatively low mobility of people in Africa also helped lower the risk of transmission, he said.
Moreover, Africa has experience in responding to infectious diseases such as AIDS, malaria, cholera, dengue and Ebola. "Medics and the public are experienced in public health measures like contact tracing," Wang said.
Tedros said, "The knowledge and experience has played a vital role in Africa for rapidly responding to the COVID-19 pandemic."
However, a high risk of a mass outbreak in Africa still exists, since the continent has entered a stage of community transmission, during which it is difficult to trace the infection source and there is a rapid increase in infections, Africa CDC adviser Wang said.
According to Tedros, community transmission has appeared in about half of African countries and continues to expand.
Increased testing is a key strategy that Africa urgently needs to strengthen, he said, adding that early detection, isolation and treatment are important to curbing the spread.
So far, Africa had tested about 1.5 million of its 1.29 billion people. The African Union and Africa CDC have launched an initiative to increase the number to 10 million within four months, and have recruited a million community health workers for contact tracing.
"Although the risk of mass outbreak exists and Africa faces challenges like restricted testing ability and insufficient basic medical services, the African people have gotten confidence from China's practice against the disease," said Wang Xiaochun, the Africa CDC adviser.
China has sent medical supplies and assistance to more than 50 African countries and the African Union. Five teams of Chinese medical experts have also been sent to the Africa, President Xi Jinping said on May 18 in his address to the virtual opening of the 73rd session of the World Health Assembly, the decision-making body of the WHO.