Students from China target of visa action
By LIA ZHU in San Francisco | China Daily Global | Updated: 2020-05-29 16:34
The US is planning to cancel the visas of thousands of Chinese graduate students and researchers whom the Trump administration believe to have direct ties with China's military.
The latest move to restrict Chinese students was first reported by The New York Times on Thursday, citing two sources, including a current US official and another individual who was briefed on the administration's internal discussions.
The targeted students are those studying in the science, technology, engineering and mathematics (STEM) areas, due to an alleged technology-theft threat. But there was no direct evidence that pointed to wrongdoing by those students, US officials reportedly told the Times.
The visa cancellation could impact 3,000 to 5,000 Chinese students and researchers, and some of those affected might be working on important research projects, according to the report.
In the past few years, some senior officials in the Trump administration have portrayed Chinese studying in the US as a threat to national security. Some Republican lawmakers introduced bills that would require more reporting from colleges, universities and laboratories about funds from China, and also prohibit students or scholars with ties to the Chinese military from entering the US.
Three Republican lawmakers unveiled a new bill, the Secure Campus Act, on Wednesday to prohibit Chinese nationals from receiving visas to the US for graduate or postgraduate studies in STEM fields.
The legislation has received immediate pushback from universities in the US.
Calling the legislation "incredibly self-defeating and racist", Dino Villagran, associate professor of chemistry at University of Texas at El Paso, said, "I am absolutely confident that this will never see the light of day to become law".
"The racist Chinese STEM student visa ban that the GOP just introduced in Congress reflects some of the worst eras of US history. It is counterproductive to American peace and prosperity. It is fundamentally unfair and morally wrong," Seth Jacobson, assistant professor of planetary science at Michigan State University, wrote on Twitter.
Jack Ling, a Chinese graduate student in materials engineering at the University of Southern California, has been waiting for his visa in Shanghai since June 2019.
"I feel we are targeted," he told China Daily. "Since Trump took office, the government has been tightening the policies towards Chinese students step by step.
"I expect studying in the US will be more and more difficult. As to this latest visa ban, it's not clear how to define the 'direct tie' to Chinese military.
"No matter if it gets to be is implemented or not, I can see there'll be more restrictions on Chinese students in the high-tech areas," Ling said. "So we need to be prepared for even more ridiculous policies in the future. I plan to complete my study through the internet this fall.
Competent responses to the "threats" should not be directed at "students who want to study, enrich the university with their presence, and, on top of that, often subsidize costs by paying higher tuition rates", said Jacobson.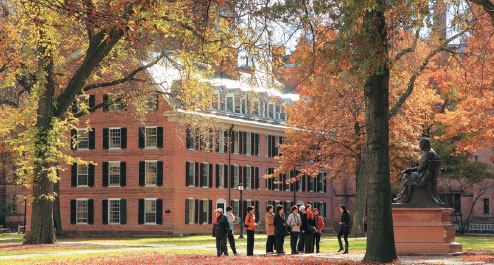 Chinese students in the US make up the largest international student population at American universities. There were more than 360,000 Chinese students in the US in the 2017-2018 school year, generating economic activity of about $14 billion, largely from tuitions and other fees.
Since 2018, the Trump administration has imposed restrictions on Chinese students, including reducing the validity of visas for Chinese students and scholars in certain "sensitive" fields. The restrictions have caused widely reported visa delays and denials and prolonged visa checks for Chinese students.
Many universities have reported declines in Chinese enrollment the past two years. The universities have come under increasing pressure from the FBI and other federal agencies to confront the accusations of intellectual property theft of government-funded research.
If the Chinese students in the US lose their visas, and those in China will not be allowed to return, the impact would be damaging to the students as well as the US colleges and universities, said Stanley Kwong, an adjunct professor at the University of San Francisco.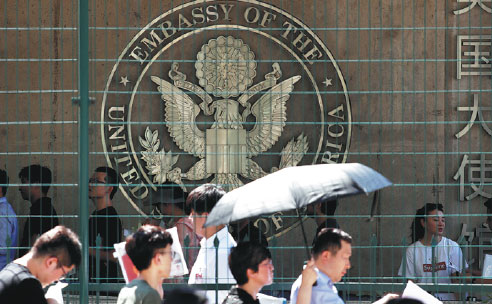 He said his students graduate students pay more than $60,000 in tuition per year. The financial impact would be greater on the universities in the Midwest, like the University of Illinois and Purdue University, he said.
Looking at Silicon Valley, foreign students, especially Chinese students in the STEM areas, also are a critical part of the science and technology workforce, said Kwong.
The 2019 annual STEM survey by Emerson, a Missouri-based technology and engineering company, shows that only 39 percent of Americans have felt encouraged to pursue STEM careers as industries continue to report they cannot find individuals with the skills required for today's advanced workplaces.
"Many of the Chinese grads and post-docs I know are incredible scientists, and wonderful people. They're very much responsible for keeping the STEM sciences moving forward," Jason Coral, a postdoctoral fellow at Indiana University, wrote on Twitter.
"This kind of ban would erode a longstanding research relationship, further degrade the US as a leader in research, and continue to spread fear, mistrust, and racism that have become the hallmarks of Trump's Administration and banners of his sycophants," he wrote.