Sephora, Alibaba team up to sell beauty products
By HE WEI | CHINA DAILY | Updated: 2020-05-30 08:18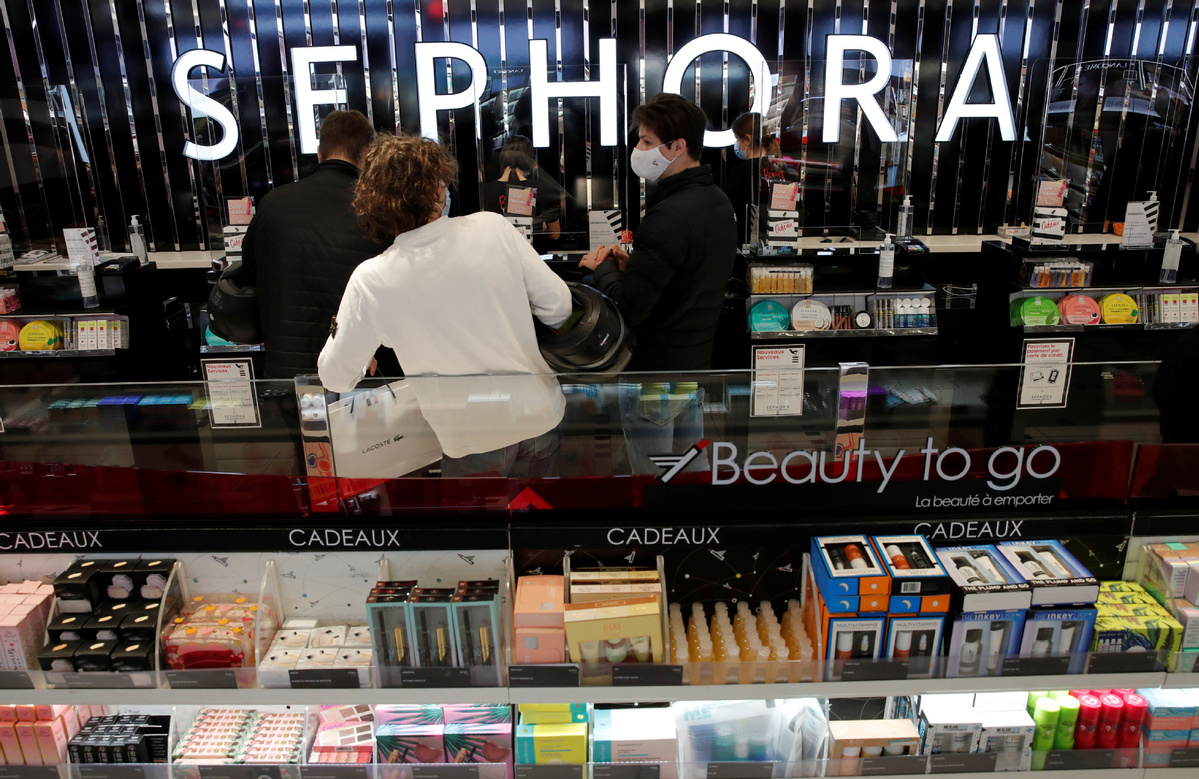 Global beauty retailer Sephora is responding to the increasingly sophisticated skincare demands and fast-changing consumer preferences by adding a new omni-channel presence in the Chinese market.
The recent launch of the Sephora Tmall Global Flagship Store, in a partnership with Alibaba Group's e-commerce site for imported goods, aims to "answer this craving appetite" for a growing portfolio of beauty products not yet familiar to Chinese customers, said Benjamin Vuchot, Asia president of Sephora.
He said the virtual store, which took nine months to put together, came at a time when COVID-19 further complicated people's skincare regime.
"When you are wearing a mask, you have less chances of showing the latest shades of lipstick available in the market. That is propelling your immediate purchase for yourself of something good and you look for yourself," he said.
The site was launched with a string of signature brands making their China debut. They include social media darling Natasha Denona, French independent perfume house Bon Parfumeur, and other brands which were previously not available in the local market.
Vuchot said the company is trying to "marry the cross-border digital offering with more tangible experiences" by introducing physical showrooms across 50 outlets nationwide. Customers in those outlets get to take a glimpse of items being sold online.
Online sales accounted for somewhere between 20 and 40 percent of Sephora's revenue, which varied by different locations. Prior to the Tmall store, the cosmetics retailer already introduced its namesake website, mobile app, as well as WeChat mini programs.
Vuchot said the company is looking to bank on Alibaba's data analytics prowess to bring more brands to the Tmall ecosystem by allowing them to tap into hundreds of millions of users.
"Combining Sephora's global brand resources with our technologies in 'New Retail' (that is, the merger of online and offline commerce), the tie-up is bound to bring customers a synchronized, rich variety of cosmetic products and experiences," said Liu Peng, president of Tmall's import and export business unit.
The pandemic has failed to deter international businesses from getting into China. Data from Alibaba showed that over 200,000 overseas new products made their debut on Tmall Global between January and March. The number of newly opened foreign stores jumped 3.27 times year-on-year.
Alibaba announced in April plans to import $200 billion worth of beauty products in five years and introduce 800 international beauty brands in one year. The platform also vowed to incubate new products with 10 cosmetics groups like L'Oreal, Shiseido and P&G.
The company is also embracing new tools such as livestreaming sessions to cater to the novel purchasing habits of Chinese shoppers.
Liu said the practice actually fits well with Sephora's knowledge-sharing tradition of the pre-mobile internet age, when beauty advisers shared skincare tips and make-up know-how with customers: "The technology helps to reach a bigger audience."
On another front, Sephora is actively incubating some Chinese local brands like WEI and Marie Dalgar Color Studio, providing them room for growth.
"There is an emergence of prestige China beauty, and we love to be part of their success by facilitating and creating partnerships," said Vuchot.
Chinese-born brands are rising strongly with massive growth potential, thanks to qualified products, strong word-of-mouth endorsements and real value, said Jason Yu, general manager of Kantar Worldpanel in China.
"To outperform in such a promising but challenging market, brands need to demonstrate expertise from ingredient-level communication, invest in social media, and innovate in 'disruptive' speed," he said.