Chinese experts honored in Serbia
China Daily | Updated: 2020-06-03 10:44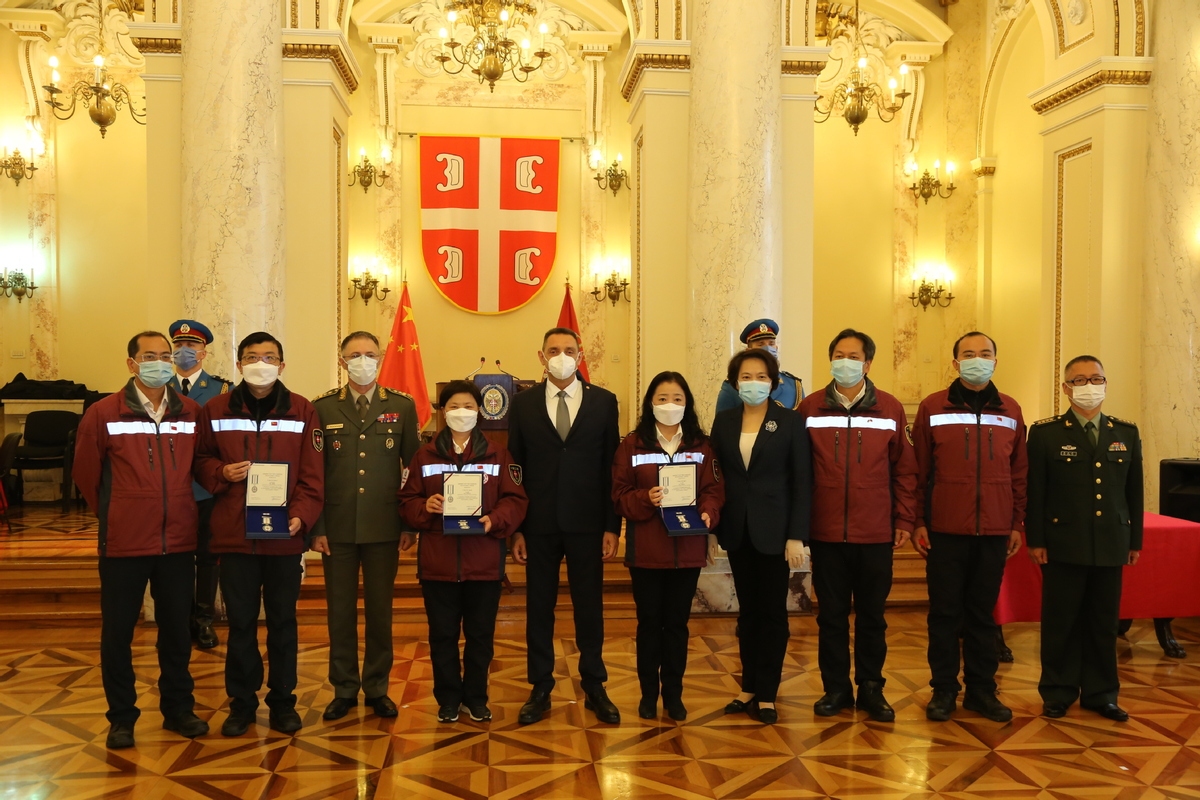 A further three members of a six-strong Chinese medical team sent to Serbia were awarded on Monday with military memorial medals for their assistance in fighting the COVID-19 pandemic.
The medals were awarded by Serbian Defense Minister Aleksandar Vulin to the three members, who arrived on May 4 to replace colleagues.
Following the award ceremony, Cheng Shouzhen, a member of the Chinese medical team, said she and her fellow experts have toured many places in Serbia, such as COVID-19 hospitals, elderly care facilities and child care centers.
"We shared our experience gained in China and especially in Wuhan. We openly exchanged suggestions and opinions in line with the current epidemiological situation about treatment of patients, abolition of the state of emergency, a gradual return to work and restarting production, as well as opening borders," she said.
Chinese Ambassador to Serbia Chen Bo congratulated the country on its excellent response to COVID-19, adding that the joint battle against the pandemic had strengthened the ties between the two countries.
"The Chinese expert medical team to Serbia became a symbol of the friendship between our two countries," Chen said.
Vulin thanked the Chinese experts for their help. "We learned from you as doctors, but also as human beings. You have demonstrated discipline, endurance and diligence," he said.
The Chinese team has been assisting Serbia in fighting COVID-19 since March 21. On May 6, Serbia lifted a state of emergency and recently opened its borders to visitors.
The novel coronavirus had infected 1,975,341 people and claimed 175,572 lives across Europe as of Tuesday, according to the European Centre for Disease Prevention and Control.
School reopening
In the United Kingdom, thousands of students were invited back to class on Monday as the government reopened schools for some age groups. But many parents chose to keep their children at home.
Monday's partial reopening was for pupils aged 4, 5 and 10, and came after schools were closed for 10 weeks to all but the children of key workers. Secondary schools are slated to partially reopen on June 15 but many students are unlikely to return to classes before September.
A survey of 1,200 school leaders by the National Foundation for Educational Research found only around half of parents planned to send their children to school, and 25 percent of teachers were likely to be absent due to health concerns.
At the government's daily news briefing on Monday, Health Secretary Matt Hancock said there had been an additional 111 deaths in the latest 24-hour period, taking the total to 39,045. It was the lowest daily death toll since the lockdown began on March 23.
Italy recorded 178 fresh cases in the latest 24-hour period, the lowest such figure since Feb 27, the Civil Protection Department said on Monday. The country has reported 233,197 cases with 33,475 deaths.
Meanwhile, the country on Monday released a controversial mobile app to trace coronavirus infections in four regions before extending it to the whole country, despite widespread resistance from people concerned about an invasion of privacy.
Separately, the Netherlands on Monday reopened restaurants, cafes, theaters, concert halls, museums and cinemas after two and a half months.
"We are taking the second step in easing the anti-coronavirus measures today," Dutch Prime Minister Mark Rutte said on Twitter.
Earle Gale in London, Xinhua and agencies contributed to this story.