Past helps build the future, forum told
By Wang Kaihao | China Daily | Updated: 2020-06-16 07:56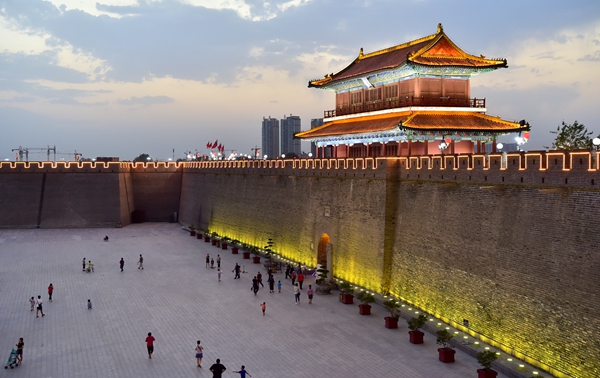 Cultural heritage can enhance and "bring color" to China's commitment to establish a moderately prosperous society in all respects, vowed conservators drawn from across the country who gathered on Saturday in Guilin, the Guangxi Zhuang autonomous region, for a key forum.
The city, a globally renowned tourist destination, hosted the nation's main celebration of the annual Cultural and Natural Heritage Day.
The forum was organized to highlight outstanding cases nationwide to show how protection of cultural heritage can boost local tourism, contribute to the campaign against poverty, and improve people's livelihood.
According to Guan Qiang, deputy director of the National Cultural Heritage Administration, the willingness to establish a "well-off society" was deeply rooted in ancient Chinese classics and artworks portraying ideally prosperous scenes.
"And on this special moment of 2020, when the target of a moderately prosperous society in all respects will be realized, the nonrenewable resources of cultural heritage can contribute to achieve that goal," he says.
According to Guan, there are 767,000 "unmovable" heritage spots-such as works of architecture, archaeological sites, grottoes, and monuments-on the mainland. And about 108 million cultural relics are housed in the country's publicly owned institutions.
Zhengding, a county in Hebei province, is known for its well-preserved ancient architectural complex. As President Xi Jinping once worked there and made great efforts in protecting cultural heritage, locals understand that this historical compound is their biggest asset.
According to Cai Yunlong, deputy magistrate of Zhengding, an 8.9 square kilometer core historical compound was set up in 2014, and a comprehensive renovation of the ancient buildings in the old neighborhood was launched in 2017, involving 24 projects. Over 70,000 square meters of new construction, which diminished the heritage, were demolished, and about 2,400 residents were relocated to new neighborhoods.
"Only when we are awed by history, and prioritize protection, can heritage live with dignity and be valued today," Cai says. "That is also how we can revitalize our culture."
Government statistics show that in 2019 more than 14 million visitors poured into the county with just half a million residents. Tourism income reached 7.83 billion yuan ($1.1 billion).
"Tourism has become our pillar industry," Cai says.
And in the south of Jiangxi province, a hub of the revolution in the 1920s and 1930s, 1.05 billion yuan was spent in the past three years to renovate the historical buildings relevant to the revolution. At least 54 counties benefitted by the funding to energize tourism.
In Shizhuang village in Zhoukou, Henan province, archaeologists discovered remains of a 4,000-year-old barn last year. The site was accidentally found when preparing the groundwork for a straw-processing factory. In China, an archaeological research is essential and must be carried out before any major infrastructure project commences.
"If the factory was built, it would have been of enormous value for the economic development for our village," Shi Xingrong, head of the village, recalls. "When the infrastructure was halted by the archaeological discovery, we used to wonder how soon the project would resume."
The country's top-tier archaeologists gathered in the village due to the key discovery. Locals knew that construction of the factory would not resume on the original spot. Nevertheless, they soon draft a new path of development.
"The land has been inhabited for 4,000 years, that proves we are blessed by a good fengshui," Shi jokes.
"We need to well protect it not only because we feel proud, but also because it can be our 'gold' business card," he says. "Cultural heritage can be a highlight for our future development of rural tourism."
Even for the host city of Guilin, it is not an easy task to expand tourism into its every corner. For those villages far from worldwide famous tourists' routes, the war against poverty used to be tough. For those places that cannot rely on the breathtaking natural scenery along the Lijiang River, cultural heritage can be a way out.
In 2016, Guilin organized 2,000 people to launch an 8-month comprehensive survey and record of its cultural heritage resources in detail, covering 1,100 spots in 17 county-level administrative regions. Many excavations of heritage sites have also been done in recent years.
The 2,200-year-old Lingqu Canal, Zengpiyan site-the remains of human settlement from 7,000 to 12,000 years ago-and numerous other prehistoric heritage sites, began to grab people's attention other than the karst landscape.
"Many crucial heritages were unrecognized by the general public because they were like scattered pearls and broken jade," Qin Chuncheng, mayor of Guilin, says. "The comprehensive survey links the dots and fills the void in studies of prehistoric period.
"Thanks to the heritage sites, located in the unique landscape, more villages can be supported by the booming tourism," Qin says.
WANG KAIHAO in Guilin, Guangxi