UK poised to reopen hospitality businesses
By JONATHAN POWELL in London | China Daily Global | Updated: 2020-06-23 09:06
Survey reveals doctors' fears over workload and second spike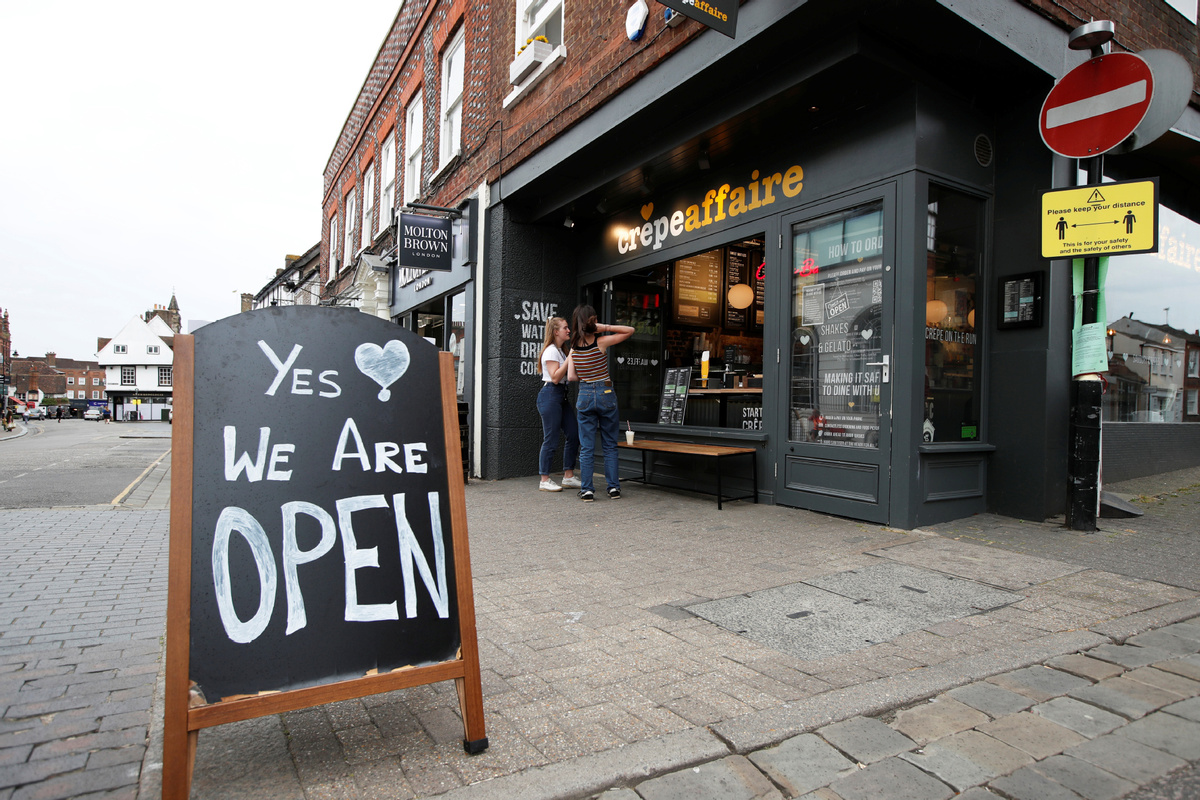 The United Kingdom government has indicated that it will move to reopen the nation's hospitality sector including pubs and restaurants in early July and that the 2-meter social distancing rule will soon be relaxed in England.
Speaking to BBC Breakfast on Monday morning, Security Minister James Brokenshire said international understanding of the novel coronavirus had evolved in recent weeks and the decision would be informed by "the best, most up-to-date science" and medical experience.
Brokenshire said: "There has been a great deal of work that's been taking place at pace over the last number of days, informed by the science, informed by experience from around the world as well, as to how we can appropriately look at easements and appropriately also reflect on the two-meter rule as well."
But the encouraging signs in the UK come as concerns escalate in Germany over the "R", or the reproduction number, that rose to 2.88 on Sunday, according to the daily estimate published by the Robert Koch Institute, the country's public health agency. The increase in the reproduction number is being linked in part to a novel coronavirus outbreak at a slaughterhouse.
Devi Sridhar, a professor of global public health at Edinburgh University, told ITV's Good Morning Britain that the virus seems to thrive in slaughterhouses and meat processing plants because they are cold, damp places "where workers may be shouting at each other without wearing masks".
British Prime Minister Boris Johnson is expected to announce on Tuesday that the hospitality sector can reopen on July 4, and that the 2-meter distancing rule in England will be relaxed, with some conditions. The UK on Monday recorded a further 15 deaths from COVID-19, its lowest daily increase since mid-March, bringing the nation's total fatalities to 42,647.
At Monday's news briefing, Health Secretary Matt Hancock said that the virus in the UK was "in retreat" as a month ago one person in 400 people had the novel coronavirus, and now it is one person in 1,700. "That is why the government can relax the lockdown further," he said.
Hancock announced that shielding rules for the most vulnerable are being relaxed. "People with underlying health issues who are most at risk from COVID-19 will no longer have to shut themselves away in their home and can shop and mix with other people from July 6 in England," he said.
The UK's Office for National Statistics, or ONS, on Monday published two reports on the social impact of the virus on different age groups that showed younger people were generally more optimistic about the lockdown, with more than half expecting life to return to normal within 6 months. But younger age groups were more likely to report being bored and lonely during the lockdown period, and 42 percent of them reported that it was making their mental health worse.
Dawn Snape, assistant director of the sustainability and inequalities division at the ONS, said: "One of their biggest worries was the impact on schools and universities, in particular being unable to attend them, the quality of their education and uncertainty around exams."
Doctors are feeling high levels of exhaustion and have little confidence they can manage the huge backlog of missed patient care, research shows.
A survey by the British Medical Association, or BMA, of more than 7,000 doctors between Tuesday and Thursday showed an increase in stress levels among the workforce. Many have little confidence in the National Health Service's ability to deal with the large backlog of missed, cancelled and postponed care, the union said. Some also fear that the health service does not have the capacity to manage a second spike in novel coronavirus infection levels.
Chaand Nagpaul, BMA council chairman, said: "The NHS was an already beleaguered health service with record waits in A&E and hospital waiting lists before this pandemic began. "Since then normal services have been put on hold, with resources diverted wholesale to the COVID-19 efforts at the expense of large numbers of other patients," Nagpaul said.
It comes as the UK government has introduced legislation to protect businesses that are key to public health from foreign takeovers.
The changes give the government the power to protect companies that could be critical in helping the country in future health emergencies but which may be struggling to weather the pandemic. The new powers cover businesses such as pharmaceutical and technology companies.
Business Secretary Alok Sharma said: "The UK is open for investment, but not for exploitation. These powers will send an important signal to those seeking to take advantage of those struggling as a result of the pandemic that the government is prepared to act where necessary to protect our national security."
Meanwhile, workers treated unfairly by their employer face waiting up to two years for their cases to go to the employment tribunal system. With a backlog of cases made worse by the lockdown, lawyers fear the system will be unable to deal with a surge of new claims as the pandemic presents employers with dilemmas over recalling or laying off furloughed staff.