Airlines give boost to homegrown regional jet
By WANG YING in Shanghai | China Daily | Updated: 2020-06-29 07:46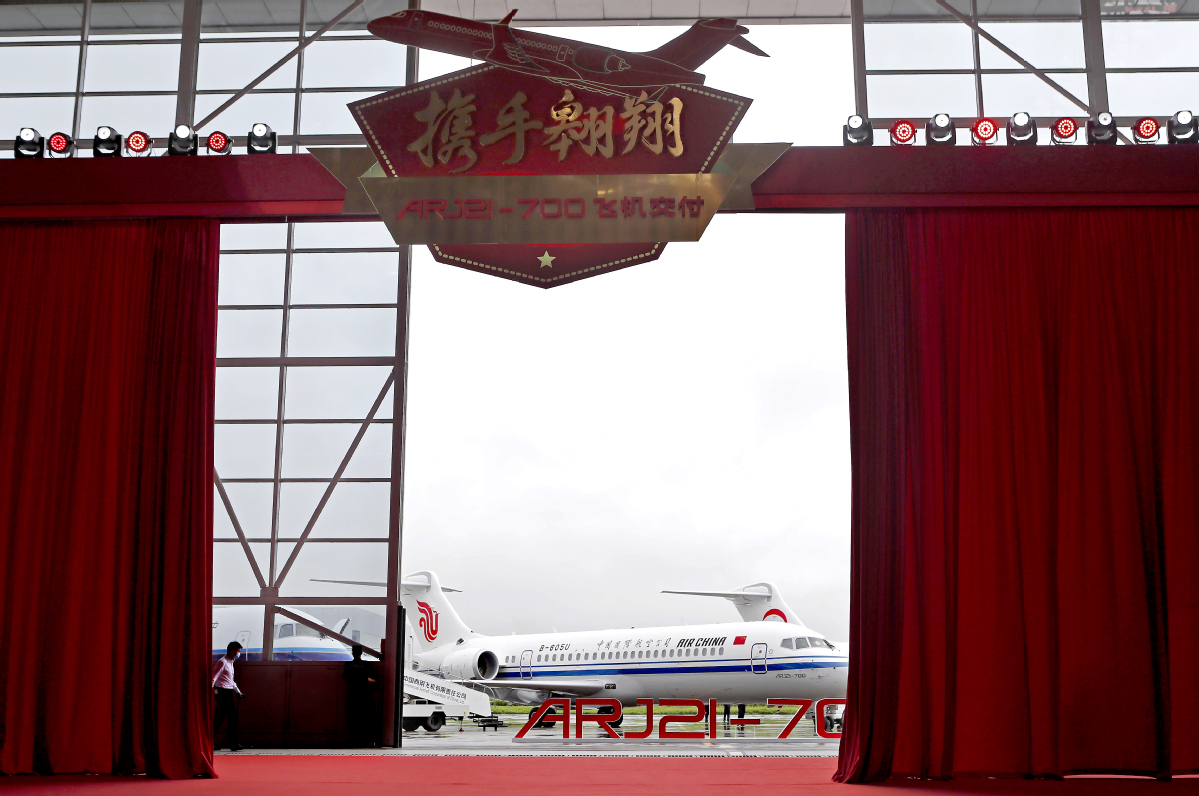 China's top three airlines received their first homegrown ARJ21 airplanes in Shanghai on Sunday from Commercial Aircraft Corporation of China (COMAC), paving the way for the aircraft to join the fleets of the world's mainstream airlines.
The delivery ceremony was held at COMAC's base in the city's Pudong district. The three major carriers-Air China, China Eastern Airlines and China Southern Airlines-took the aircraft back to their headquarters.
To facilitate their fleet layout and network planning, the three carriers sent experienced engineers to the assembly line to ensure their specific needs were met.
They will each receive two more ARJ21 jets this year, sources said.
"According to the schedule, the nine aircraft will start commercial flights this year," Zhang Xiaoguang, head of COMAC's marketing and sales division, was quoted as saying by Shanghai Observer
Xie Yuanzheng, a flight instructor with COMAC and a former China Eastern pilot, said, "The operation of the ARJ21 by the nation's top three airlines will greatly boost our confidence and encourage us to introduce the aircraft model beyond China's borders."
The ARJ21, or Advanced Regional Jet for the 21st Century, is a regional aircraft developed and manufactured by China in accordance with international standards.
COMAC has delivered 32 ARJ21 models to clients since 2015, including Chengdu Airlines and Jiangxi Air. Over the past four years, the aircraft has been flown in 55 Chinese cities and has safely transported more than 890,000 passenger trips.
Lin Zhijie, an aviation industry analyst and columnist at carnoc.com, one of China's biggest civil aviation websites, said the delivery of the ARJ21s to the nation's three biggest airlines was a meaningful moment.
"Throughout the research and development of Chinese manufactured aircraft, there are three phases-to build the aircraft, to fly well and to be profitable," Lin said.
According to experts, as a regional aircraft, the ARJ21 is more suitable for less popular destinations with stable flight frequency demand in comparison with mainstream commercial aircraft designed for long-distance flights between destinations with strong travel demand.
After completing the manufacturing phase, the ARJ21 is entering the second phase to prove itself through market operation. The top three airlines' strengths in maintenance, system operation and technology will help COMAC further improve the aircraft through thorough and systematic operation, Lin added.
Before delivering the 90-seat aircraft to the three airlines, COMAC made full preparations for follow-up operations in terms of staff training, aviation material arrangement and support for maintenance, repair and intime monitoring, Zhang said.
The top three Chinese carriers each ordered 35 ARJ21 aircraft from COMAC last August, with all the jets to be delivered before the end of 2024.
Air China will deploy its first ARJ21 jet from Beijing Capital International Airport to destinations in the Inner Mongolia autonomous region, including Xiliinhot, Baotou, Ulaanhot and Hohhot.
China Southern Airlines, based in Guangzhou, capital of Guangdong province, plans to gain experience in ARJ21 operations and optimize the stability and economy of the aircraft.
In February, Shanghai-based China Eastern Airlines formed OTT Airlines, which specializes in operating Chinese manufactured aircraft, including the ARJ21 and the future C919.
Liu Shaoyong, chairman of China Eastern, said OTT Airlines, or One Two Three Airlines, will take advantage of its location in the transportation nexus of the Yangtze River Delta and access the great demand from people in China's coastal cities and surrounding areas.
Against the backdrop of the ongoing COVID-19 pandemic, many global flights have either been canceled or are operating at low utilization rates. But Qi Qi, an associate professor at Guangzhou Civil Aviation College, said regional and short-haul aviation markets were in a more favorable position, particularly for places not covered by high-speed train networks.
"The nation's insufficient regional aviation network and shortage of domestic regional aircraft leaves great market potential for high-quality development of China's regional aviation and Chinese manufactured airplanes," Qi said.
Publicly available information shows that less than 3 percent of China's civil aircraft are regional jets, with about 80 percent of regional flights completed by other domestic and intercontinental aircraft.