Iran issues warrant against Trump, others over killing of its top general
By LIU XUAN | China Daily | Updated: 2020-07-01 10:00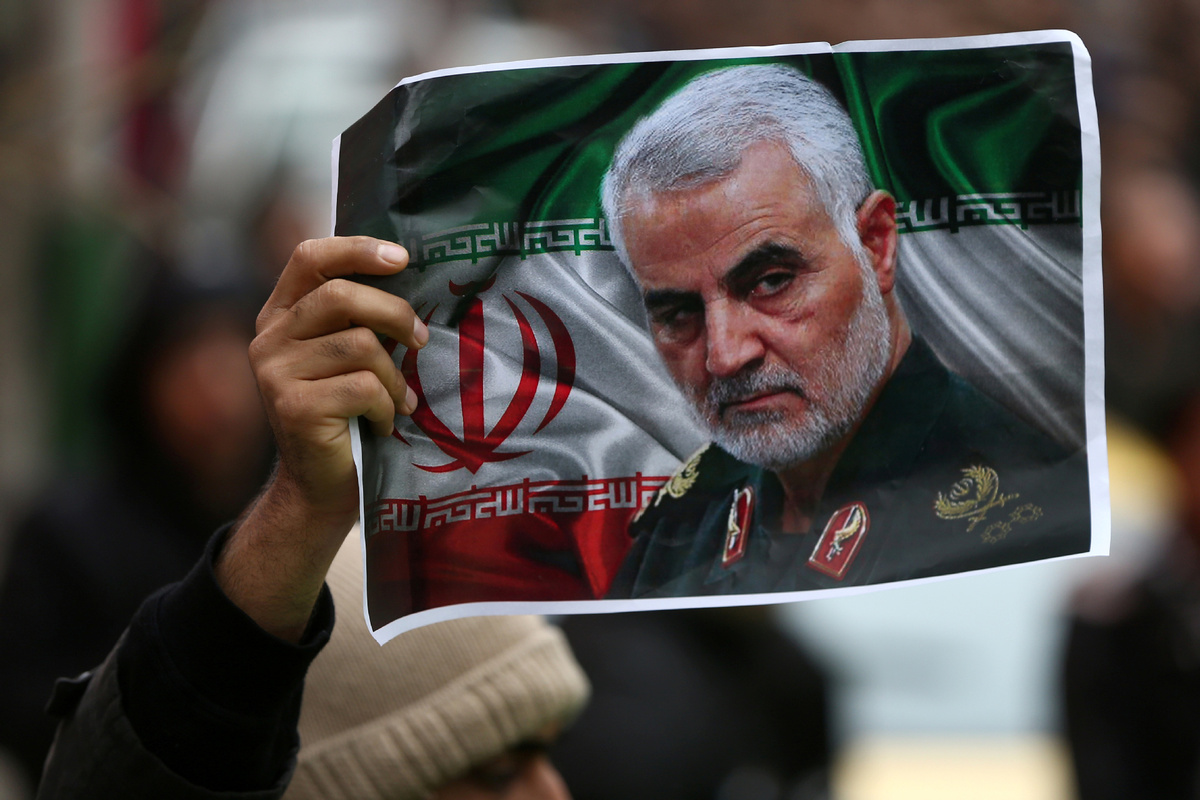 Iran has shown its dissatisfaction with US President Donald Trump by issuing an arrest warrant against the president and dozens of others, accusing them of being responsible for the death of a top Iranian general.
Teheran prosecutor Ali Qasi Mehr, quoted by state news agency IRNA on Monday, said that 36 US political and military officials "involved in the assassination" of Qasem Soleimani in January "have been investigated and were ordered to be arrested through Interpol".
He also said: "These people have been charged with murder and terrorist acts."
Iran has requested a "red notice" be put out for Trump and the others, which represents the highest-level arrest request issued by Interpol, Qasi Mehr said.
Local authorities generally make the arrests on behalf of the country that requests it. The notices cannot force countries to arrest or extradite suspects, but can put government leaders on the spot and limit suspects' travel.
Interpol later issued a statement saying its guidelines for notices forbids it from "any intervention or activities of a political" nature, and said it "would not consider requests of this nature".
However, although the arrest warrant is more like "a symbolic move", it indeed showed that Iran's distrust of Trump and his team "has reached the peak", said Niu Song, a professor at the Middle East Studies Institute of Shanghai International Studies University.
'Extreme dissatisfaction'
Due to the increasing sanctions imposed by the US over the past year, Iran's economy has been greatly affected, especially as the COVID-19 epidemic swept the world and Iran was one of the hardest-hit countries, Niu said.
"Through this way, Iran wants to express its extreme dissatisfaction with the US," he said.
Qasi Mehr did not identify anyone else in the warrant besides Trump, but stressed that Iran would continue to pursue his prosecution even after his presidency ends.
"At the top of the list is US President Donald Trump, and his prosecution will continue even after the end of his term," said the prosecutor, referring to his bid for re-election in November.
Such actions, Niu said, indicated that the tension between Iran and the US has not reduced, and there are "no signs of easing at the moment".
Meanwhile, Brian Hook, the US special representative for Iran, dismissed the arrest warrant announcement during a news conference in Saudi Arabia on Monday.
"It's a propaganda stunt that no one takes seriously and makes the Iranians look foolish," Hook said.
Soleimani, who oversaw the Revolutionary Guard's expeditionary Quds Force, and others were killed by the US in a January strike near Baghdad International Airport.
The killing came after months of rising tensions between the two countries.
Iran retaliated with a ballistic missile strike targeting US troops in Iraq.