HK, Macao Affairs Office voices strong support for national security law
By Zhang Yangfei | chinadaily.com.cn | Updated: 2020-06-30 20:24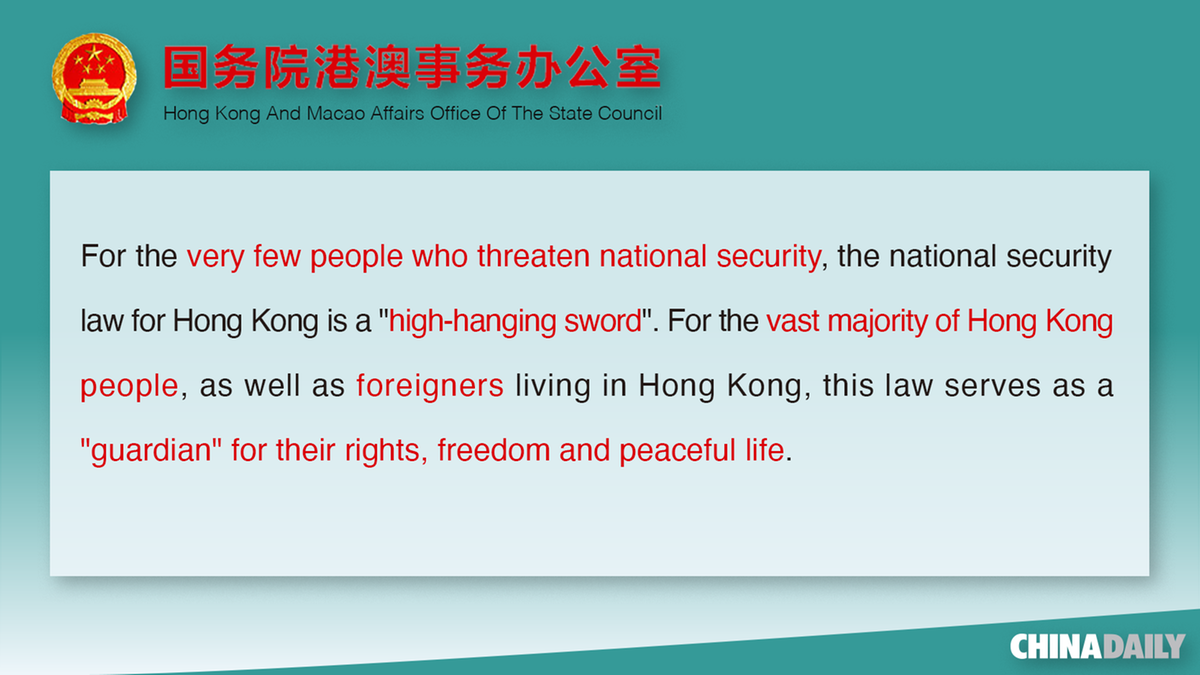 The Hong Kong and Macao Affairs Office of the State Council on Tuesday voiced resolute support for the implementation of the national security law for Hong Kong.
The office released a statement after China's top legislature unanimously passed the law on Tuesday during the 20th session of the Standing Committee of the National People's Congress, saying the office will fully support and cooperate with implementing the law in the Hong Kong Special Administrative Region.
It said the formulation of the national security law and adding the law into Annex III of the Hong Kong Basic Law are "milestone events" in practicing the "one country, two systems" principle that will effectively protect national sovereignty, development interests and Hong Kong's long-term prosperity and stability.
The law adheres to the principle of "one country" while taking into account the differences between the "two systems". It clearly stipulates the constitution of four categories of crimes that seriously endanger national security and improve the enforcement mechanism from both the central and local level, the statement said, adding that it completely complies with the "one country, two systems" principle, as well as the Constitution and Hong Kong Basic Law.
For the very few people who threaten national security, the law is a "high-hanging sword". For the vast majority of Hong Kong people, as well as foreigners living in Hong Kong, this law serves as a "guardian" for their rights, freedom and peaceful life, the statement said, adding that it will enable Hong Kong to have a more complete legal system, a more stable social order, better rule of law and business environment.
The statement emphasized that the vitality and authority of a law lies in implementation. After the law takes effect, the relevant central and local law enforcement and judiciary organs will perform their duties and show deterrence against criminal actions.
It reiterated the Chinese government's unswerving determination to safeguard national security, sovereignty, development interests and stand against external forces that intervene in Hong Kong affairs.
"No intimidation or sanctions can shake Hong Kong's international economic status, nor can it scare the Chinese people," it said, adding that the central government, the HKSAR government and Chinese people from all walks of life will unite as one to safeguard national security and the long-term stability of Hong Kong.