Giving bugs a good name
By Li Yingxue | China Daily | Updated: 2020-07-01 07:20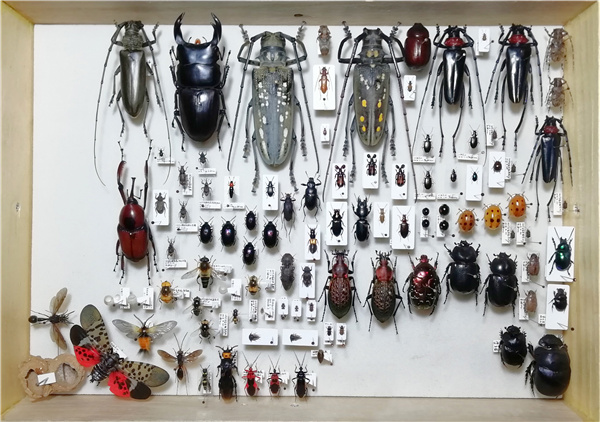 A group of friends turn childhood interest in entomology into a passionate career.
Every child goes through a phase where creepy-crawlies interest them. You could say they get bitten by the bug. But sometimes it turns out to be more than a passing fad. For four Shanghai-based bug enthusiasts, it actually started 16 years ago when they got to know each other through an online forum. Two of them were junior middle school students and two were already in college.
They have been sharing their discoveries, mutually identifying species and sometimes visiting zoos or botanical gardens together to collect specimens ever since.
This long-standing hobby has now turned into a career. The quartet founded their studio, DachengXiaochong, or Mini Beasts, earlier this year, with the aim of observing and recording species diversity in China.
Their first labor of love went public in June-a book named Shanghai Woniu (Snails in Shanghai) that carries data on more than 40 species of gastropods found in and around the city.
The book is written by Zhou Deyao, a graduate with a master's degree in zoology from the College of Life Sciences at Shanghai Normal University, who now works on plant protection at a local agricultural technology extension and service center. It is edited by the other three members, Song Xiaobin, Tang Liang and Yu Zhizhou.
Anyone who has ever wanted to know how many species of snail there are in Shanghai, what they all look like and where you might see them, can find all this in the book-the information for which took Zhou years to compile and research.
The strong point of the pocket-sized publication is the attention to detail. Each species of snail is depicted in four photos, one of its body and three of its shell from different angles.