Wu urged to say adios to Espanyol for English club
Share - WeChat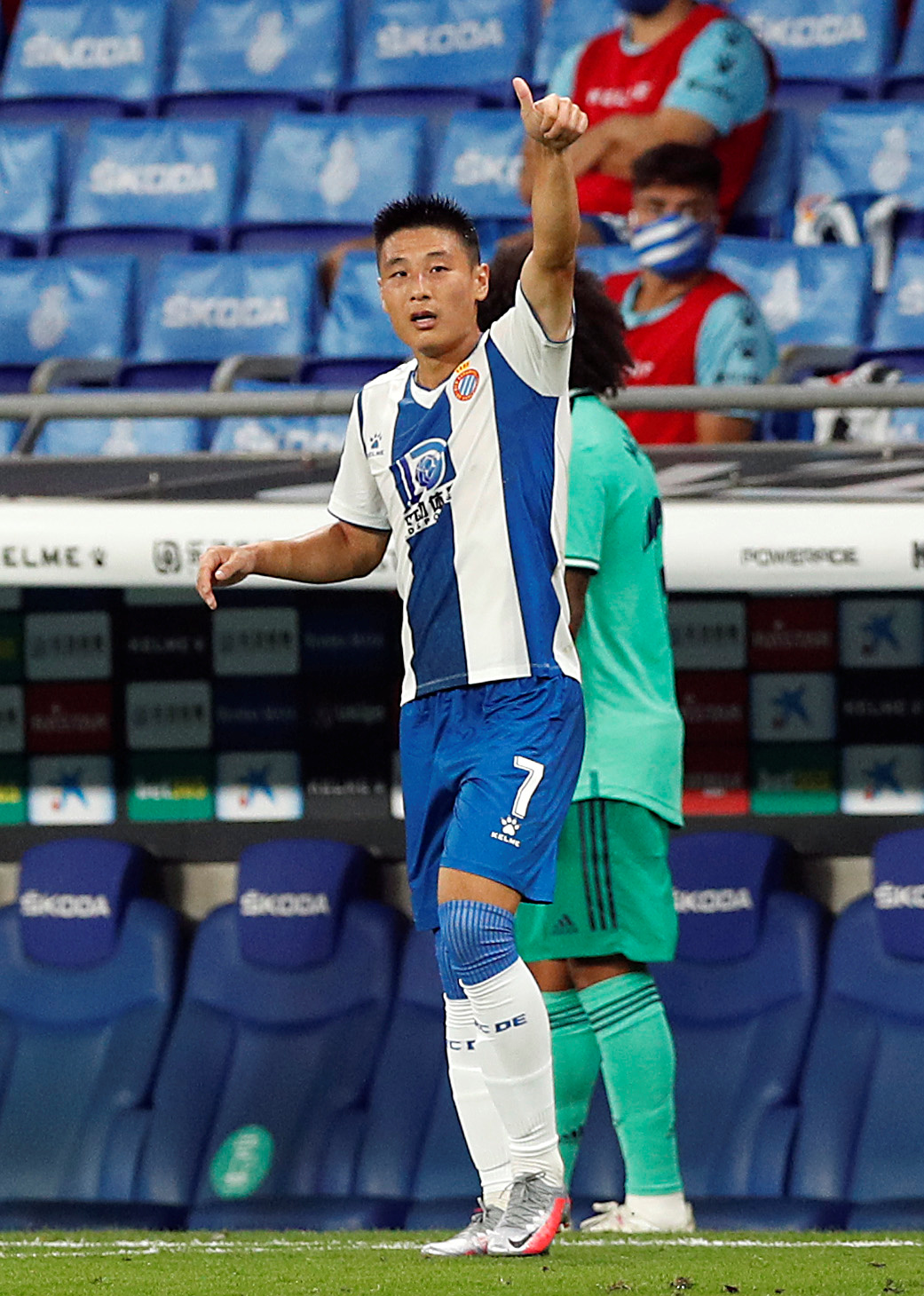 With his club staring down the barrel of relegation to the second division, Wu Lei's future in Spain is coming under increasing scrutiny.
Wu's Espanyol now looks doomed to the drop, sitting bottom of the table and 10 points from safety with just six games to play.
Having been linked with Wolverhampton Wanderers in recent weeks, former China international and Manchester United player Dong Fangzhuo reckons Wu should continue his European adventure in the English Premier League.
"If Espanyol is relegated to the second-tier league, will Wu Lei stay at the club? I think no matter if Espanyol is relegated or not, a better choice for him is to go to the Premier League," Dong said in a video on social media.
"I think Espanyol is not a good fit for Wu now. Considering the team's deficiencies in midfield, the lack of supply to Wu up front and the squad's overall instability, I don't think Wu should stay at the club."
Despite his team's struggles, Wu's individual performances have proven he can cut among Europe's elite.
"He should be in the English Premier League. He is now much more mature in terms of body strength and mentality," said Dong after Wu netted his eighth goal of the season in a 2-0 win against Alaves in early June.
Wu has been widely hailed as a success in Spain since arriving from Shanghai SIPG in January 2019. Last term, the 28-year-old's goals and assists helped Espanyol to a seventh-place La Liga finish, however, since then the club has been dealing with constant upheaval.
Last week, the Chinese-owned club appointed its fourth coach of the season after sacking Abelardo Fernandez.
Sporting director Francisco Rufete has been put in charge for the remainder of the campaign. However, after beginning his reign with a 1-0 home defeat against leader Real Madrid on Sunday, Espanyol now requires something of a minor miracle to avoid relegation.
Wu's challenging 2020 was further complicated by the COVID-19 pandemic, with the striker and his wife testing positive for the coronavirus in March.
After shaking off the virus, Wu gave Espanyol a glimmer of hope by netting in its first match game of the restart, the win over Alaves.
However, that hope has proved to be fleeting, with Spanish media reporting that Wolves are now circling for Wu's signature-rumors that the player himself has made light of.
"Actually, before La Liga returned, there had already been many rumors online about the transfer of me and my teammates," Wu wrote on his personal blog. "We joked that the media have already sold off half of our team. But to think about the rumors in another way, it shows that our abilities have been acknowledged by the public."
Wu has often insisted that he will remain at Espanyol even if they are relegated.
However, calls are increasing from observers back home for him to consider a move elsewhere.
An article on chinanews.com on Monday urged Wu to become a little more "selfish".
"There won't be a single easy game for Espanyol in the remaining schedule," read the commentary. "Unless Espanyol can produce a miracle, relegation is inevitable for the club.
"So for Wu, it's time for him to think about his future… The best Chinese homegrown player deserves a position in the starting XI of a team that plays in a topflight European league. Wu is a humble person, but a professional career can be cruel. Nobody will give you a better offer due to your selflessness."
Wu is unlikely to be short of offers from European clubs this year, with his tens of millions of Chinese supporters adding to his appeal. That's if he can wave goodbye to his life in Barcelona.
"The most valuable aspect for me here is the fans," Wu wrote in his personal blog. "Despite the matches being held behind closed doors now and fans being restricted from having close contact with us, I can still see many fans waving our banners and cheering for us on our way to the match and outside the stadium."