Former Bush administration officials openly backing Biden
By ANDREW COHEN in New York | China Daily Global | Updated: 2020-07-02 11:06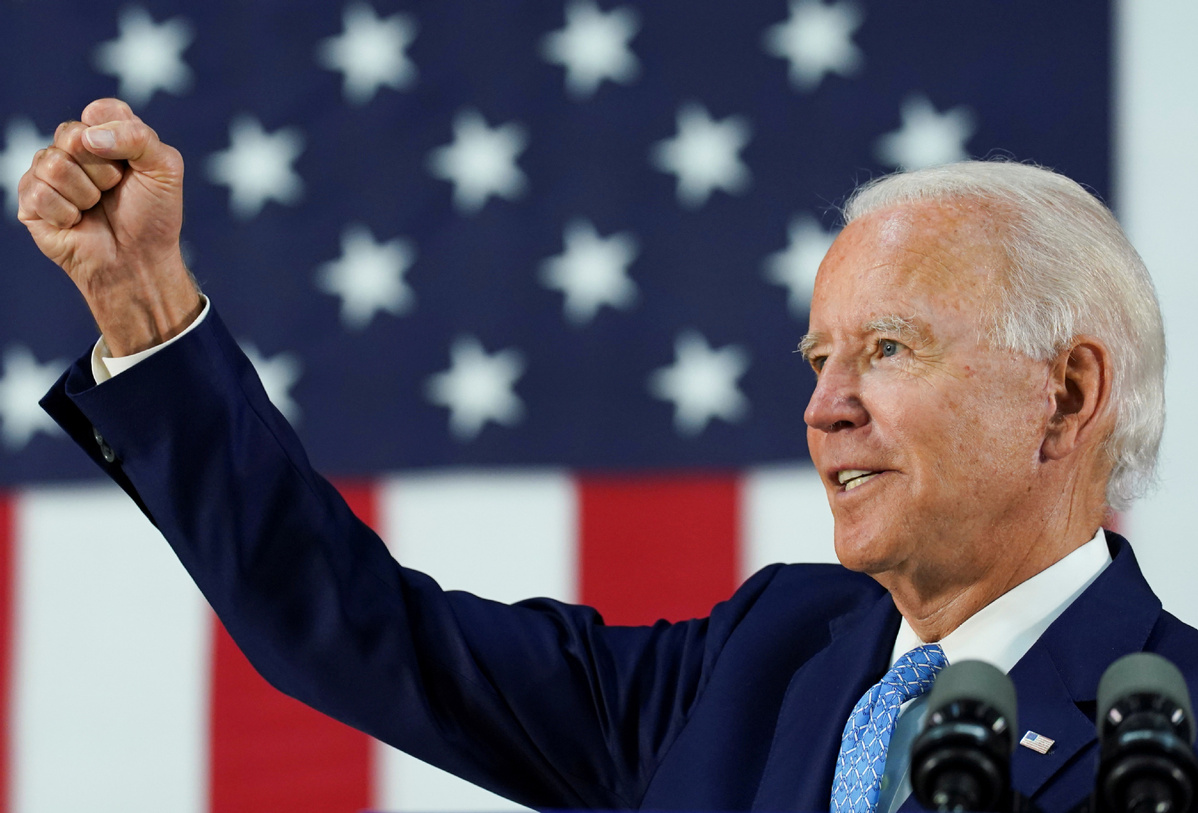 Alarmed by the conduct of President Donald Trump in office, hundreds of Republican officials who once worked in the administration of George W. Bush, the 43rd president, are said to be set to endorse Trump's Democratic rival, Joe Biden, for president.
Former members of Team Bush have formed a political action committee, or super PAC, called 43 Alumni for Joe Biden, which said it counts as members former Cabinet-level appointees and other senior people from the Bush White House.
The group launched Wednesday with a Facebook page and a website (43alumniforjoebiden.com) bearing the slogan: "We worked for W. We support Joe."
43 Alumni said it plans to release "testimonial videos" praising Biden from high-profile Republicans and said it intends to hold get-out-the-vote efforts in several swing states.
The group said it was not yet ready to name all of its members and donors but said it will provide a list of its initial donors to the Federal Election Commission by October.
Members of a super PAC are forbidden by law from working with or communicating with the Biden campaign, but they can raise unlimited amounts of money, run ads or hold events to support the candidate.
"Principles matter more than politics," the group's website reads. "That's why we, a group of alumni who served President Bush, and other Republican presidents, governors, and Members of Congress, support Joe Biden for President."
"We know what is normal and what is abnormal, and what we are seeing is highly abnormal. The president is a danger," said Jennifer Millikin, a member of 43 Alumni's organizing committee, to Reuters. Millikin worked on Bush's 2004 reelection campaign and later served in the General Services Administration.
Two other 43 Alumni members who spoke to Reuters are Karen Kirksey and Kristopher Purcell. Purcell worked as a communication official in the Bush White House. Kirksey was on the Bush 2000 campaign and later worked in the Agriculture and Labor Departments.
Notably, none of the promised major stars of the Republican firmament have come forward yet to publicly support Alumni 43, but another group of conservatives has brought together some familiar names.
The Lincoln Project, run by Republican strategists Steve Schmidt, John Weaver and Rick Wilson with the support of Republican lawyer George Conway, the husband of Trump adviser Kellyanne Conway. The Lincoln Project has gotten attention for targeted political ads it created and aired only in Washington with the admitted goal of taunting the president.
Two other "never-Trump" Republican groups backing Biden include the Right Side PAC, which calls Trump an "existential threat", and a group called Republican Voters Against Trump, which said it is launching a $10 million ad campaign in key battleground states.
"We are the only group within these other groups that were all 43 alums," said Millikin to The Hill. "They're spending tons of money on ads and things of that nature, which is great. We're going to raise money as well, we're a super PAC, but our focus is not negative.
"We've only been active since June 2, so less than a month," added Millikin, "and we have hundreds of former W alumni that are living nationwide and have worked at every single agency including the White House."
The Biden campaign has so far declined comment. Bush's office has been informed about the group, Millikin said, but the former president is not involved and has so far not signaled his approval.
Bush, who is still admired by many moderate Republicans, won praise for saying the May 25 death in Minneapolis of George Floyd, an unarmed black man, in police custody reflected a "shocking failure", and urged that protesters be heard.
The existence of dissident Republican groups reflects just how much Trump has alienated members of his own party through his handling of protests over racial injustice and police brutality, the coronavirus pandemic, foreign relations, military deployments, Confederate memorials and even on issues of trade and economic policy, traditionally areas of wide support for any Republican president.
Some recent polls show Trump trailing Biden by double digits.
"This November, we are choosing country over party," Purcell told Reuters. "We believe that a Biden administration will adhere to the rule of law ... and restore dignity and integrity to the White House."
"We really have had overwhelming support for our efforts," Kirksey added.
Erin Perrine, a Trump campaign spokeswoman, said of 43 Alumni for Biden: "This is the swamp — yet again — trying to take down the duly elected President of the United States."
Trump has expressed contempt for Republican and conservative figures who oppose him, saying on Twitter that "Never Trumper" Republicans are "human scum."
Reuters contributed to this story.