Ministry warns of harsh penalties for gaokao fraud
By Zou Shuo | China Daily | Updated: 2020-07-03 06:30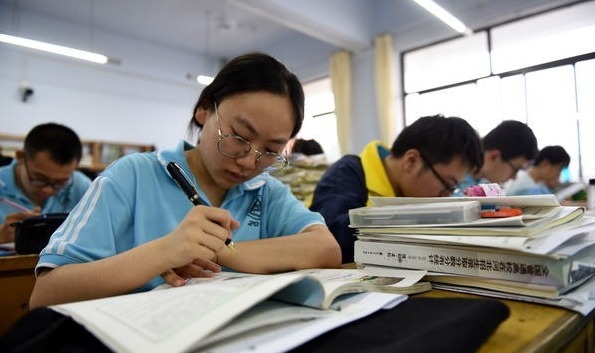 Any students who cheat or are involved in identity theft in the national college entrance exam, or gaokao, will be disqualified from enrolling in universities and colleges, the Ministry of Education said.
The ministry said in a notice issued on Thursday it will work with public security and disciplinary authorities to look into any fraud in the exam and hold those guilty of violations and any people who assist them accountable.
Universities should conduct identity checks of high school graduates to find any students who have stolen others' identities or gained extra gaokao points through illegal means, it said.
To ensure safety and fairness, this year's exam has been delayed for a month due to the COVID-19 pandemic and will be held nationwide from July 7 to 8.
The gaokao is a make-or-break exam for millions of students, as the highly competitive and intensive test remains the single criteria to determine which colleges students can attend, which in turn significantly affects their future job prospects, especially for those from rural areas.
A record 10.71 million students have signed up to participate in this year's gaokao, up by 400,000 from last year.
The Shandong Provincial Discipline Inspection Commission said on Monday that 46 people had been punished for involvement in two cases of imposture.
In one case that triggered widespread criticism online, a 36-year-old woman named Chen Chunxiu, from Liaocheng, Shandong, scored 546 out of 750 on the 2004 exam.
But her score was stolen by Chen Yanping, also from Liaocheng, who had scored 303 the same year. Her father, a businessman, and her uncle, a local official, used their connections to facilitate the fraud.
By stealing Chen Chunxiu's identity and gaokao score, Chen Yanping was able to enroll at Shandong University of Technology. After graduating in 2007, she found a job as a community worker. Chen Chunxiu was not enrolled by any university and became a migrant worker for years. She now works as a kindergarten teacher.
The impostor's university diploma has been revoked, and she was fired from her job.
A report by Southern Metropolis Daily said 14 universities in Shandong had revealed 242 cases of student identity theft during the gaokao in the province between 2002 and 2009, and that the impostors had been stripped of their diplomas.
The incidents have drawn strong indignation from netizens. The hashtag "242 people in Shandong stole identity to get diploma" has been viewed 590 million times on the Sina Weibo social media platform.
In the notice on Thursday, the ministry also asked local education authorities to implement the highest standards in epidemic control and prevention and the strictest measures against cheating for the upcoming gaokao, which will be the largest gathering of people since the start of the novel coronavirus outbreak.
Students and exam monitors have been told to keep track of their body temperature and health condition in the two weeks leading up to the exam, the notice said.
Students will have their temperatures taken before they are allowed into test centers, and will only be admitted if it is below 37.3 C, it added.