Trash sorting taking off nationwide
Share - WeChat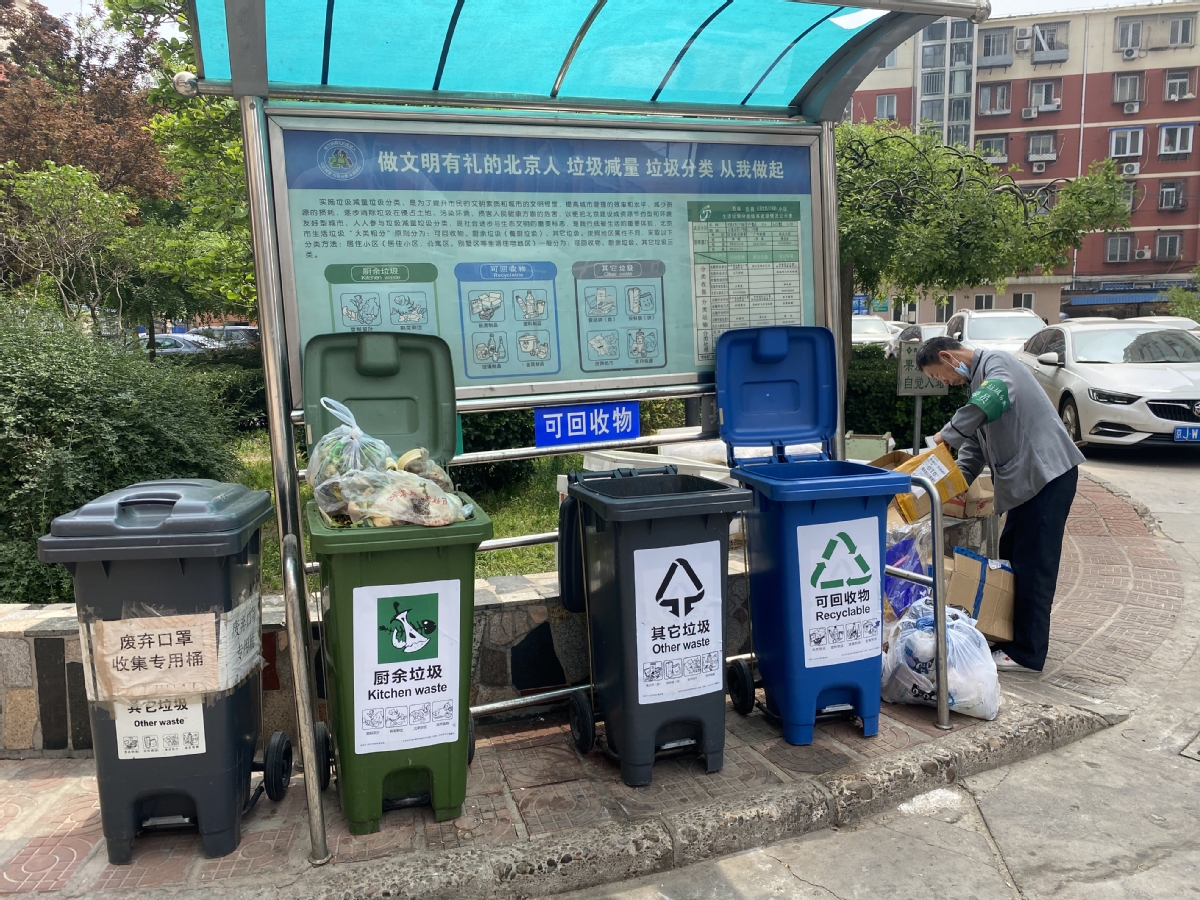 Success in Shanghai paves way for other cities
When Shanghai resident Chen Meixiang starts preparing dinner, she puts a bag beside the sink, into which she places discarded vegetable leaves and food left over from the meal.
At about 7:30 pm, she takes the bag and others containing trash to a refuse station in her neighborhood, where she dumps the food waste into a brown bin and the other trash into a black bin.
When Chen has cardboard that has been discarded or empty drink cans, she places them in a green bin at the center.
Like millions of residents of Shanghai, she began sorting trash a year ago, when the city introduced a regulation on domestic waste management, requiring the public and companies to sort their trash into four categories, or face fines.
The regulation initially met with some criticism. However, media campaigns, a financial incentive plan, improvements to the city's trash treatment system and strict law enforcement have overcome any doubts about the new rule's effectiveness.
Shanghai is the first city in China to announce the successful implementation of domestic trash sorting.
According to the Shanghai Landscaping and City Appearance Administrative Bureau, which oversees trash collection, transportation and treatment, the city's daily volume of kitchen waste amounts to 9,600 metric tons. The respective figures for recyclables and hazardous waste are 6,800 tons and 3.3 tons.
Since the regulation was introduced, the proportion of kitchen waste collected has risen by 38.5 percent. The corresponding figures for recyclables and hazardous waste are 71.1 percent and 1,120 percent. The amount of other waste collected has been reduced to 15,500 tons a day, a fall of 19.8 percent.
In recent months, a nationwide waste sorting policy has been adopted, with the aim of reducing the total amount of domestic trash through recycling, biosafety treatment and incineration.
Last year, the Ministry of Housing and Urban-Rural Development issued a notice asking all 300 or so cities at prefecture level and above to introduce systems to classify and dispose of trash by 2025.
The experience in Shanghai has shown that implementing trash sorting-a seemingly simple and straightforward process-is a battle for hearts and minds, and winning this fight requires not only laws and policies, but also a combination of governance, technology and persistent human efforts at grassroots level.
Zheng Lianyong, Party secretary of Xingfu village neighborhood committee in the Yangpu district of Shanghai, which oversees trash sorting at four residential communities comprising more than 1,300 households, said, "There is a diverse population in the communities, which makes it difficult to educate people about trash sorting."
She followed the city's guideline for implementing trash sorting by setting up centralized stations, which only opened between 7 am and 9 am, and 6 pm and 8 pm.
Initially, Zheng deployed seven community workers at the stations to ensure that residents disposed of different types of waste correctly. But she soon found that young people returning home from work late in the evening tended to leave their trash at the stations when they were closed. The trash mainly comprised takeout food and packaging.
To solve the problem, Zheng extended the evening opening hours to 9 pm. She also distributed trash sorting material to every household in the communities and posted related information on residents' WeChat groups.
In May, Zheng installed a smart camera at one of the stations, which warns when people are approaching the facility when it is closed.
"It works very well. We can see people who initially intended to leave trash bags in front of the station returning home with them," she said.
Zhou Chun, founder of a company that promotes trash sorting, said her team has educated people in more than 300 residential areas about the process. Through extensive communication and by adapting rules to make them more practical for each community, most residents are abiding by the regulations.
"Technology combined with management is my approach," said Zhou, who has designed smart trash stations with cameras and sensors to help community workers implement waste sorting.
In addition to using persuasion, urban patrol officers have been strict with those who violate domestic waste management regulations. Since the regulation taking effect, nearly 10,000 fines were handed out as officers conducted 152,000 inspections.
Insiders said the total amount of fines imposed for trash-sorting violations in the past year was "huge", with a large proportion of them being paid by office building management companies, construction sites and trash transportation companies. Under the regulation, fines for companies range from 500 yuan to 100,000 yuan.