Swift action puts Beijing on road to recovery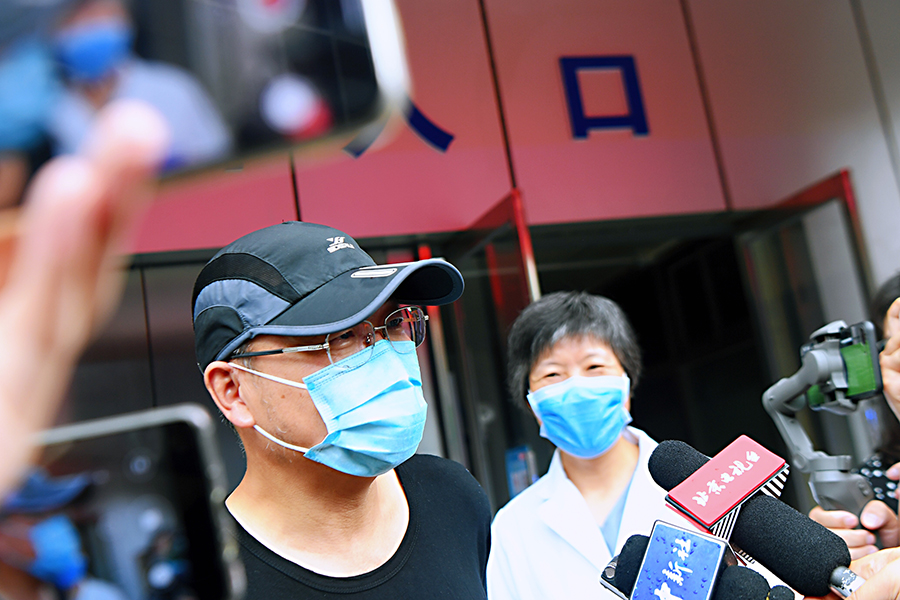 Strict measures help contain latest COVID-19 outbreak

A 56-year-old Beijing resident was taken by ambulance from Beijing Ditan Hospital to a quarantine location on the morning of June 29.
The man, surnamed He, was the first COVID-19 patient in the capital to recover since a new cluster of infections was reported on June 11.
He was discharged from the hospital after being given two nucleic acid tests-both negative-on June 21 and June 26.
Wearing a black T-shirt and blue shorts, He was accompanied by Xu Yanli, the doctor in charge of his case.
A crowd of reporters covering the event was told by He: "I just want to remind everyone to wear a face mask properly. If you have to go to a crowded place, make sure you are protected."
The patient looked well and spoke in a low but powerful voice.
Another hospital employee present when He was discharged wore a full protective suit, on the back of which were four handwritten characters that translate as "welcome home".
When He visited the Xinfadi wholesale market, where all the cases in the new cluster were detected, he pulled his face mask to one side to get some fresh air.
He remembers going to the market on June 3 to buy mutton, and staying there for about 20 minutes.
The beef and mutton trading hall at the market was later found to be the source of the most of the new infections.
"Two days later, I started feeling tired, but never thought I was infected until I developed a fever on June 12," He said.