Hot young bands like Cool find success in national competition
By Chen Nan | China Daily | Updated: 2020-07-08 07:10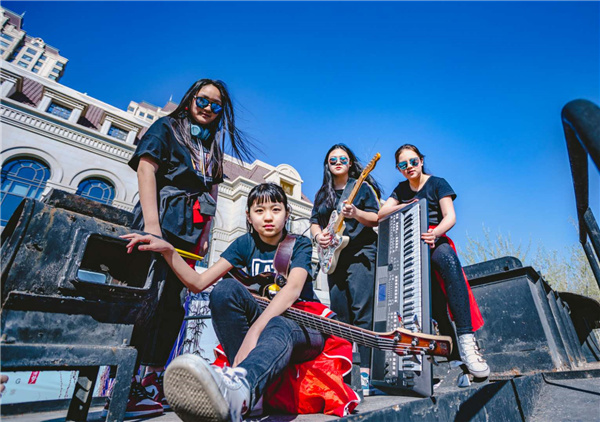 They came exactly as labeled. "I want people to see how cool an all-girl rock band can be," says Zhou Zi, the 15-year-old lead vocalist and guitarist of the Tianjin-based rock band, Cool.
The ensemble was crowned champion of the youngsters' group at the 2019 Midi Kids Band Competition, becoming the first all-girl rock band to win the national contest.
Their original song, Chase, a mixture of hip-hop and funk, which was performed during the final round of the competition, was released as part of a live album, Hai Xing A Mian, (meaning "kids can, Side A"), on June 23, by the competition's organizer, Beijing Midi Art Communication Co Ltd.
"I will never give up halfway, though the road ahead of me is a rough way," sings Zi, who wrote the lyrics of the song. "My future, my dream, I will chase in my own way."
Founded in April 2011, the band consists of Zi, bassist Zou Yunyang, keyboardist Wu Siyu and drummer Ma Ruichen.
Zi first joined a vocal group with three other girls of her age when she attended a music training center in Tianjin. Her father wanted her to learn to play a musical instrument, so he took her to a street in Tianjin which sold both Western and traditional Chinese musical instruments.
Zi chose to play drums and soon began showcasing her musical talent and winning awards.
It wasn't long before she turned her attention to the musical instrument she would eventually stick with-the guitar. At the same time, she set up a band along with three girls she met at the music training center, including drummer Ruichen.
"As I grew up, I realized that many rock bands are male-dominated. Usually girls are associated with dancing, painting, piano or guzheng (Chinese zither)," says Zi. "Though our band has gone through changes, we keep the all-girl lineup.
"We want to show people how girls play rock'n' roll and we're making a difference."
Looking at the band's resume, it is easy to be impressed by their stage experience. In 2013, they performed at Beijing Midi Music Festival, one of the oldest outdoor music festivals. It was launched in 2000 by the Beijing-based Midi School of Music, China's first school of contemporary music, founded in 1993.
In 2015, the band made their debut at Summer Sonic, one of Japan's major festivals, in front of tens of thousands of spectators from around the world.
She adds that her parents are supportive of her music dream, yet her teachers and classmates misunderstood her decision to become a rocker.