Hot young bands like Cool find success in national competition
By Chen Nan | China Daily | Updated: 2020-07-08 07:10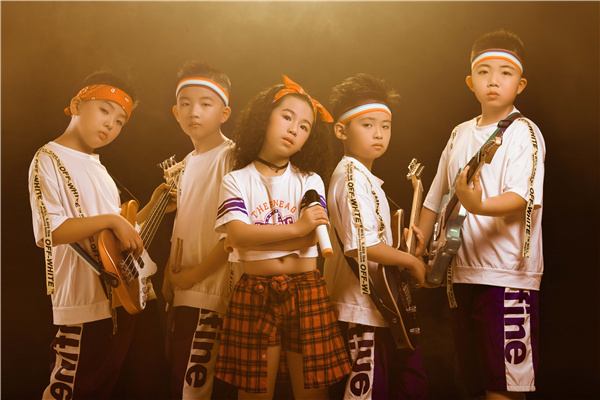 "It's commonly seen that teenagers in the Western countries play in rock bands, but it's still not the mainstream culture among Chinese teenagers," Zi says.
"My solution is to show them the videos of our band's performances and to explain with our music, which is the most direct way of letting them know what I am doing.
"Usually they will be impressed and become our fans."
Besides music, for her, one of the biggest rewards of forming the band is having a long-lasting friendship with Ruichen, the drummer and co-founder of the band. The two girls decided to further their music study in the United States together.
According to Liu Huan, CEO of Beijing Midi Art Communication, the recently released live album features an "A side", and its "B side" will be released soon.
The two parts gather 18 Chinese teenage bands and their 22 original songs. They were chosen from 228 teenage bands that applied to the 2019 Midi Kids Band Competition.
After several rounds of competition, 21 bands became eventual contest finalists.
"It has been 10 years since our company launched a music label for Chinese kids, who play in bands," says Liu, referring to the Midi Kids art project it launched in 2010.
"The younger generations are open to various music styles and the internet has enabled them to get access to lots of music resources. They are creative and grow fast musically."
The number of people applying to the 2019 Midi Kids Band Competition increased by 50 percent compared to the competition in 2018, according to Liu.
Now in its fourth year, the contest has expanded its territory from three divisions-Beijing, Shanghai and Shenzhen-to seven divisions nationwide. These include Changsha in Hunan province, Chengdu in Sichuan province and the Xinjiang Uygur autonomous region.
Since 2013, Beijing Midi Music Festival also has been offering a stage for children. The winner of the kids' band competition will perform on the main stage of the Beijing Midi Music Festival.
For Zhang Yao, music teacher of another children's band, called Shenhaiyu (meaning "deep-sea fish"), it seems that when kids play in a band, they learn much more than how to play music.
"It takes lots of time to practice. When kids play together, they have to learn to cooperate, which is about teamwork," Zhang says.
"They also learn to be brave and confident while playing in front of an audience."
Shenhaiyu is a rock band from Yuhuan city, Zhejiang province. The name of the band was inspired by the members' hometown, Yuhuan, a beautiful island area.
The band, consisting of lead vocalist Pan Yihan, guitarists Zheng Jinchu and Chen Hantao, bassist Li Zicheng and drummer Xu Yi, with all members aged 10, achieved second place in the children's group of the 2019 Midi Kids Band Competition. Their original self-titled song was also featured on the live album.