China-US cooperation trend unstoppable: vice foreign minister
Share - WeChat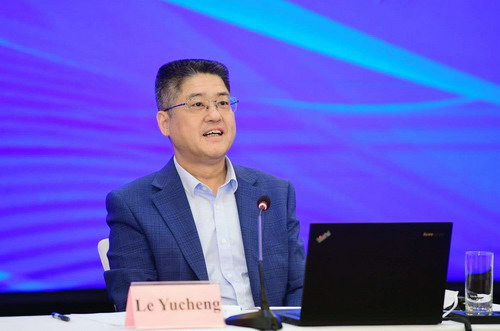 The trend toward China-US cooperation is unstoppable, said vice foreign minister Le Yucheng at a video dialogue on Sino-US relations co-hosted by the Chinese People's Institute of Foreign Affairs and the Asia Society on July 8.
According to Le, the China-US relationship has delivered enormous, tangible benefits to both peoples, as the past 40-plus years have witnessed a more than 250-fold increase in bilateral trade.
Le also noted as a major market for US exports, China has supported around 2.6 million American jobs.
A total of 72,500 US companies have investments in China, and the overwhelming majority of them have made a fortune, he added.
The vice-minister said decoupling is impractical and benefits no one. He noted that although the flow of people between China and the US has paused due to COVID-19 pandemics, the flow of goods has bucked the trend and continued to grow.
In April, bilateral trade rose to $41.2 billion, again making China the largest trading partner of the US. And the figure continued to grow in May to $46.5 billion, he said.
The vice foreign minister said that US businesses are still most interested in the huge market of China, adding that a recent survey by the American Chamber of Commerce in China suggests that 84 percent of US companies operating in China don't want to leave, and 38 percent of them plan to maintain or increase their investment.
Since the beginning of this year, ExxonMobil, Honeywell, Tesla, Walmart and other US companies have been expanding their investment and operations in China, he added.
The vice foreign minister also noted that 160 US companies sent a co-signed letter to Congress urging the lifting of tariffs on China. The tariffs, they say, cost Americans $50 billion more in duties in 2019 and raised the average household expenditure by $1,277. The trade war has wiped out $1.7 trillion of the market value of listed American firms, he said.
China remains committed to the principles of no-conflict and no-confrontation, mutual respect and win-win cooperation, and the country stands ready to work with the US to advance China-US relations based on coordination, cooperation and stability, said the vice foreign minister.