Wu planning to stick with Espanyol 'family'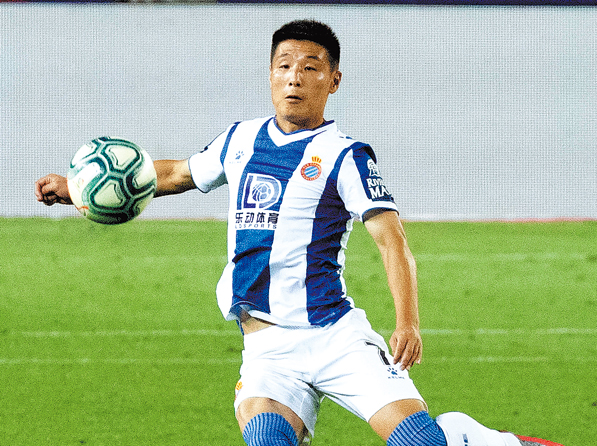 Chinese ace appears to rule out move despite team's La Liga relegation
Wu Lei has strongly indicated he will remain with Espanyol next season despite the club's relegation from La Liga.
Defeat to Barcelona last week ended Espanyol's 26-year stay in the top flight and ignited debate and speculation over Wu's next career move.
With the English Premier League's Wolverhampton Wanderers and Watford reportedly among his suitors in recent weeks, many fans have urged the 28-year-old to seek pastures new.
However, in a lengthy message posted on Weibo last Friday, Wu seemed determined to stay with his Barcelona-based team and fight for promotion at the first attempt.
"Everyone in the club. All the players, staff and fans, we are a great family," wrote Wu, accompanied by a picture of himself hugging teammates. "We still have the same goal. I believe we can return to La Liga as soon as possible. Stay strong, Espanyol!"
Wu became the first Chinese to sign permanently for a La Liga club when he joined Los Periquitos in January 2019. With two matches remaining in La Liga this term, he remains the only Team China player currently plying his trade in one of Europe's major leagues. Now he is preparing himself for life in Spain's second tier.
"From the first day I arrived at the club, I have felt the great atmosphere here. We are a united, humble, positive and progressive team," said Wu, whose contract expires in December this year.
"I want to thank everyone for their help and the trust from my coach, teammates and staff of the club. My heart is always with the blue and white Periquitos.
"Now we have to fight hard to return to the top division. It's a fight for our history, for our club and for our lives. Just like our song, the white is our heart and the blue is our soul."
It's been a tough 2020 so far for Wu, who along with his wife tested positive for COVID-19 in March. Friday's Weibo post acknowledged the support he received from fans during his recovery.
"This March, unfortunately, I was infected with the coronavirus. I felt great love from all of you during that time," Wu wrote. "I thought no matter how tough it would be, as long as I can return to the pitch, I will bring happiness to all of you.
"One day, I hope people will not discuss if a Chinese player should play in a top European division or in a second division. Because I hope one day there will be Chinese players fighting for their dreams in all divisions of the European leagues. That's when Chinese soccer can truly be confident."
Meanwhile, Espanyol's Chinese president, Chen Yansheng, has said responsibility for the club's poor season "lies mostly with me".
"For this I'd like to express my most sincere and deepest apologies to the fans and supporters, who back us and care about the team," Chen said in a club statement.
"For this reason, we need to do some deep self-criticism and reflection. At the same time, we will strongly promote the constant development of the club. We are confident that, through constant effort and hard work, the club will return to the top level, where historically it deserves to be.
"Espanyol values of struggle and commitment precede the club. The most admirable thing is that our fans are always there, endlessly fighting with us side by side. Your confidence, emotion and pride provides the energy and the engine that keeps Espanyol moving forward. On behalf of the club, I would like to thank you most sincerely."