Lang preaches patience in Olympic waiting game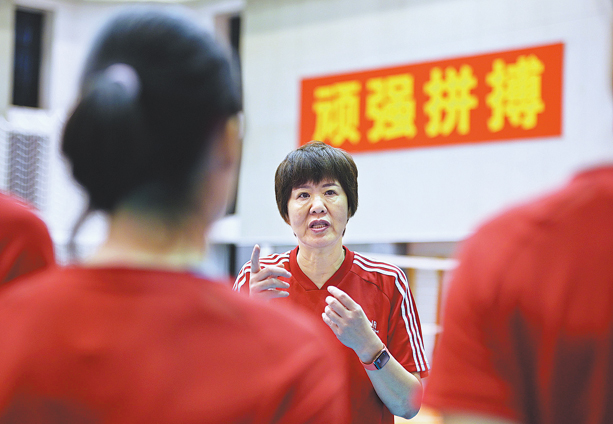 Legend drawing on all her experience to tailor Tokyo bid in uncertain times
In a world without the coronavirus, Lang Ping and her Team China players would've this week set out for Tokyo to begin their quest for back-to-back Olympic golds.
Now, with the Games postponed for a year due to the pandemic and her retirement plans on hold, the legendary head coach is attempting to navigate a new route to a potentially perfect career finale.
The road ahead, however, is filled with uncertainties as questions grow over the feasibility of the rescheduled Games amid the ongoing crisis.
Lang is doing her best to take these challenges in her stride, urging her team to focus always on the moment, and to remain adaptable and flexible.
"For a coach, you have to find the right rhythm straightaway. We have to make changes as soon as possible, especially mentally," Lang said in a recent interview aired on CGTN.
"Without competitions, training is really hard when it's going on and on for months. Right now it seems the training camp is really long and the motivation is going down."
With volleyball competitions still suspended domestically and internationally, Team China's Olympic preparations just keep getting longer. Last month the squad wrapped up an epic training program that began back in February, and after a short break Lang last week called up a 20-woman roster to settle in for another two months of training in isolation.
Featuring customized sessions for both injury-plagued veterans and more sprightly young guns, Lang's program puts particular emphasis on strength conditioning and fundamental skills as the champion team vows to become stronger.
"This is the world we are living in and it's the same for everybody," said Lang, who led China to Olympic gold at the 2016 Rio Games as well as back-to-back World Cup titles (2015, 2019).
"So we just calm down and slow down and try to do a lot of fundamentals and try to improve and still love volleyball."
As the star of the all-conquering China team of the 1980s, Lang knows a thing or two about achieving consistency-mainly thanks to good old-fashioned hard work.
"When I was young, we trained this way. Of course, it was like 30 years ago," said Lang, who was known as the "Iron Hammer" for her fierce spiking.