Zhang Weili determined to tame the 'Thug'
Share - WeChat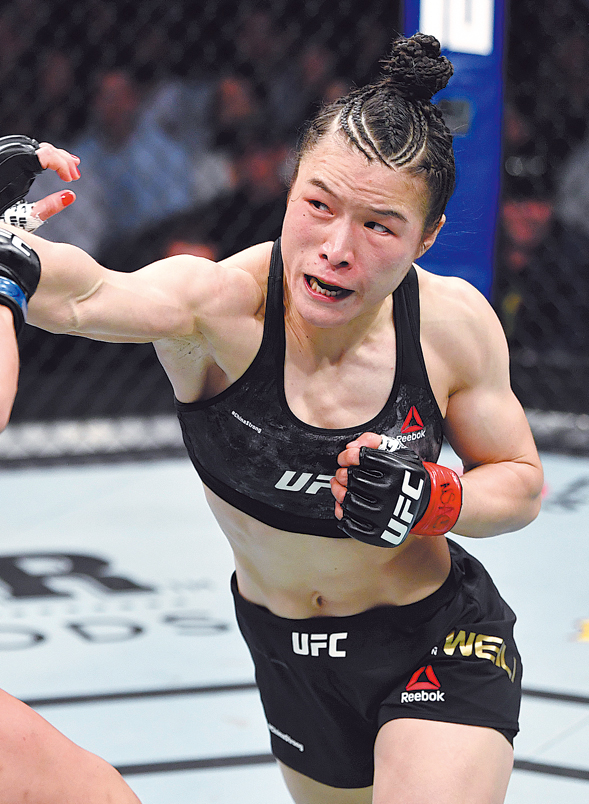 Zhang Weili has pledged to "go beyond herself" as she prepares for likely her fiercest challenge yet in the Octagon.
On Saturday, Rose 'Thug' Namajunas earned a title shot against the Chinese world champion after a split-decision victory over Brazil's Jessica Andrade, who was dethroned by Zhang in August.
Impressed by Namajunas' ferocious attack against Andrade, Zhang was her usual respectful and humble self as she immediately looked forward to defending her Ultimate Fighting Championship strawweight title against an opponent that she has never faced before.
"I really expect to fight her as soon as possible because we never met before. I only fight the strongest possible rival and it's better when she is a former champion," Zhang said after watching Namajunas triumph.
"I wish her a speedy recovery to get stronger physically and mentally by the time we meet each other," added Zhang, 30, who defended her title by beating former division champion Joanna Jedrzejczyk of Poland via split decision in Las Vegas in March.
"For my preparation, I've always concentrated on going beyond myself. As long as I keep pushing to be the best fighter I can be, I don't really have to care too much about others."
The rivalry between Namajunas (10-4) and Andrade (20-8) dates back to May 2019, when the Brazilian knocked out Namajunas to take her 115-pound belt, before the 'Thug' exacted revenge in Saturday's rematch at UFC 251, staged on Fight Island in Abu Dhabi.
Saturday's event kicked off a four-bout series over a 15-day span staged at empty arenas on Yas Island as part of the UFC's efforts to keep the action going safely amid the COVID-19 pandemic.
Namajunas said she is looking forward to challenging Zhang by the end of this year, should a broken nose sustained on Saturday heal quickly enough.
"I don't see her fighting anybody else until then," Namajunas said of Zhang before UFC 251.
"Anything can happen but that's what I see happening. I think she's proven herself as a champion. I always said anybody who can beat Joanna is worthy of the belt and is somebody I want to fight."
Similar in size and speed to Zhang, Namajunas reckons that her advantage against a relentless power puncher like the Chinese champ is her ability to finish fights as early as possible.
"I always say that I am a natural-born finisher. When I smell blood, I am the best at that. I don't need to force anything. I just need to be myself, stay disciplined for 15 minutes and the finish will present itself within that."
Steering clear of trash talk as usual, Zhang instead wished Namajunas a speedy recovery from her nose injury; before Saturday's fight the American also showed her future opponent respect by praising Zhang as "a true martial artist".
After beating Andrade, Namajunas offered a light-hearted apology to Zhang after claiming in an earlier interview that she didn't agree with the widely held view that the Chinese star's win over Jedrzejczyk in March was the "fight of the year".
"Sorry Weili," Namajunas said in a video message recorded in hospital on Saturday. "That was the fight of the year, I take that back."
Meanwhile, Zhang has admitted she is concerned about the absence from her entourage of one of her coaches, who remains stuck in Thailand due to China's temporary entry ban on foreign nationals to curb imported COVID-19 cases.
The trainer, who Zhang credits with playing a major role in her win over Jedrzejczyk, hasn't been able to work with Zhang since returning to Thailand from Las Vegas.
"I am really worried about my training without him on my side," Zhang said. "It's really something that I'll try hard to find a solution to in the coming days. Only with him can I customize my training with more tactics and strategies targeting the next opponent."