Guo'an coach Genesio targets ending Evergrande reign
Share - WeChat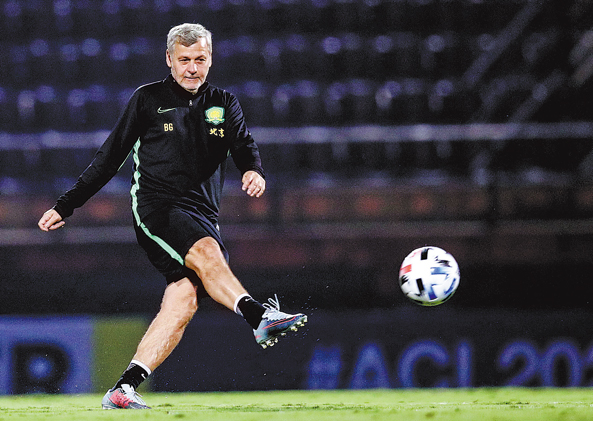 Having narrowly missed out on glory with a runner-up finish last year, Beijing Guo'an is determined to go one step further and wrest the Chinese Super League title off Guangzhou Evergrande this term.
"Beijing Guo'an is a team with a long tradition and of course our goal is to win. That goal is in our blood, and we should always have the heart of winning," Guo'an head coach Bruno Genesio, whose club won its sole CSL title in 2009, told media on Wednesday.
"But this year we have to make a steady improvement. Our main contenders are still Guangzhou Evergrande and Shanghai SIPG, and there could be other rivals like Dalian Pro and others. We need to play well in each game."
After over six months of a hiatus due to the COVID-19 pandemic, the CSL season will finally kick off behind closed doors on July 25.
Like many foreign players and coaches, Genesio has only recently returned to China, managing to gain entry in late June after being stuck in his native France because of pandemic-enforced travel restrictions.
Since his arrival back in Beijing, Genesio has been busy getting reacquainted with his squad, as well as assessing new addition Alan, who last week arrived on loan at the capital club from eight-time champion Evergrande.
Genesio is hopeful the Brazil-born attacker, who hopes to eventually play for Team China after gaining Chinese citizenship last September, can quickly gel with Guo'an's established imports Renato Augusto and Jonathan Viera.
"Now I'm looking forward to seeing Renato Augusto and Jonathan Viera on the pitch, and find out what kind of performance they will deliver cooperating with Alan," said Genesio.
"I believe Alan will play a strong role… I hope all the team's foreign players can get up to speed as soon as possible. The first target is to restore their physical strength."
After impressing on loan at the now-disbanded Tianjin Tianhai, Alan is looking forward to challenging for silverware at Guo'an and show his owners at Evergrande what they are missing.
"I was impressed by Guo'an when I played against the team for the first time. The atmosphere of its home stadium reminded me a lot of Brazil's stadiums," he said.
"This year's competition will be fierce. Many teams will have a chance…We have many great players in our team. And I feel lucky to be able to play alongside them."
In a shortened CSL campaign, matches will initially be contested in a round-robin format, with the 16 teams split into two groups based in Dalian, Liaoning province, and Suzhou, Jiangsu province. That will be followed by a knockout stage to decide the champion, AFC Champions League spots and relegation places.
Guo'an is assigned to Suzhou, along with 2018 champion SIPG, and the Beijing club will play its first game against Chongqing Dangdai on July 26.
Genesio admits the revised format presents a new challenge for him, and hopes the absence of fans at stadiums won't affect Guo'an's motivation.
"I've never experienced such a competition format," said the Frenchman. "So during the next two months, I have set two goals-the first is to improve my English so I can communicate better with our foreign players.
"The second is to do everything well with all our staff to improve our training and maintain a great atmosphere.
"I really love to play at our home stadium and the team can never go without the support of our fans. The fans need us too. We are like a family … I really wish the fans could've been allowed to attend, but it's understandable why we have to play in an empty stadium."
To ensure the health and safety of all involved in the season, the CSL is enforcing strict rules to prevent the spread of coronavirus. In both host cities, the match and living areas will be divided into blue, green and purple zones.
Players, coaches, referees and core match staff will be assigned to blue zones and will be under strict lockdown, with their movements restricted to their hotels, training pitches and match stadiums.
Those curbs could pose problems for maintaining players' morale levels, although Genesio is confident Guo'an are better mentally equipped than most to deal with the isolation.
"We have a great atmosphere in our team, and maybe the next two months won't be that hard," he said. "We will have many difficulties. We want to win as much as we can and we want to keep the communication in the team. I hope the players and staff can understand all the problems we have on and off pitch, so we can solve them."
Most Popular
Highlights
What's Hot