'Devil mother' drives girls to success
Share - WeChat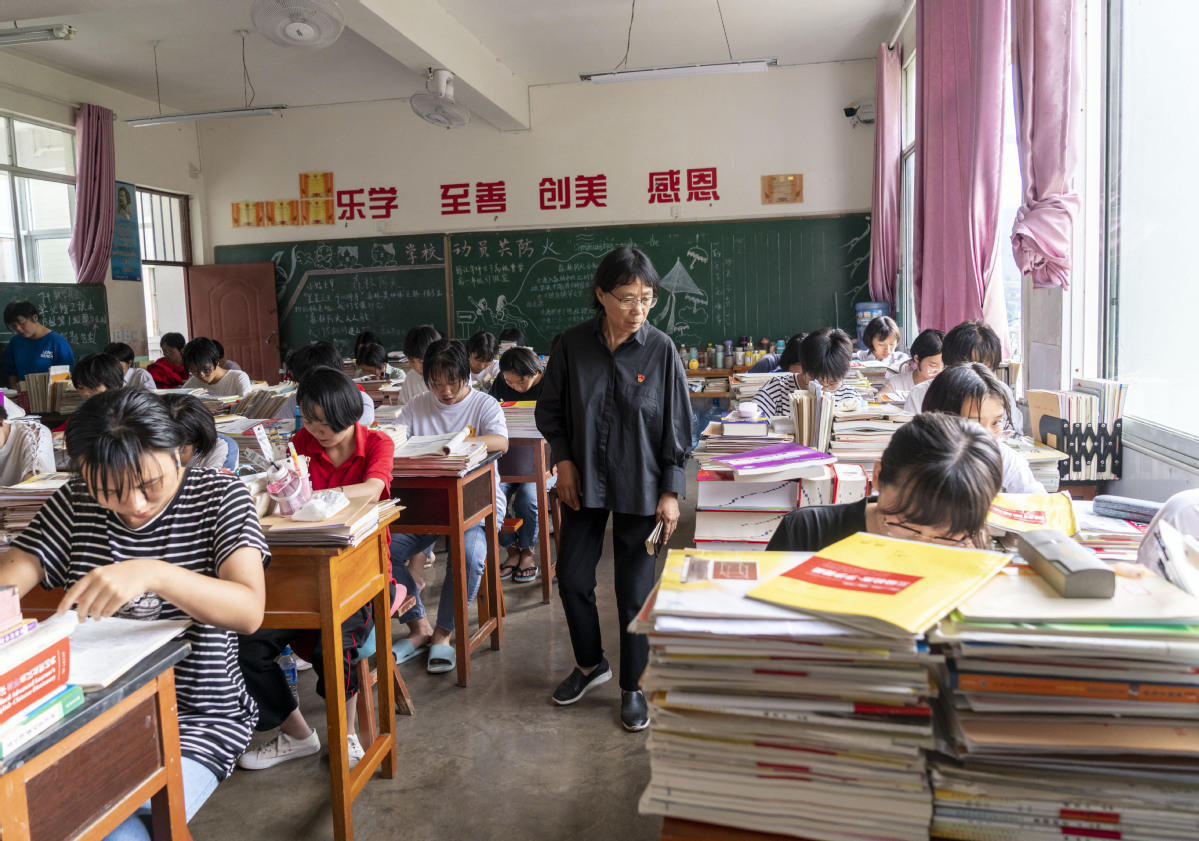 Girls dropout
Zhang said when she was teaching at Huaping Minority Middle school, she noticed fewer girls attended school than in Dali. "Every now and then female students disappeared from my class," she said.
Zhang started visiting the homes of the girls who had dropped out to find out why they had stopped going to class. Many of them lived in villages deep in the mountains.
She learned from the girls' parents that most of the dropouts were engaged or in arranged marriages.
"Poor families think it's useless to send girls for further education, however, they treat their boys the opposite way, which drives me crazy," she said.
In one of the homes she visited, a boy who studied in middle school did extracurricular courses while his older sister, a senior student, abandoned her ambition of sitting the national college entrance exam to stay at home and do chores.
"At that moment, I realized how difficult it was for girls to receive an education and I came up with the idea of establishing a high school specifically for girls," she said.
Dream big
In 2003, Zhang began to raise funds for what other people called her "unrealistic dream".
She went to Kunming, the capital of Yunnan, and presented herself to donors along with her teaching credentials and humble requests for financial support. Zhang told people she met that she wanted to start a high school exclusively for girls and asked, "Could you please support me with five or 10 yuan? Even two?"
However, Zhang said her fundraising efforts were often met with suspicion and even insults.
Some companies set their dogs on her and the security guards accused her of being a scam artist. Zhang said they told her "You can speak Mandarin and look like an educated person with a pair of glasses, but you don't work hard and want to cheat money from us."
Between 2003 and 2007, Zhang spent her summer and winter vacations on the streets, asking people to make donations for her girls' school. However, she only raised about 10,000 yuan, far from enough to build a school.
NPC influence
In 2007, Zhang was elected as a deputy to the National People's Congress due to her dedication to education in rural China.
After her dream of building a high school for girls was reported by media across the country, the Yunnan government promised to invest 60 million yuan in the project.
When it opened in 2008, only one teaching building of the Huaping High School for Girls was completed.
About 90 girls from Huaping and nearby counties had enrolled in the school, which had no dormitories or a canteen. The girls and the teachers improvised and lived in the teaching building.
Zhang said the school had no entrance exam and the students had a "poor basis" to their studies.
"They couldn't understand a math problem even after it was explained to them eight times," she said.
Belief in what the school was trying to achieve was also in short supply. In 2009, after seeing no hope, nine teachers resigned, leaving just eight to carry on.
Zhang said she had prepared for the worst. If her school could not continue operating, the students would be dispersed to ordinary high schools in the area.
Tough love
However, things improved after Zhang and her colleagues implemented strict discipline at the school, which they called "devil training".
In 2011, the first intake of students graduated and all were admitted to universities or vocational colleges. By 2015, construction of all the school's facilities was complete.
Due to her poor health, Zhang has stopped teaching at the school.
However, she is acutely aware of the impact the school has had on changing the lives of scores of young women from less-privileged backgrounds.
Zhang recalled one visit to the home of a family of the Lisu ethnic group. The grandfather told her he would die in peace if his granddaughter managed to attend university. "I suddenly realized how important knowledge is to the elderly in the mountains, even though some families I had visited before prioritized boys over girls," she said.
She added that the school's graduates were better off and happier than her and "that's enough".
"It is my greatest comfort to be able to change at least one generation through education," Zhang said.