Villagers make sacrifice as floodwaters rush in
Share - WeChat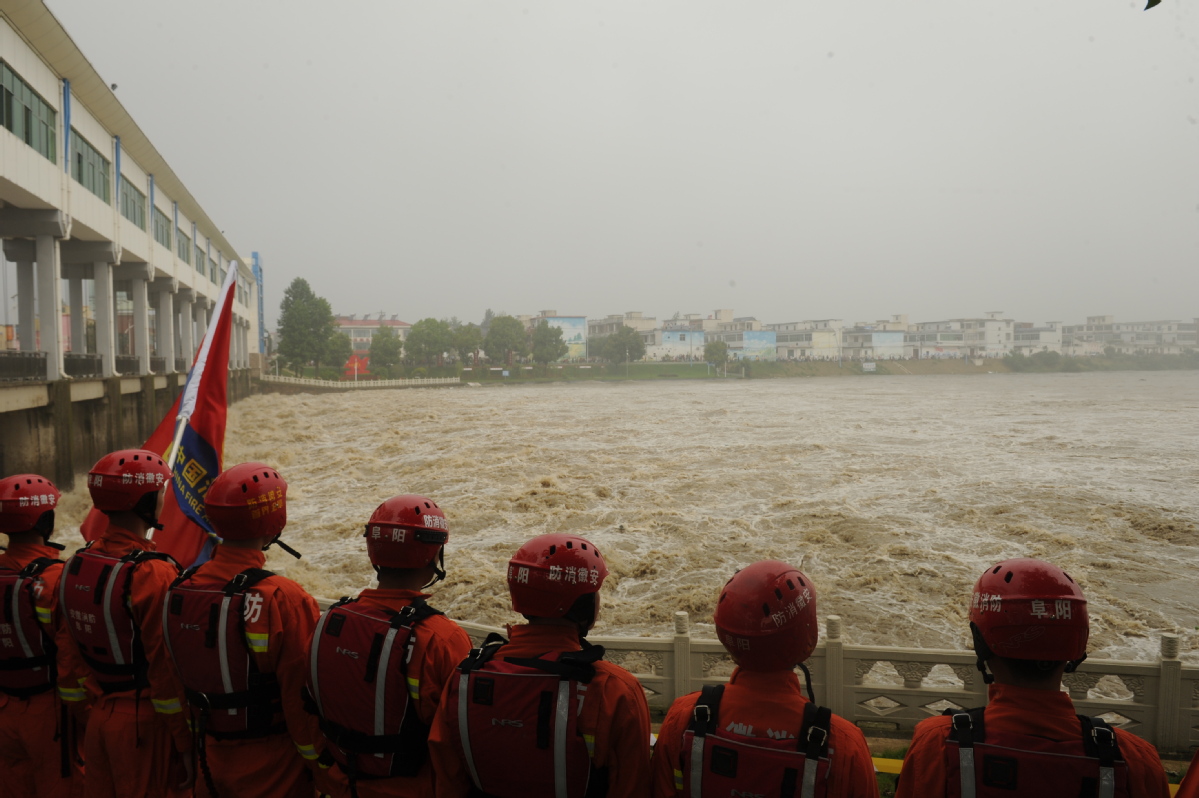 Sluice gates opened deliberately in Anhui to protect other areas
Qu Chengying was chat-ting with neighbors in a pavilion on Tuesday afternoon when a team of armed police arrived in her village in Anhui province with supplies of food, medicine and other necessities.
The woman, who is in her 70s, and more than 50 other residents of Langlou, a village in Funan county, had been isolated since Monday morning, when the area was flooded. By Tuesday, crops and roads had been submerged by the waters.
However, this was no surprise to the villagers, as the operation was carried out deliberately by opening the sluice gates on a major flood diversion project.
The Wangjiaba sluice gates near the confluence of the 1,000-kilometer-long Huaihe River, which lies several hundred meters from the village, and two other rivers were opened on Monday morning.
The Huaihe flows from west to east through Henan, Anhui, Jiangsu and Shandong provinces.
The Huaihe River Commission of the Ministry of Water Resources said due to continuous torrential rainfall in Anhui and Henan on the upper reaches of the river, the water level at the sluice gates reached 29.66 meters at 6:36 am on Monday, 0.36 meters higher than the safety level. The waters were continuing to rise.
About two hours later, the commission ordered all 13 sluice gates to be opened. The waters poured into the Mengwa Flood Diversion Area, which includes four townships and is home to about 195,000 people.
The entire area was submerged in just a few hours as 1,626 cubic meters of water poured in per second.
Lu Haitao, an official with the Huaihe River Course Administration, said, "With a capacity of 750 million cubic meters of water, the area will be used according to the situation on the river."
In 2007, the last time the diversion area was used, it stored 250 million cubic meters of water, Lu added.
When the Huaihe rises above the safety level in Funan, authorities can opt to open the sluice gates-which were built in 1953-to let excess water flow into the 180-square-kilometer Mengwa Flood Diversion Area. Administered by Fuyang city, the area is home to more than 195,000 people. It has been flooded deliberately 16 times since 1954.
The Huaihe River Commission said the waterway rises in the mountains of Henan, and its upper reaches run for 364 km, with the river falling 178 meters over that distance.
By contrast, the middle reaches, which are mostly in Anhui, lie between the Wangjiaba sluice gates and Hongze Lake in Jiangsu. This stretch is 490 km long, with the river dropping a mere 16 meters, according to the commission, which was founded in 1950. It is headquartered in Bengbu, a riverside city in Anhui, and employs more than 3,000 people.
Wu Xu, an expert with the commission, said it was formed because harnessing the waters of the Huaihe along its entire length required coordinated efforts by governments in different areas.