Rural education anniversary celebrated
Share - WeChat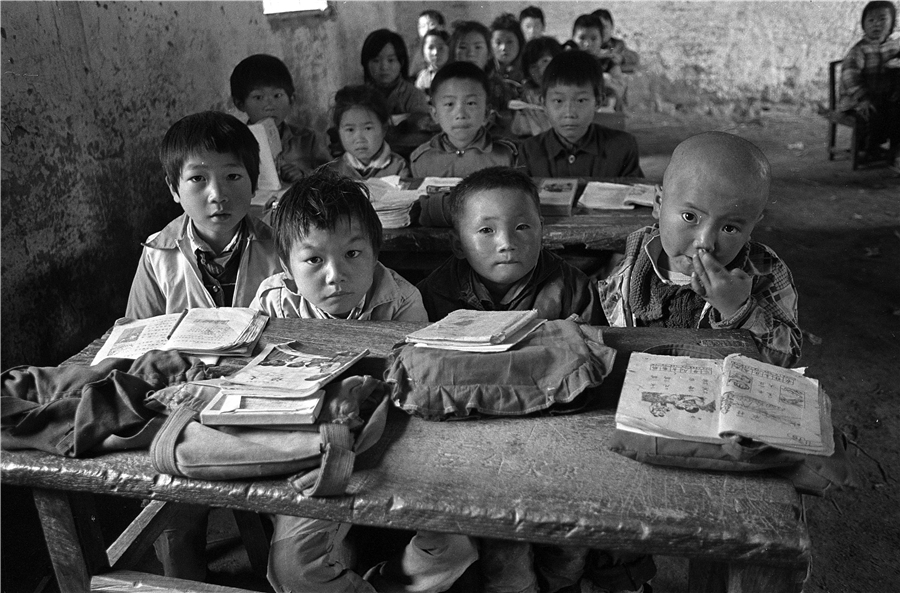 Pilot school
Although now a household name in China, few people at the time were convinced about what Project Hope could achieve by pooling social resources to fight a deep-rooted problem.
To promote the first Hope school, Xu Xiangqian, an influential Communist revolutionary who fought guerrilla wars in the Dabie Mountains in the 1930s, endorsed the inauguration by writing the institution's name in Chinese calligraphy before presenting it to the school authorities.
Before the inauguration, the temple school was all that Nanxi township had to offer local students, according to Jin Gan, who started teaching there in 1983.
The temple site resembled those at most rural schools in the 1990s, with a handful of teachers for about 100 students scattered across several grades. This meant one member of staff had to teach several subjects and a number of grades, Jin said.
The roof leaked and there was no electricity. The windows were broken and covered with old newspapers, making the classroom dark, even on sunny days.
The desks were too high for young children and were also cracked, making writing difficult. Chalk sticks were broken and in short supply, so teachers had to use them sparingly.
This lack of basic infrastructure and public services persisted in rural areas until the 2000s, creating problems for schooling.
Xu Junfeng, who enrolled at the school in Nanxi township 20 years ago, said that as there was no bus service or canteen on campus he used to walk for 40 minutes to have lunch at home before returning for afternoon classes.
"There was a river on my way home, but no bridge. To get across, I had to step on stones," said Xu, 26, who now teaches at the school after graduating from a teachers' training college in Anhui in 2017.
Thirty years on, the former temple teaching site has morphed into a sprawling campus with dormitory buildings, a government-subsidized canteen and a sports field. More than 2,000 students from nearby villages are enrolled at the school.