Chengdu auto show a sign of enthusiasm, resolution
By LI FUSHENG | China Daily | Updated: 2020-07-27 09:48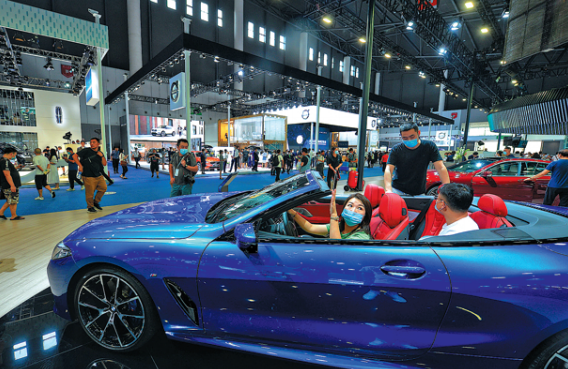 In the first first half of the year, China's auto industry suffered something it has not seen in decades.
Statistics from the China Association of Automobile Manufacturers show that passenger car sales totaled 7.87 million, slumping over 22 percent year-on-year.
To prevent such a scenario for the whole year, carmakers have to do a better job in the second half of the year and recoup at least part of the lost ground.
The Chengdu motor show is "the place to sound the charge", according to its organizing committee.
Chinese carmakers are launching branding campaigns to convince customers of their advances compared with international volume brands.
Volvo owner Geely is presenting its compact modular architecture, a 12-billion-yuan ($1.71 billion) platform it has developed with Volvo.
The Chinese carmaker is building models under four brands including Lynk & Co. The brands have collectively deliveried 600,000 vehicles.
China's largest SUV producer Great Wall Motors made the global debut of a Wey-branded SUV based on its brand-new platform built for off-road vehicles.
The platform, called Tank, is one of two unveiled a couple of days ago, with the other designed for sedans, SUVs and MPVs.
Wuling is coining a concept called "mini age for people's mobility" to introduce its mini-electric cars, and is showcasing its first model with a new logo for the global market.
Some international volume brands are not showing new models but are using the opportunity to build closer relations with customers.
Chinese and German executives from SAIC Volkswagen greeted the three millionth Skoda owner and Dongfeng Nissan is inviting potential buyers to join its 12 million customers.
Electric car startups are reinforcing their positions. Nio launched a coupe SUV which its founder William Li said it is to take on Tesla's Model Y. The model, called the EC6, will start deliveries in September.
WM Motor is showcasing two models at the event. It announced on Friday it is to build a global research and development center in Chengdu.
When completed, the 5.5-billion-yuan center will become the first facility dedicated to developing new energy passenger vehicles and relevant technologies in Sichuan province.
The center will coordinate the carmaker's global research and development efforts, with a special focus on the application of cutting-edge technologies including 5G and artificial intelligence in vehicles.
Premium and luxury vehicles outperformed the overall market in the first half of 2020, but they are not sparing their efforts either.
After all, Chengdu has more luxury cars than any other Chinese city with the exception of Shenzhen in Guangdong province. In terms of premium cars, it ranks third after Beijing and Shanghai, according to the China Passenger Car Association.
Mercedes-Benz launched three new models in Chengdu, which are part of 18 models in the German carmaker's product plan for China this year.
The company sold a record number of vehicles in the second quarter, but Jan Madeja, president and CEO of Beijing Mercedes-Benz Sales Service Co, said it was partly because of the pent-up demand in the first quarter, so the company will not take things for granted in the second half.
BMW, which also saw a sales surge in the second quarter, unveiled the 4 Series coupe and the new MINI Countryman at the Chengdu auto show.
The all-new Porsche Taycan made its China premiere on Friday, and Maserati is showcasing the limited edition Ghibli Fenice, together with Levante and Quattroporte special editions.