HK part of West's war against China, says Malaysian journalist
By Shadow Li | chinadaily.com.cn | Updated: 2020-07-29 12:15
Veteran Malaysian journalist Wong Chun Wai says Hong Kong has become a chess piece as the West escalates its biased narrative to wage a "new Cold War" against China.
Wong, former chief editor at Star Media Group Berhad, a leading Malaysian news company, said this modern warfare against China is perpetrated by various means, including foreign intervention that runs through financial institutions, economic sanctions, and inflamed narratives to twist public opinion.
Obviously, the West can't invade China as it did in the past, so it has built anti-China narratives, using propaganda and sponsoring subversion, Wong said.
Hong Kong, like the Tibet and Xinjiang Uygur autonomous regions, has become part of the narrative to "build the anger against China", he said.
These narratives were created through Western media's "slanted reporting" about what happened in Hong Kong during last year's social unrest, he said.
The way BBC and CNN covered the Hong Kong demonstrations was blatantly slanted; the rioters, who smashed property, set fires and attacked innocent bystanders, were portrayed as heroes fighting for democracy, he said.
Wong, a frequent visitor to Hong Kong, was caught up in the chaos when he visited the city last year during some of the worst street violence.
"It was terribly inconvenient for me as a traveler and as a tourist, because travel by train was disrupted. Going off to the airport was disrupted", Wong recalled. "It was really a nuisance. It was no good for Hong Kong's economy. It was no good for tourism".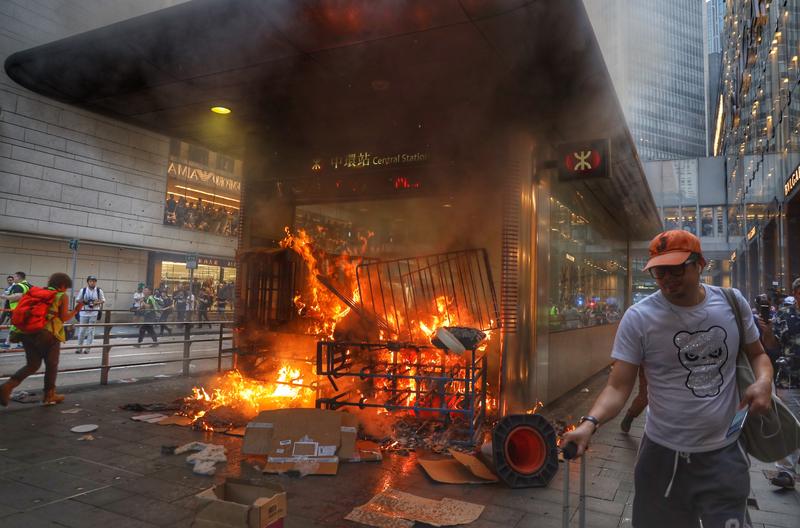 With the enactment of the National Security Law, Wong said he will feel much safer if he comes to Hong Kong, knowing that he will probably not encounter violence on the streets.
The law, which came into effect on June 30, criminalizes four activities, including collusion with foreign or external forces. Some Western countries issued fierce condemnations of the law and imposed sanctions on Hong Kong.
The United States has revoked Hong Kong's special trading status, with threats to sanction officials tasked with drafting or enforcing the National Security Law. The United Kingdom has proposed a path to citizenship for Hong Kong's British National (Overseas) passport holders. It also suspended its extradition agreement with the city.
Wong is skeptical about the citizenship offers from the UK and Australia. People in these places are unlikely to approve of having more foreigners coming in, not to mention the anti-China sentiment brewing in Australia, he said.
ALSO READ:
The West's narrative on the National Security Law is another exercise of foreign intervention that shows double standards and hypocrisy, Wong said, citing the many safeguards built into law by the US and its allies to protect their own national interests.
The extraordinary attention given to Hong Kong is directed at China, he said. Hong Kong seems a perfect target, because, conveniently, a group of young people took to the streets.
In Wong's opinion, Hong Kong — a free port with no national security safeguards — had been well-positioned as the listening post for the West to keep a close watch on the Chinese mainland. They would not have enjoyed such latitude operating from the mainland.
"So Hong Kong is the nearest point for them to operate" from, Wong said.
This all comes down to the West's fear of China's growing influence and fear of losing its own dominance, the veteran reporter said, as the inflammatory narratives have been created to slow down China's momentum.
Wong believes the campaign against China will be stepped up, as "unfortunately politics have come into play" as US President Donald Trump aims for reelection in November.
It is quite regrettable because it is important for the US and China to work together as both are strong players, Wong said, adding it is in the interest of both countries to work together.