Grammy-winning Rhiannon Giddens appointed Silkroad artistic director
Xinhua | Updated: 2020-07-31 07:50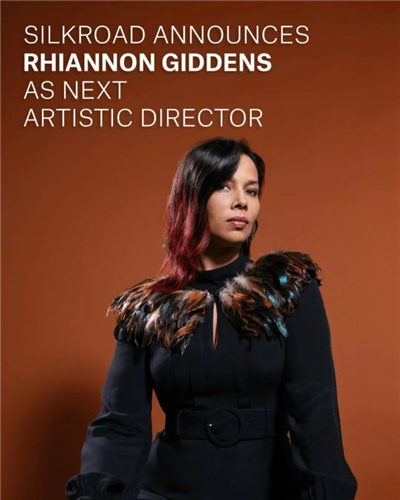 US celebrated singer-songwriter and multi-instrumentalist Rhiannon Giddens has been appointed the next artistic director of Silkroad, a not-for-profit organization initiated by Chinese American cellist Yo-Yo Ma.
Golnar Khosrowshahi, chair of the Silkroad board of directors, said Giddens' first official appearance would be on Wednesday night in Tanglewood's Recitals from the World Stage.
"As we look into the future, we feel certain to have found the ideal visionary to enhance Yo-Yo Ma's indelible legacy and lead us to new heights. We greatly admire Rhiannon's innovative spirit and look forward to seeing how she mines American and global traditions to effect an artistic impact that is relevant to our times," Khosrowshahi said in a press release.
Giddens' incredible mastery at excavating the music of America's past, knowledge of history and diverse cultures, and ability to bring people together from all walks of life is in accordance with the idea of the Silkroad project, making her perfectly suited for the position, Khosrowshahi said.
"For 20 years Silkroad has embodied radical cultural collaboration, both modeling and teaching the importance of connection across difference," he said, adding that in her new role, Giddens would oversee and conceive artistic programs that support Silkroad's mission.
Yo-Yo Ma, who founded the group two decades ago, expressed his utmost confidence in the leadership transition and excitement for Giddens to make her mark on the organization's future.
"Rhiannon is an extraordinary human being and musician. She lives Silkroad's values, at once rooted in history and its many musics, and is an advocate for the contemporary voices that can move us to work together for a better world. I look forward to joining Rhiannon and our Silkroad colleagues as we continue this journey together," Ma said.
The 43-year-old American folk singer is the first woman and first multiracial artist to lead Silkroad, the Boston-based organization. As a two-time Grammy winner, Rhiannon has been a collaborator of Silkroad since 2016.
Silkroad was launched by Yo-Yo Ma in 2008 and began an educational pilot program for middle-school students in New York City public schools in 2009. The group won applause all around the world not just for its touring ensemble comprising world-class musicians, but also for its efforts to use arts to bridge differences across races, countries and cultures.
Silkroad has recorded seven albums, including "Sing Me Home," which won a Grammy in 2016 for best world music. Rhiannon performed on the album.
The group takes its name from the ancient Silk Road trade route that linked China to the West, with the two hemispheres exchanging not only goods but ideas.