75 years marked since 1st atomic attack
By Wang Xu | China Daily | Updated: 2020-08-07 07:36
Survivors of the world's first atomic bombing gathered in diminished numbers near an iconic, blasted dome on Thursday in Hiroshima to mark the attack's 75th anniversary, many of them urging the world, and the Japanese government, to do more to ban nuclear weapons.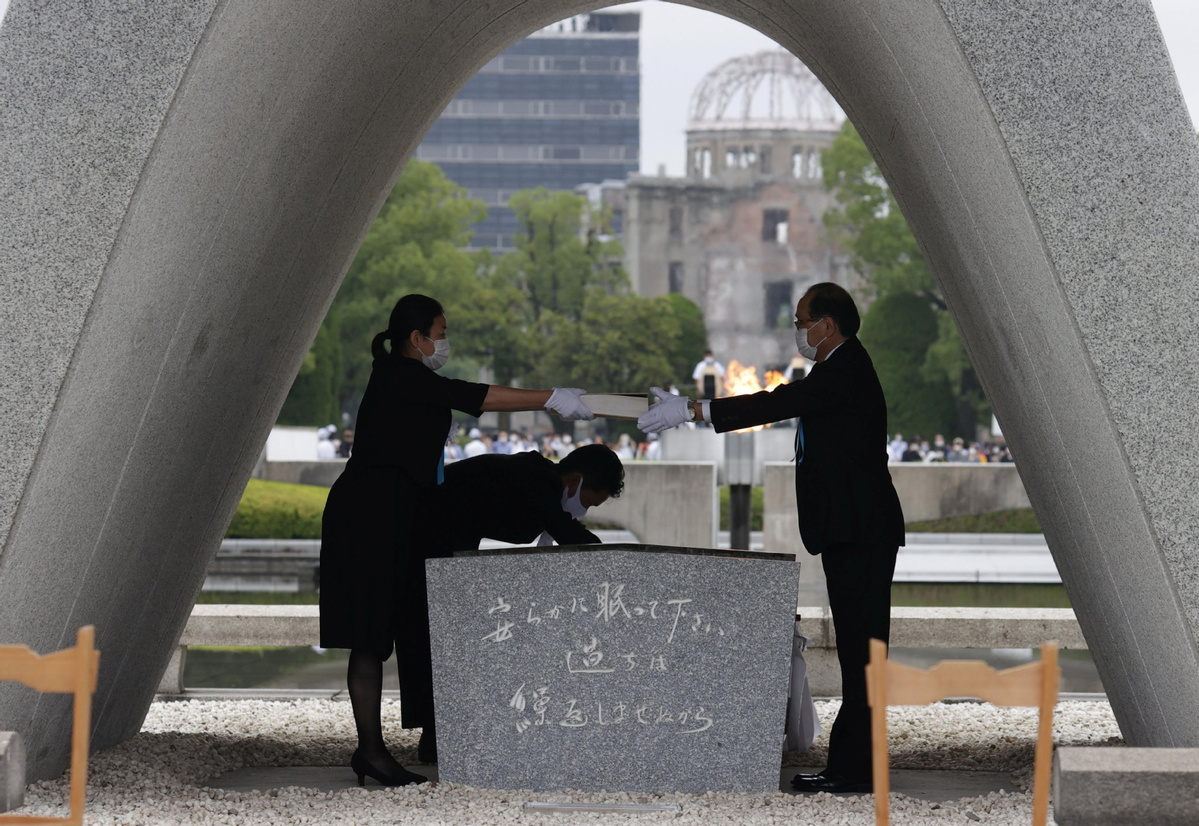 At the ceremony, Hiroshima Mayor Kazumi Matsui warned that the world must come together to face global threats, like the coronavirus pandemic, and to warn against the nationalism that led to World War II.
"An upsurge in nationalism led to the World War II and the atomic bombings. We must never allow this painful past to repeat itself," said Matsui, adding that "civil society must reject self-centered nationalism and unite against all threats".
Not being able to travel to the event, United Nations Secretary-General Antonio Guterres delivered a speech by video, in which he warned about the dangers the world faces as international arms-control regimes began to break down.
"Today a world without nuclear weapons seems to be slipping further from our grasp," he said, adding that "division, distrust and lack of dialogue threaten to return the world to unrestrained nuclear strategic competition."
On Aug 6, 1945, the United States dropped the world's first atomic bomb on Hiroshima, destroying the city in western Japan and killing 140,000 people. The US dropped a second bomb three days later on Nagasaki, killing another 70,000.Japan surrendered on Aug 15, ending World War II and its nearly half-century of aggression in Asia.
Japanese Prime Minister Shinzo Abe said: "As the only country to have experienced nuclear devastation in the world, this is our unchanging mission to step by step and steadily advance the efforts by the international community for a world free from nuclear weapons."
But his sincerity were questioned given his stance on Japan not signing a UN treaty calling for the elimination of nuclear arms and his efforts to change the country's Pacifist Constitution.
Amid the solemn remembrances at Hiroshima's peace park, Abe was confronted on Thursday by six members of survivors' groups over the treaty.
"Could you please respond to our request to sign the Nuclear Weapons Prohibition Treaty?" Tomoyuki Mimaki, a member of a major survivors' group, Hidankyo, implored Abe.
In response, Abe insisted on Japan's policy not to sign the treaty, vaguely citing a "different approach", though he added that the government shares the goal of eliminating nuclear weapons.
"Abe's actions don't seem to match his words," said Manabu Iwasa, 47, who came to the park to pray for his father, a bombing survivor who died at age 87 in March. "Japan apparently sides with the US, but it should make more efforts to eliminate nuclear weapons. It's frustrating, but there is not much we individuals can do."
Agencies contributed to this story.