Chongqing springs surprise as young guns come of age
Share - WeChat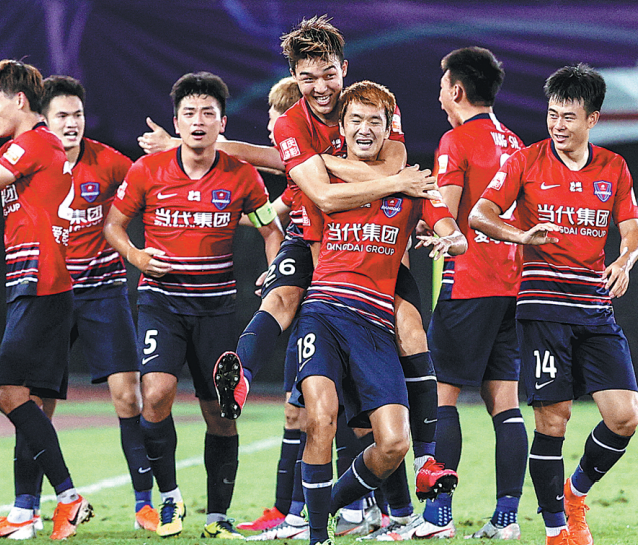 With one point to show from its first two games, it might seem strange to suggest that Chongqing Dangdai has been one of the success stories of the Chinese Super League's opening rounds.
However, a 2-1 loss to last season's runner-up Beijing Guo'an and a 2-2 draw with Tianjin Teda take on a different complexion when you consider Chongqing has not had the luxury of fielding any of its foreign players, who are stuck overseas due to ongoing pandemic-related travel restrictions.
Even with those imports at its disposal, Chongqing, which finished 10th last term, usually struggles to hold its own against the league's big guns-making the encouraging performances of its youthful, all-Chinese lineup in its 2020 season openers all the more impressive.
"We prepared a lot before we played against Beijing Guo'an, and we knew that they are a stronger team," said Chongqing's South Korean head coach Chang Woe-ryong.
"Despite failing to win the game, we still took a lot of confidence from that match. We also did not win the second game against Tianjin Teda, but the draw still earned us a point.
"Throughout both matches, we stuck to our tactics and found our confidence. And the most important thing is it was an invaluable experience for our young players."
Chang, whose team is playing in Suzhou-based Group B for the season's new tournament-style competition, has six under-23 players in his squad, with three featuring in his starting XI in the first two matches.
And Chang says the youngsters' extra minutes on the pitch tie in with the club's overall plan to forge a more youthful squad.
"The league is different because of the pandemic, and our foreign players are not able to return. So we can only utilize the all-Chinese lineup," he said.
"We had been preparing for all eventualities. And the priority has been to unite all our players, coaches and staff. As a united team, we face the season together.
"The club's long-term plan has been nurturing the future talent. Throughout the two games, the young players have proven themselves. They will have more chances to display their skills on the pitch in the future.
"We will focus on the young players to make the club younger. Modern soccer now has a quick pace, and the club's requirements on the tactics and skills of players will be higher."
Yang Shuai, a 23-year-old midfielder who netted his first CSL goal in the loss to Guo'an, is relishing every moment of being thrust into the limelight.
"The start of the season is difficult, but I believe as long as we have the momentum, we can achieve our goal," said Yang. "This is also a chance for us to prove the worth of domestic players. I'm so proud of my teammates.
"During preseason we only played friendlies against some second-division teams and against Henan Jianye. We hadn't played against any big clubs like Guo'an. But after this match, I feel the gap was not big."
With teams playing behind closed doors and asked to observe strict epidemic-prevention rules at their locked-down bases in Suzhou and Dalian over the next two months, the pandemic-affected season poses a myriad of challenges for clubs.
Chang has backed the measures and says certain sacrifices are needed for a successful season.
"If a team wants to achieve its goal, it's not just about players and coaches. The logistics, fans and all the staff in the club are involved. We all have to make sacrifices and efforts to achieve our goal," he said.
"Ever since we arrived, the lockdown area has enforced very strict regulations on our food safety. We sometimes make extra food for our players. But we only give them to our players after we communicate with managers in the compound."