Energized nation shaping up
Share - WeChat Annual fitness day emphasizes online activities amid ongoing virus vigilance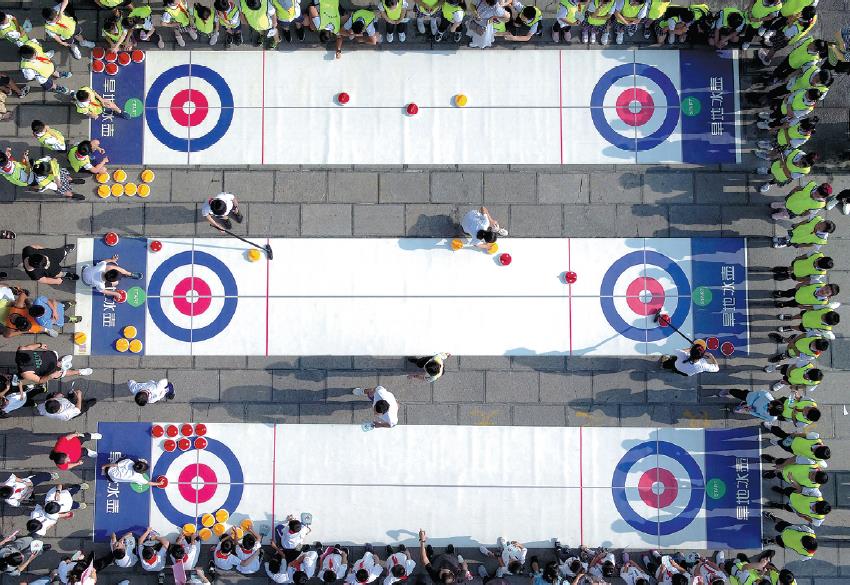 With online tutelage and home workouts part of the "new norm", China's growing number of exercise enthusiasts are busy boosting the nation's fitness push now that the COVID-19 epidemic has abated.
Although remaining cautious about sanctioning events involving large crowds, sports and health authorities are pushing ahead with a national plan to build a healthier China by 2030, highlighted by a variety of activities across the country over the weekend as part of the 12th National Fitness Day.
The annual celebration been held on Aug 8 since 2009 to commemorate the opening of the 2008 Beijing Summer Olympics.
Thanks to the use of fitness apps and virtual-reality tools, marathon runners, gym-goers and even square dancers have embraced online workouts at home to adapt to life indoors during the pandemic.
The General Administration of Sport of China on Saturday launched a campaign comprised of 50 events, both online and offline, in over 40 cities to encourage the public to stay active and maintain their exercise routines in safe ways.
Highlights of the campaign include an online demonstration of workout drills, an online fitness contest between amateurs and Olympic champions and free online gym classes, according to plans released by the GASC.
"Mass fitness is always about getting as many people involved as possible," Gao Yuanyi, deputy director of the GASC's mass sports department, said at the launch of the online workout demonstration on Saturday.
"With our battle against the pandemic still going on, the use of online platforms and new technologies made it possible to keep the action going safely."
The launch of the online demonstration was greeted by a dozen of Chinese Olympic and world champions, including table tennis legend Deng Yaping, retired gymnast Chen Yibing and snooker star Ding Junhui, who sent videos to encourage participants to show their best drills.
The public can upload their videos until Aug 31. Winners will be announced early next month following a public review on social media platforms.
As part of the National Fitness Day celebrations, all State-owned sporting venues and exercise facilities are required to open to the public on Aug 8 every year, although on Saturday the pandemic posed challenges in this regard as local authorities maintain vigilance against the coronavirus.
On Saturday morning, Shanghai residents showed up about half an hour before the indoor swimming pool at the city's Oriental Sports Center opened its first free session at 9am. Participants waited in order to have their temperature checked and reservation code scanned as part of the facility's virus-prevention protocols.
The cutting-edge venue, which hosted water polo competitions at the 2011 FINA World Championships, opened to a limited number of pre-booked swimmers throughout seven sessions and disinfected facilities thoroughly between sessions.
The venue is among thousands of such properties which offer free or low-cost public sessions when they are not hosting official competitions.
According to the Ministry of Finance, the central government offered subsidies totaling 930 million yuan ($134 million) in 2018 to help 1,277 large-scale sports venues nationwide maintain free or low-cost access for public use.
Local governments are also doing their part to involve more people in exercise on a regular basis.
Northwest China's Xinjiang Uygur autonomous region has promoted the development of mass fitness and provided more infrastructure support for mass sports in the past five years, according to data released by the region's sports bureau on Saturday.
With the public's health consciousness increasing, the number of people who have maintained medium-intensity exercise once a week in Xinjiang exceeded 10 million by the end of the first half of 2020. To date, nearly 600 local sports associations have registered and over 50,000 community sports instructors have been certified.
Xinjiang is also speeding up the construction of 115 soccer pitches for the public, which will be completed this year, lifting the region's per-capita sports field area to 2.1 square meters.