New 'Cold War' cabal gets the cold shoulder
By Phil Cunningham | China Daily | Updated: 2020-08-12 07:19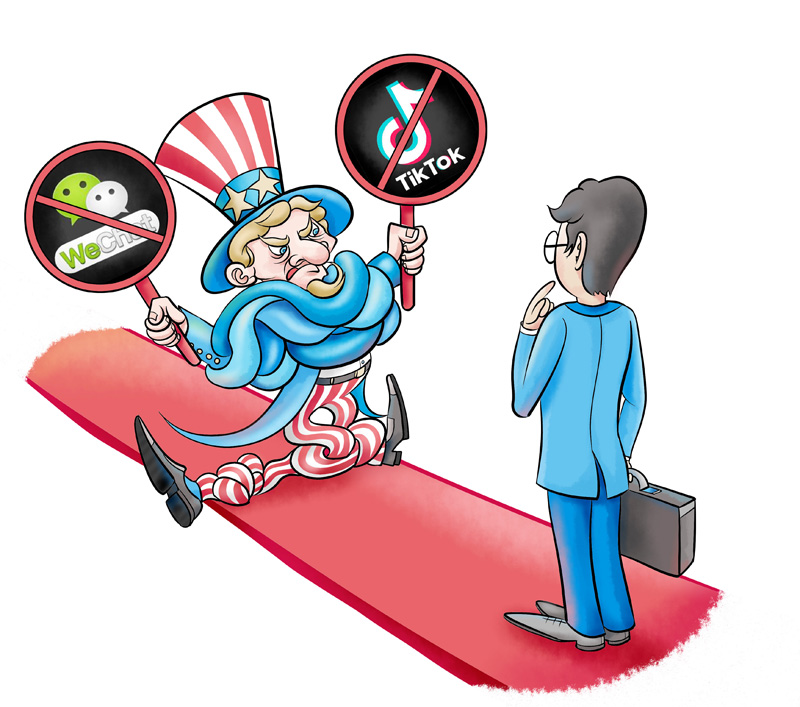 "US Leads a Coalition of One against China" screams the headline of The American Conservative. It sounds like a parody piece in the Onion or a college humor magazine but it comes from the pages of a serious, right-leaning publication not known for going easy on Beijing. The article by Ted Galen Carpenter highlights the utter failure of the United States administration to get allies, with the possible exception of the United Kingdom, to join its crusade against China.
As for the UK, Secretary of State Mike Pompeo paid a visit to London to twist arms and bend British will on controversial questions such as Huawei and military preparedness in the South China Sea with mixed results. A coerced "Coalition of Two" may well be achieved, but the rest of Europe just isn't buying it, and neither is Asia.
The Guardian's world affairs editor Julian Borger pithily explains why the US "coalition" is failing to coalesce: "The failure of governance evident in the Trump administration's response to the coronavirus pandemic-which has left the US as the biggest, most enduring hotspot, and Americans banned from travelling to much of the world-has also made it hard for US diplomats to cajole foreign governments into a common cause against China, without drawing pained smiles."
The US president has alienated even longstanding US allies with his erratic, petulant behavior, whether it be slamming down the phone or belittling essential allies such as German Chancellor Angela Merkel, Canadian Prime Minister Justin Trudeau and Republic of Korea President Moon Jae-in.
Australia, which the US has long taken for granted as a bulwark against China, has pushed back against Pompeo's push. "The relationship we have with China is very important, and we have no intention of injuring it", Australian Foreign Minister Marise Payne explained.
In Asia, India has reasons of its own to seek common ground with the China hawks in the US, but an Indo-US "democratic alliance" against China doesn't stand much of a chance since long-standing New Delhi-Washington distrust can't be easily overcome.
Even Japan, bound by a treaty to be a stalwart supporter and "key security ally" of the US, has shown reluctance to get on board the runaway Pompeo train, even on more moderate issues, as seen in this June 7 report in the Mainichi Shimbun: "Japan opts not to join US, others in rapping China for Hong Kong law."
As for the Republic of Korea, asking Seoul to "choose either China or the United States" is like "asking a child whether you like your dad or your mom", according to Moon Hee-sang, the speaker of the ROK legislature. Talking to The Atlantic in late July he added: "We cannot abandon economy for the sake of security, and we cannot abandon security for the sake of economy."
China's State Councilor and Foreign Minister Wang Yi appears to concur: "It is neither necessary nor possible for the two sides to change each other", Wang stressed in a Xinhua report in early August. "Instead, we should respect the choice independently made by the people of the other side."
The US has been undermining support and chiseling away at its own alliance network for some time now. Japan was upset by the way the US unilaterally pulled out of the Trans-Pacific Partnership agreement. The childish storming out of various arms control agreements has not added to the US' stature either.
The US administration inherited a bureaucratic disregard for decisions of the International Court of Justice and global environmental protocols, but by making a mockery of the United Nations, the incumbent US administration has done nothing to win upset allies. And quitting the World Health Organization in the midst of a pandemic is par for the course for the US administration's tone-deaf diplomacy.
The carnage of traditional institutions and valued protocols by the US is so great that critics can be found across the political spectrum.
"Last month, Secretary of State Mike Pompeo launched yet another evangelical crusade, this time against China," writes liberal economist Jeffrey Sachs. "His speech was extremist, simplistic, and dangerous-and may well put the US on a path to conflict with China."
Equally cogent analysis comes from conservative writers who are hoping to dampen the impact of Pompeo's audacious and ill-conceived move to declare a new "Cold War" on China. Everywhere you look, outside of race-driven populism of Rupert Murdoch's TV and newspaper empire, there is a palpable sense that US policy has lost its bearings.
"The dirty little secret is that the administration has no strategy. It is a snake pit of competing policy entrepreneurs, most of whom understand little about China or world affairs," writes Columbia University professor Andrew Nathan for the centrist Asia Society. "For many, domestic politics is the key consideration."
Nathan identifies the "snakes" as follows: Mike Pompeo, White House advisers Peter Navarro and Matthew Pottinger, Vice-President Mike Pence, National Security Advisor Robert O'Brien, FBI Director Christopher Wray, Attorney General William Barr, and outside ideologues Newt Gingrich and Steve Bannon. Congressman Ted Yoho of the Taiwan Caucus gets special mention because he was recently upbraided by Democrat Congresswoman Alexandria Ocasio-Cortez.
To Nathan's taxonomy of the "snake pit" might be added four congressional "hoarse men" known for their rabid anti-China venom: Tom Cotton, Marco Rubio, Ted Cruz and Chris Smith.
The good news is that this loose, incoherent coalition is already embroiled in infighting and will be in no position to prosecute a new "Cold War" if the US presidential election result goes against the incumbent president.
The bad news for those who prefer cooperation over confrontation is that Democrat presidential candidate Joe Biden and the Democrats, desperate to outflank the president, are almost equally hawkish on China these days.
We can only hope better sense prevails on US politicians.
The author is a media researcher covering Asian issues.
The views don't necessarily reflect those of China Daily.