Dortmund insists decision to keep Sancho is 'final'
Share - WeChat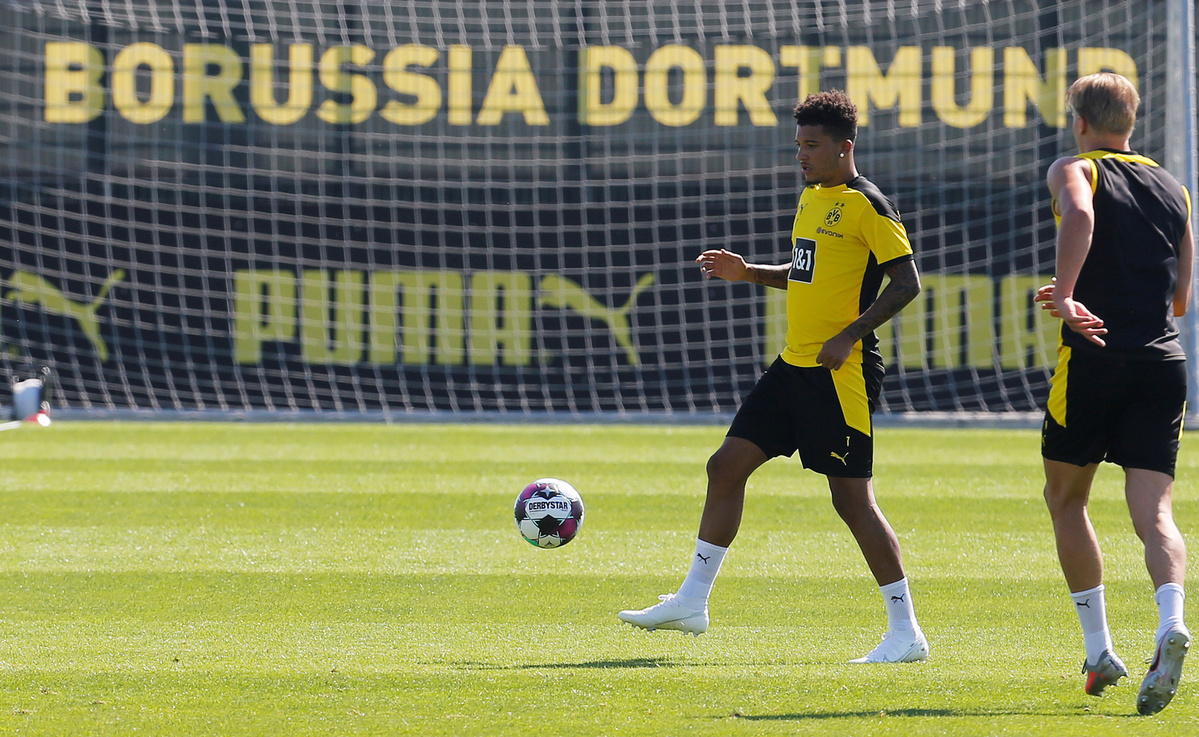 BERLIN-Borussia Dortmund is flexing its muscles in its efforts to keep Manchester United target Jadon Sancho at the club.
The German club's sporting director, Michael Zorc, this week announced the surprising stance at its preseason training camp in Bad Ragaz, Switzerland.
"We plan on having Jadon Sancho in our team this season," Zorc said. "The decision is final. I think that answers all the questions."
British media reports last week suggested that United was nearing a deal for 20-year-old England winger Sancho, which Dortmund is believed to value at 120 million euros ($141 million).
Zorc said Dortmund had secretly given Sancho a pay rise for his eye-catching Bundesliga displays.
"Last summer, we adjusted Jadon's salary to match the development of his performances," he added. "So in context, we had already extended his contract until 2023 back then."
Capped 11 times for England, Sancho has been the main summer transfer target for Ole Gunnar Solskjaer's United.
Speculation had increased that Sancho was on his way to Old Trafford after he was pictured at a party in the UK over the weekend, but Dortmund said it had no issue with that.
The German club had previously indicated they wanted a deal completed by the time the squad headed out for its Swiss training camp to give it sufficient time to buy a replacement.
Sancho joined Dortmund in 2017 for 7.8 million euros from Manchester City.
United reportedly viewed his 120-million-euro valuation as too high given the financial impact of the coronavirus pandemic on the transfer market.
British outlet Sky Sports claims United is not giving up its chase of the attacker, and Old Trafford great Paul Scholes believes Dortmund is merely "playing a game of poker" with its latest statements on the matter.
"They're (Dortmund) just after a little bit more money out of it, aren't they?' added Scholes.
"The one thing I would say is that Manchester United were desperate for Erling Haaland (who instead chose Dortmund), and they didn't go the extra mile and pay the money for him there.
"Will they do this with Sancho?' I think they will. If Ole desperately wants him, I think they'll get him."
It remains to be seen if Dortmund's tough stance is merely a negotiating tactic. However, if the German club, which last won the Bundesliga in 2012, stays true to Zorc's words, the decision could increases pressure on coach Lucien Favre to challenge Bayern Munich for domestic honors next term.
Dortmund has been accused of operating a misleading transfer policy by two senior Bayern figures-the club's ex-president Uli Hoeness and former Germany international Lothar Matthaeus.
They point to the exits of Ousmane Dembele (to Barcelona) and Pierre-Emerick Aubameyang (to Arsenal) as evidence that Dortmund's main focus is profiting from young talent, as opposed to nurturing the youngsters and building a stronger squad.
Door stays closed
Meanwhile, Germany's health minister, Jens Spahn, said on Monday that he opposes the Bundesliga's plans for the partial return of fans to stadiums next season amid the pandemic.
"Thousands of spectators in the stadiums-that is not suitable given the current infection rate," Spahn wrote on Twitter.
"Now is not the time to take any avoidable risks."
Last week, the clubs in Germany's top two leagues agreed to Bundesliga plans to allow the partial return of fans when the new league season begins on Sept 18.
The plans include clubs selling personalized tickets which could be traced, access only to seated areas of the ground, no alcohol sales at games until October and a ban on away fans until 2021.
However, the proposals by the German Football League (DFL) first need approval by the government, and Spahn's comments seem to have dashed those hopes.
"The DFL concept is good in theory. However, in the pandemic, what is decisive is the practice in everyday life," Spahn added.
"We feel that we must remain vigilant.
"In the current situation, spectators in the stands would send the wrong signal."
Germany's top-flight clubs lose several million euros in match revenue for every home game played behind closed doors.
Xinhua - Agencies