Marko moving up the gears
Share - WeChat SIPG's Austrian import glad to banish early struggles after 'underestimating' Chinese league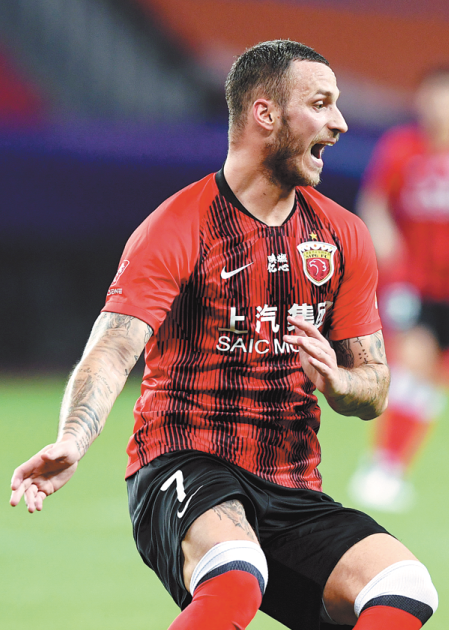 Marko Arnautovic is relishing answering his critics after admittedly underestimating the Chinese Super League in his debut campaign.
The former West Ham United striker looked off the pace last year to leave fans wondering if the reported 25 million euros ($29 million) Shanghai SIPG forked out for the Austrian was a wise investment.
However, after a flying start to the delayed 2020 season, Arnautovic is winning over those who accused him of slacking and not being a team player.
"My relationship with my teammates, from the first day, was very good. Last year when I had just arrived, I needed to adapt to the Chinese league, to the conditions of the hot weather and playing in the evening. I have had to adapt to all of these things," he said.
"Many people are saying the Chinese league is very easy to play in, but it's not. It's a tough league to play. This season is going good. I'm feeling fit and well. I hope I can give more to the team-more goals and more assists."
Having left West Ham for at least double the wages in Shanghai (around 300,000 euros per week according to some British media), Arnautovic is among SIPG's most expensive imports along with the Brazilians Hulk and Oscar.
However, despite bagging nine goals in his debut season, Arnautovic's work rate was frequently called into the question by fans as SIPG relinquished the CSL title to Guangzhou Evergrande.
Arnautovic hopes that, having acclimatized to his new environment, fans are now seeing the best of him.
"Last season I underestimated the league and the conditions to play here. This season is better and I'm doing more work for the team in both defense and offense," said the 31-year-old.
"I was not fit enough to play the full 90 minutes. I didn't prepare myself as I should have done. Especially the hot weather, I could barely breathe for the 90 minutes."
With five goals in eight games so far this term, Arnautovic now sits joint-second in the CSL scoring chart alongside teammate Oscar and one behind Evergrande's Wei Shihao.
Fans have labeled SIPG's attacking triumvirate of Arnautovic, Oscar and Hulk as "the best and most expensive striking trio in Asia". Not that Arnautovic is taking much notice.
"Calling us the most expensive attackers in Asia-that doesn't do anything for me, or Oscar and Hulk," he said. "That's not why we are here. We are here to win and give everything for our team.
"We always want to give the best of us. I don't read any Chinese media or newspapers because I can't understand it. If they give us some plaudits, I appreciate that. But we don't look for any plaudits. We focus only on the game and the team. We want to do something for the team."
Unbeaten SIPG currently sits atop the CSL rankings with 20 points, winning six of its opening eight Group B matches in form that bodes well for its hopes of wresting the title back from Evergrande, which tops Group A.
"We want to win titles, that's why we're here," said Arnautovic, who credits his dedication during the extended offseason for his hot streak this term.
"I talked to the coach and the club, and we agreed I should come back fitter and stronger to prepare for the new season," he added. "That's what I did. We were in Dubai to train, and then the league was postponed so I returned home.
"I was unable to come back to China. So I stayed at home training on my own. It was physically and mentally very hard for me. I wanted to go back to China and I wanted to play football. It was very tough in those three to four months. I kept working on myself to get fully fit because I knew it's going to be a hard season, even harder than last year."
There is no disputing that is the case this season, which kicked off in late July after a long pandemic-enforced delay. The league's 16 teams have been split into two groups based in Dalian, Liaoning province, and Suzhou, Jiangsu province, where SIPG is playing. Players are under strict lockdown at the two bubbles, with no interaction with the outside world allowed.
"It's a new situation for us all to be in this kind of competition where we stay in the same hotel. Every day, you have the same schedule. It's getting better and we have to keep up this level of performance," said Arnautovic.
"Last season, you played one game and you had seven days until the next one. Now that's not the case. Here every four days you have a game. You need to be very focused and very prepared."