Plant-based meats' popularity takes root in China
Share - WeChat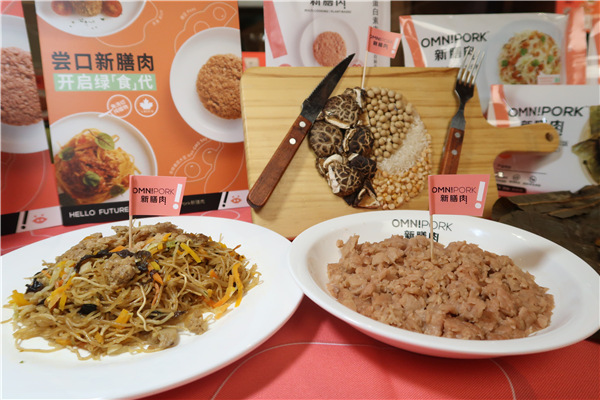 The plant-based meat trend has been gaining momentum in China, as evidenced by the increasing number of options available in the market.
The artificial meat is made from extracted proteins from different plants, such as beans and legumes, and has been associated with healthy eating and sustainability as these products require fewer resources to produce compared to raising livestock.
About 160 supermarkets around China started selling microwavable meals featuring plant-based meats by Hong Kong-based food-technology company OmniFoods on Aug 27.
The meals, which include sticky rice in lotus leaf, pumpkin stir-fried noodles, multigrain rice with assorted vegetables and "pork" with mushrooms, are priced at 32 yuan ($4.69) for a 220-gram pack. They can be found in supermarket chains such as Ole', City Super, Parkson, Metro, Sogo and Apita.
Over at hotel Le Sun Chine in Shanghai, executive chef Gu Chao has created two dishes with plant-based meat-Shanghai-style meatballs with pumpkin filling and pancakes with "meat" toppings-for the launch of Omni-Foods' products in City Super, a high-end supermarket in Shanghai.
"I learned about plant-based meat in the news three years ago, but this is the first time I'm cooking it," Gu says. "It doesn't have the strong smell of a normal bean product, so I found it easy to use as a substitute for meat. There is no need to add special condiments."
Jiang Yijing, a consumer who sampled Gu's dishes, says: "I have dined at vegetarian restaurants but this is the first time I'm tasting plant-based meat. It's quite new to me. I think either traditional vegetarian dishes or plant-based meat are good for health and the environment."
David Yeung, the founder of OmniFoods, says that raising pigs, which account for 65 percent of all meat consumed in China, significantly contributes to greenhouse-gas emissions, water consumption and pollution.
"When consumers choose plant-based meats, the savings in water consumption, land use and greenhouse-gas emissions is well over 90 percent," he says.
"Many studies have estimated that plant-based meats will account for 10 percent of the meat market in 10 years. We see that as highly achievable."
Most Popular