Xiamen to offer free HPV vaccinations to girls to help prevent cervical cancer
Share - WeChat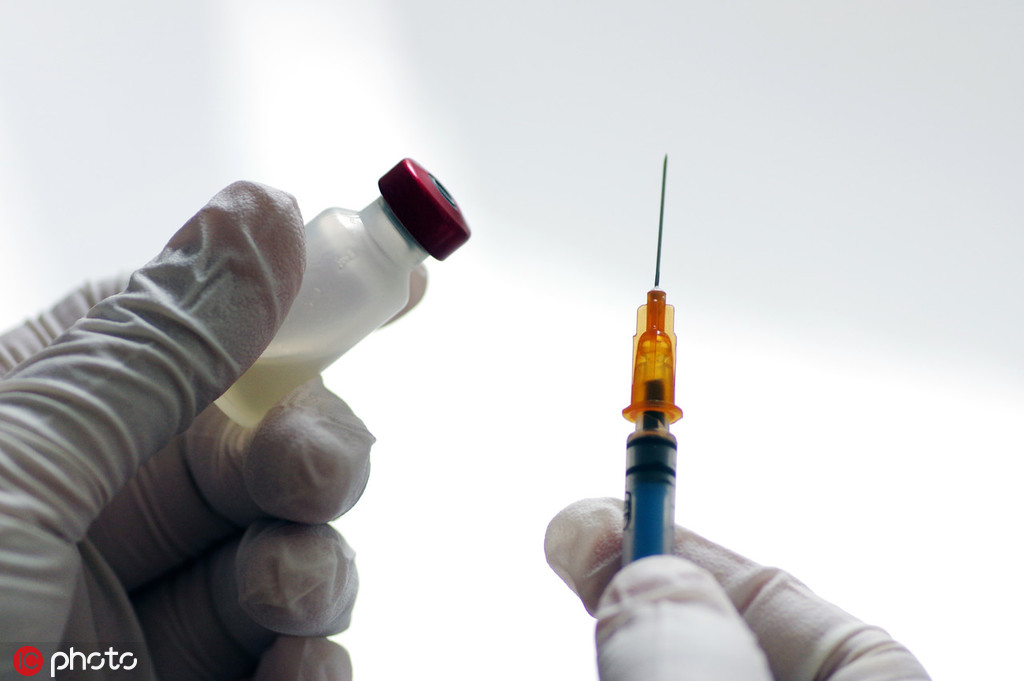 Free human papillomavirus vaccinations will be provided to girls aged 13 to 14 and a half in Xiamen, Fujian province, until the end of 2022 to help prevent cervical cancer.
The city's health commission announced the move this month, making it the second region in the country to adopt such a policy. The first was Juungar Banner in Ordos, in the Inner Mongolia autonomous region, which did so last month.
Xiamen's Haicang district is expected to kick off the free HPV vaccination project by the end of this month, local news website Zaker reported on Saturday.
Girls will be offered a domestically made two-valent HPV vaccine offering protection from two types of HPV, the Xiamen health commission said in a notice. All community health service centers in the city will be able to provide vaccinations based on lists of names provided by schools, where students and parents will be able to apply.
The cost of the vaccines and the service fees will be paid by the local government. Girls aged 9 to 14 need two doses of domestic HPV vaccine, with each dose usually costing 329 yuan ($48.15).
Chen Qionghua, director of the gynecology and obstetrics department at the First Affiliated Hospital of Xiamen University, said it's good news for locals and will boost public health.
"Among all tumors, cervical cancer is the one that can be prevented and found at an early stage," she said.
Chen said vaccination doesn't mean 100 percent prevention of the disease, and routine cancer screening will still be necessary.
A Xiamen resident who is the mother of a 14-year-old girl said that if the vaccination is necessary, it will be good for her daughter to have it following proper arrangements made by her school.
But another woman living in the city said her daughter, now in her 20s, was vaccinated with an imported HPV vaccine in Hong Kong. She said she would think twice if her daughter were about 13 now, as she was concerned about the safety of domestic vaccines.
The first HPV vaccine was put on the market in 2006. China approved its first domestically produced HPV vaccine late last year for girls and women aged 9 to 45. The only domestically made HPV vaccine currently available, it went on the market in May.
Cervical cancer, which can be caused by HPV, is one of the most common and fatal tumor diseases affecting women in China, causing 47,739 deaths in 2018. The number of new cervical cancer cases surpassed 100,000 that year, according to the International Agency for Research on Cancer.
Vaccination is regarded as the most effective way to protect women from the disease, especially for those who have not yet had sex, said Jiang Xinwei, an analyst at consultancy Analysys.
Jiang said the new policy in Xiamen is an efficient way of safeguarding residents' health.
"It can not only lower the risk of residents contracting the disease, but also help the nation to save medical treatment costs," she said.
Jiang said free HPV vaccinations are likely to be extended to more regions, with places with smaller populations and stronger economies taking the lead.
Qiao Youlin, professor of epidemiology at the Chinese Academy of Medical Sciences' Cancer Hospital and Peking Union Medical College's School of Population Medicine and Public Health in Beijing, said the policy is in line with the central government's Healthy China 2030 initiative and the trend of attaching more importance to the prevention of diseases, especially those caused by human-to-human infection.
He urged governments with the economic capacity to promote HPV vaccination for girls aged 13 to 15.
Yang Zhanqiu, a professor at the Institute of Medical Virology at Wuhan University School of Basic Medical Sciences, said the main target of HPV vaccination should be women in remote and less-developed rural areas, as surveys have showed such places have a higher incidence of HPV infection due to lower health awareness and the fact that women often get married at an earlier age and give birth to more children.
But he said there was only a small possibility that free HPV vaccinations could be offered nationwide since the country faced more urgent demands to prevent and treat other diseases such as flu and pneumonia, which affected more people more seriously.
During the annual sessions of Xiamen's top legislature and top political advisory body last year, the Xiamen committee of the China Association for Promoting Democracy proposed providing free HPV vaccinations for female students of the right age, local news outlet fjsen.com reported.
Data from the World Health Organization showed there were 570,000 new cervical cancer cases around the globe in 2018 with 311,000 deaths. It set the goal in 2018 for all member states to provide HPV vaccinations to 90 percent of girls under 15 by 2030.
Yang Jie contributed to this story.