Full care for lymphoma patients urged for better life
chinadaily.com.cn | Updated: 2020-09-15 15:19
A public education campaign on lymphoma treatment and care was held in Beijing to mark the World Lymphoma Day on Tuesday.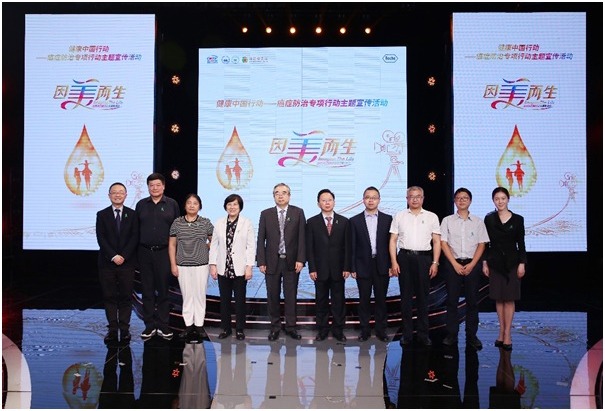 Supported by CHTV, a health TV channel of the National Health Commission, the committee of the rehabilitation branch of the China Anti-Cancer Association, Beijing Love Book Cancer Foundation (LBCF), House086, a lymphoma charity group, and Roche Pharma China, the campaign presented a picture of China's lymphoma treatment development history, the current situation of the patients and the future of better treatment.
Ma Jun, professor and director of Harbin blood disease and tumor institute of Harbin First Hospital, was one of the members who proposed to establish the Day and one of the early Chinese researchers to participate in international exchange in lymphoma treatment. He said the dream of better treatment for the patients remains the same over the past decades and more Chinese medical workers are emerging to tackle the field and help the patients.
Shi Anli, president of LBCF and director of the committee of the Rehabilitation Branch of China Anti-Cancer Association, said since the launch of the campaign three years ago, it has focused on the humane care for lymphoma patients and this year it will enhance the work and target on patients individual needs with efforts from all sides.
Lymphoma is malignant tumor of the lymphatic hematopoietic system. About 100,000 new patients are diagnosed every year in China and the disease is affecting more younger people.
According to Gao Zifen, dean of the department of pathology of school of basic medical sciences of Peking University and director of the pathology department of Peking University Third Hospital, only 38 percent of the patients survive for more than five years after treatment, compared with 67 percent in the US. "The main reasons behind low survival rate include misdiagnose and lack of full management of standard treatment," Gao said.
Hong Fei, founder of House086, said some patients miss the best chance to be cured due to misdiagnose and late treatment leads to poor result and high cost.
Zhu Jun, professor and director of lymphoma department of Peking University Cancer Hospital, urged medical workers to care about the patients other than the disease. "Individual and accurate treatment are needed for each patient and more care for the patients' life cycle are needed to improve their life quality," Zhu said.
A program of the nation's lymphoma sub-specialty was launched at the ceremony aiming to set up model standard of a full management lymphoma treatment and care.
Mao Qun'an, head of planning department of the National Health Commission, said China is aiming at 15 percent increase of the five year survival rate of cancer patients.
Zhou Hong, president of Roche Pharma China, said World Lymphoma Day is a good opportunity to promote scientific treatment, and Roche is committed to hematological tumor treatment and the Healthy China 2030 Initiative.