Xi's remarks on China-EU ties applauded
Share - WeChat Experts say meeting shows Brussels' growing self-confidence in Asia policy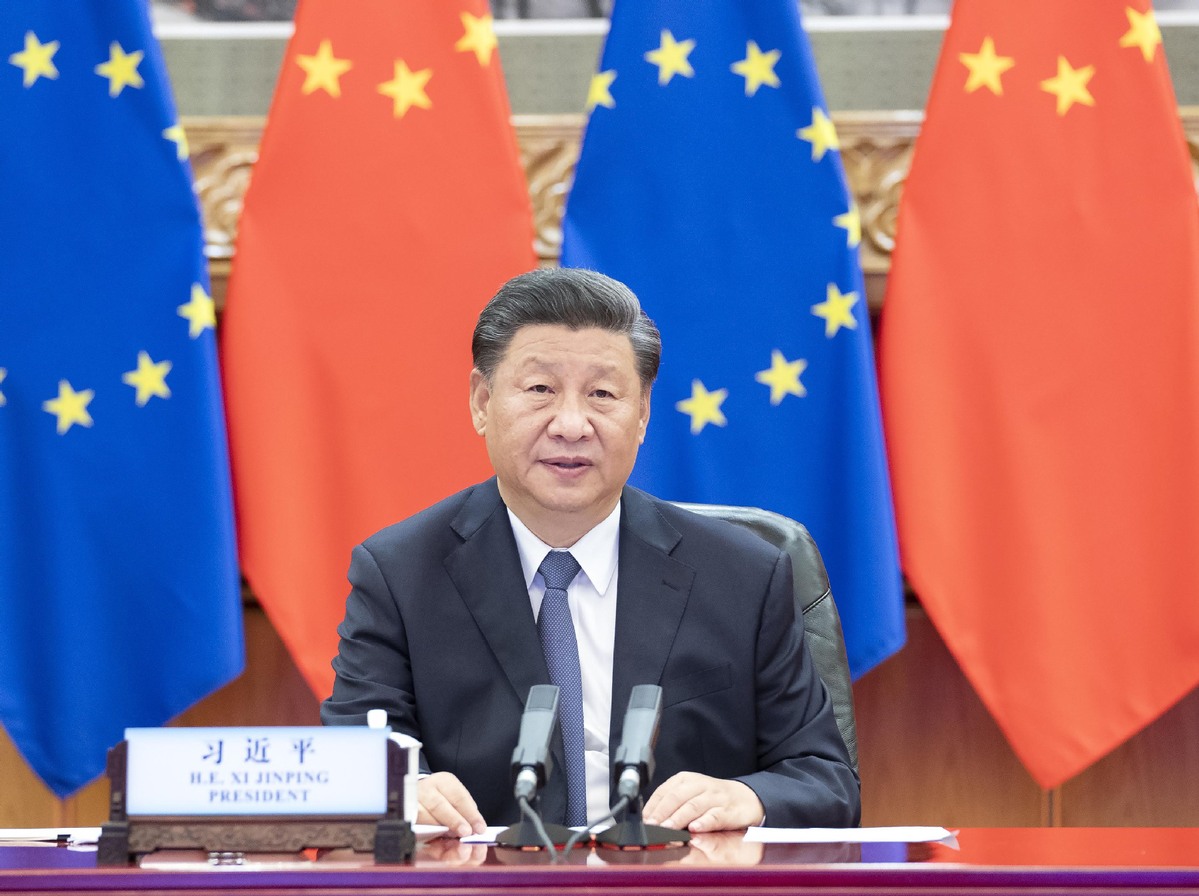 Chinese and European leaders are determined to uphold multilateralism and international cooperation when unilateralism, protectionism and a global economic slowdown threaten the world, experts said after a leaders' online meeting.
President Xi Jinping held a two-hour video talk with German Chancellor Angela Merkel, European Council President Charles Michel and European Commission President Ursula von der Leyen on Monday.
"I feel that today we had a good, open and honest dialogue which should be continued," Merkel told a news conference after the meeting.
Michel said the meeting represents another step forward in forging a more balanced relationship with China.
"We strive for a relationship that delivers on our mutual commitments that generate concrete results for both sides, results that are also good for the world," he said.
Von der Leyen described the talk as "frank and open, and constructive and intense".
The meeting covered a wide range of issues from trade and investment, climate change and biodiversity to the response to the COVID-19 pandemic and international affairs.
Shada Islam, head of the New Horizons Project, a Brussels-based global strategy and advisory firm, said that in language, style and format, this was an important EU-China meeting showing that despite their well-known differences, Beijing and Brussels are determined to keep the channels of communication open and to make the case for multilateralism and international cooperation in the face of a worrying global economic slowdown.
"It's no secret that the EU wants a bilateral investment deal with China by the end of the year and is currently linking progress on such an agreement to the conclusion of an EU-China Strategic Agenda for Cooperation 2025, a key Chinese demand," she said.
Negotiations for the Comprehensive Agreement on Investment, or CAI, first started in 2014, have speeded up this year, with the next round scheduled for Sept 21-25.Chinese and EU business communities have recently both urged an early conclusion of the agreement.
"The meeting with China is another illustration of the EU's growing self-confidence in its Asia policy and willingness to stand apart and aside from the US and its increasingly acrimonious relationship with Beijing," Shada told China Daily.
Ding Chun, director of the Center for European Studies at Fudan University, said the meeting is of great significance to deepen cooperation and manage and control differences amid the raging pandemic and high tensions between China and the United States.
He noted the two sides have voiced their support for multilateralism and free trade and opposition to unilateralism, having reached consensus on cooperation in global governance, expanding bilateral cooperation and taking care of each other's concerns.
High-level talks
"The highlight of the meeting is the reiteration to conclude the CAI by the end of the year, the introduction of high-level talks on environment, climate and digital fields, and China's proposal to reduce misunderstanding through dialogue, to resolve difficult issues through development, and to properly manage differences," Ding said.
On Monday, China and the EU signed an agreement to protect 100 Chinese "geographical indications", or GIs, in the EU and 100 European GIs in China. The EU said the deal reflected the commitment of both sides to "deliver on their commitment taken at previous EU-China summits and to adhere to international rules as a basis for trade relations".
According to the EU, the Chinese market has high-growth potential for European food and drinks exports. In 2019, China was the third destination for EU agri-food products, reaching a value of 14.5 billion euros ($17.2 billion).
Fraser Cameron, director of the EU-Asia Center, said leaders welcomed the GIs pact and hoped, as they have for several years now, to conclude the important investment agreement by the end of the year.
The meeting "showed the EU was ready, able and willing to defend its interests and values without any prompting from across the Atlantic", he said, referring to the EU's stance that it does not want to be forced to take sides between Beijing and Washington.
In a Monday op-ed on Politico, Shada said: "Asian leaders want a Europe that can think and speak for itself, not one that walks in America's shadow."