SIPG exit flips the script on Akhmedov's season
Share - WeChat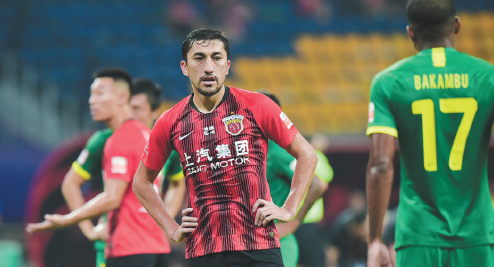 Long-serving Uzbek midfielder leaves title hopefuls for struggling Tianjin
Odil Akhmedov's midseason switch from Shanghai SIPG to Tianjin Teda was as surprising to himself as it was the fans. But now the Uzbek midfielder has vowed to shift his focus from fighting for the title with SIPG to saving free-falling Teda from relegation.
"For me it's pretty hard to say goodbye to Shanghai SIPG," said Akhmedov after Teda announced his arrival last Friday. "I will need some time to fit into the new team and to get to know all of my teammates. I hope we can fight together to avoid relegation."
Akhmedov signed for Shanghai in 2017 from Russian Premier League side Krasnodar, going on to become a core player in the SIPG midfield. Akhmedov has played 64 Chinese Super League matches, including eight this season, scoring nine goals and contributing nine assists.
One of the undoubted highlights of Akhmedov's SIPG career was helping the club win its maiden CSL title in 2018. Vitor Pereira's current SIPG squad sits top of Group B with four games to play and will hope to wrest the title back off Group A leader Guangzhou Evergrande when the knockout stage gets underway from Oct 16.
"Honestly speaking, all my teammates at SIPG are like family to me," Akhmedov said. "We won the league title together, and we also finished runner-up and third place. I met some very good friends and brothers. It's tough to leave but there's no other way.
"The past four years at SIPG were pretty successful for me. I will start a new journey with these great memories. I hope they can keep doing their great job. I also want to thank all the SIPG fans who supported me. I will miss you all."
SIPG's Brazilian star Oscar was clearly sorry to see Akhmedov depart, posting on social media: "Thank you for being my teammate all these years. Good luck in this new challenge."
Goalkeeper Yan Junling posted a photo of himself with Akhmedov, accompanied by the message: "It's tough to say goodbye to you. You are a great big brother on and off the pitch for me. Hope your future journey will be great."
Leaving title contenders for relegation battlers could prove to be something of a shock to the system for Akhmedov.
Teda has managed just a single point from 10 matches to currently sit rooted to the bottom of the Group B standings.
That's the worst record in either CSL group, with Akhmedov personally inflicting some of that pain by bagging the opening goal in SIPG's 4-1 victory over Teda last month.
"I still think Teda is a good team, but it's a tough time for them now," said Akhmedov.
"Based on my experience for the past several seasons, Teda's performance has been pretty stable. They were at a good level. It's hard now, but we can make a difference. We will produce better performances and fight for the common goal together.
"Now for me, the most important thing is to adjust my mentality. I need to have a strong desire to win once I walk onto the pitch. We need to have hope and believe we can win. What we need now is a win.
"Soccer is a team sport. And if we can unite as a team and help each other, we can improve and have better performances. It's not impossible to break through this tough situation."
Teda head coach Wang Baoshan is also hopeful Akhmedov's arrival can prove a turning point for his beleaguered outfit.
"In the next games, we will have a better lineup. So I believe our performance will be better," said Wang. "We've lost games, but I still hope my players can keep the faith. Many of our players are injured, and even under these circumstances, we are doing our best."
Due to the COVID-19 pandemic, the 2020 CSL season was delayed until late July, when it kicked off in two host cities-Suzhou, Jiangsu province, and Dalian, Liaoning province.
Players continue to be under strict lockdown in these bio-secure venues, with no interaction allowed with the outside world.
SIPG and Teda are both playing in Suzhou, meaning Akhmedov's change of club will only involve a short walk as regards his new hotel accommodation.
"After the club made the announcement I moved to Teda's rooms. My teammates welcomed me and I'm happy to be in the new team," Akhmedov added. "I need time to fit in here to know more about my teammates. I believe here will also be my next family.
"It won't be easy for us, and injuries are affecting the team, but we will still prepare the best we can and will try hard to stay in the CSL. What we need to do now is to play well and try to win more points. And I want to tell our fans to keep supporting us and believing in us."