Biden campaigns in battleground state of Florida to rally support from veterans, Latinos
Xinhua | Updated: 2020-09-16 14:34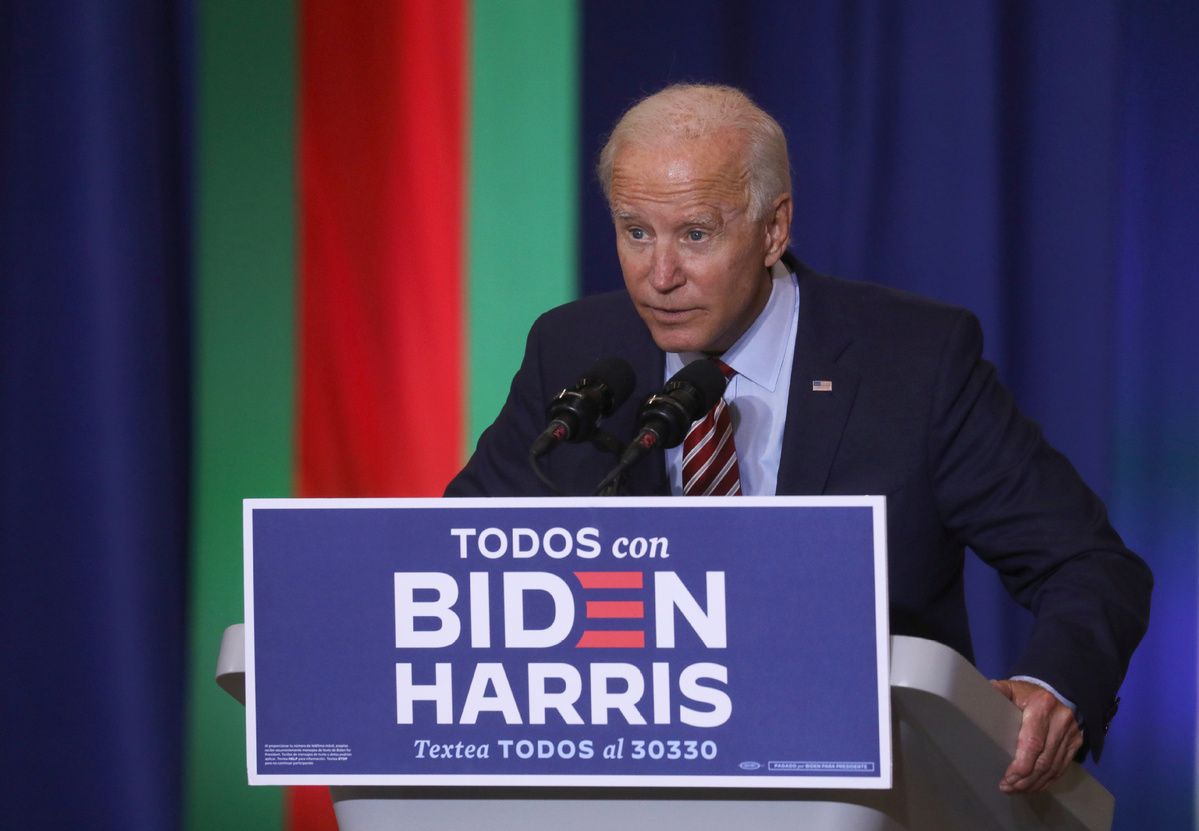 WASHINGTON - US Democratic presidential nominee Joe Biden on Tuesday made his first campaign trip to the key battleground state of Florida to court the state's veterans who have long leaned toward Republicans and the Hispanic community there.
"The men and women who served with him are not suckers," Biden told a veterans roundtable at the beginning of the trip, rebutting incumbent President Donald Trump's claims made in 2018 -- recently revealed by The Atlantic magazine -- that the US war dead were "losers" and "suckers".
"And the service men and women he served with -- who did not come home -- are not losers. They're heroes," he said, adding that "it's a disgrace" for Trump to have said that.
The former vice president's trip came as a new poll released by Monmouth University showed that he held a 3- to 5-point lead over Trump in Florida, depending on a range of likely voter models. Among all registered voters in the sunshine state, the race for president stands at 50 percent for Biden and 45 percent for Trump, the poll showed.
"The current picture has Biden maintaining a typical Democratic advantage in southern Florida while making notable inroads in other parts of the state," said Patrick Murray, director of the independent Monmouth University Polling Institute.
The poll also indicated that while Biden had a large lead among Latino voters over Trump, who appeared to have been gaining attraction from older voters in this group, Trump was ahead of Biden by 4 percentage points -- 50 percent to 46 percent -- among veteran or military households, a key bloc that made up of just over one-third of the state's electorate.
"Trump won the vet vote by double digits four years ago but isn't anywhere near that level now. Are the incumbent's alleged negative statements about the military responsible? We can't say for certain since we don't have a prior trend on this question. But it sure can't be helping," said Murray.
While in Florida, Biden told reporters he would explain "why it would be so much better for the Hispanic community, the Latino community if in fact Trump is no longer president."
"That case is an easy one. Education. Health care. Immigration. The whole notion of dealing with COVID in a way that doesn't so damage the Hispanic community, which is being hurt very badly much worse than the Caucasian community," he said before attending an event celebrating the Hispanic heritage.
Scheduled to coincide with Biden's Florida trip, the Biden campaign released a plan Tuesday calling on the federal government to offer debt relief to Puerto Rico in a bid to appeal to voters in the US Territory that has long struggled under heavy debt burdens and strict austerity measures.
The plan included massive investments in Puerto Rico's infrastructure and economic development as well as significant financial relief for the territory.