Volunteers teach Korean to bridge language gaps in Jilin prefecture
Share - WeChat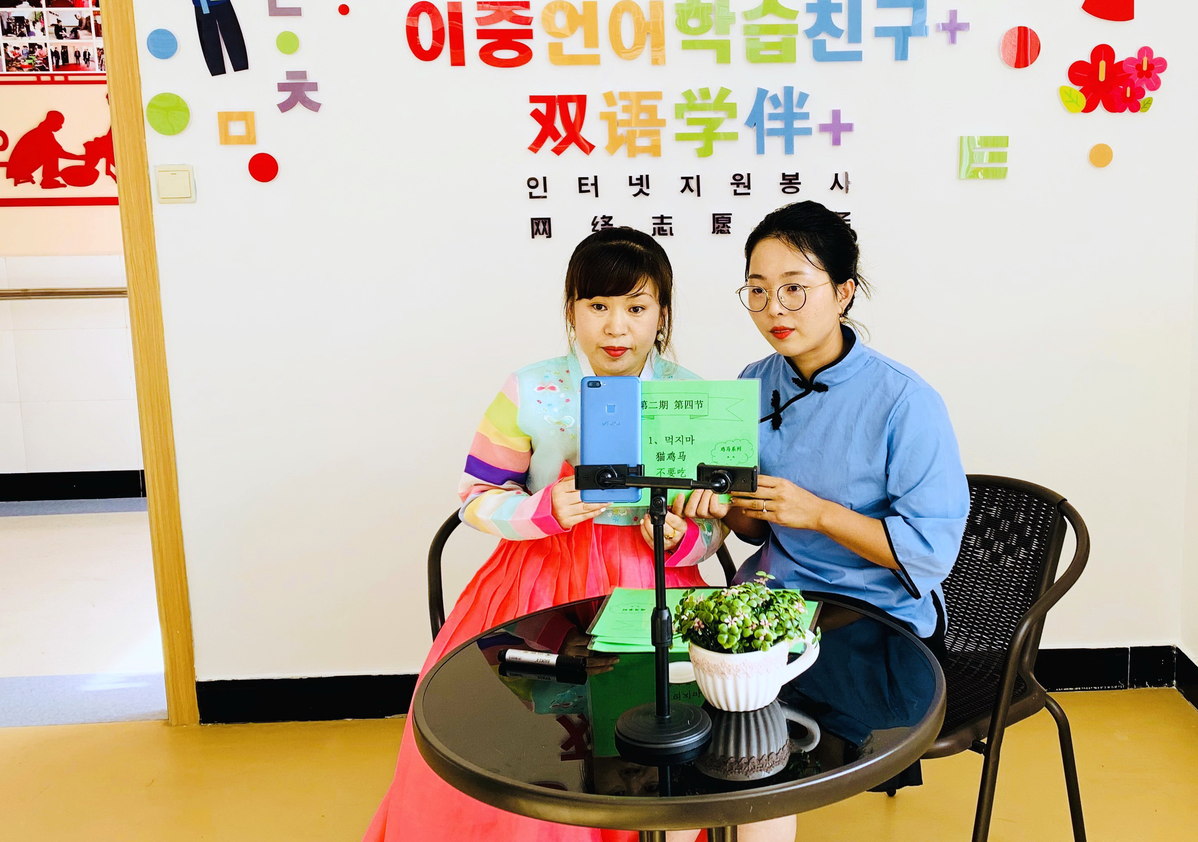 Li Wei and her partners are volunteering to teach Korean to residents of the Chang'an community in Yanbian Korean autonomous prefecture, Jilin province.
"The homophonic of maojima (cat, chicken and horse) in Chinese means 'Do not eat' in Korean," she said. In order to help residents learn useful daily expressions quickly, they use homonyms.
The Chang'an community of Hunchun city is a typical multiethnic area, with Korean, Manchu, Hui and Zhuang people accounting for 56 percent of the 12,812 residents.
Most of the Korean ethnic residents can speak some Chinese, though not fluently, but most people of the Han group do not speak any Korean, said Li, a community worker.
"Since the bilingual class was initiated in 2017, hundreds have attended," Li said. "Because most of them are senior residents, we didn't choose a traditional teaching method."
Due to the influence of the COVID-19 pandemic, they have been teaching online via video platform Kuaishou since February. The students and teachers can also communicate in their WeChat group.
"After completing the classes, they can have simple daily conversations in Korean in situations such as greetings, shopping and going to the bank," Li said.
People come to the class not only to learn a new language, but also to make friends and take part in various activities, she said.
In January, Chang'an was listed by the National Ethnic Affairs Commission as one of 21 villages and towns around the country with special bilingual characteristics that are building bilingual practice bases. It is expected to raise ethnic unity at the grassroots level, boost the rural development strategy and realize the overall promotion and improvement of community-level construction.
The practice base was officially inaugurated at Chang'an on Aug 5.
According to Duan Yinglian, Party chief of Chang'an, the community has made solid efforts to carry out bilingual efforts and promote harmonious communication among residents of different ethnic groups.
Relying on the minority-oriented service counter in the one-stop service hall, the residents get to know various policies for their benefit.
"We will further expand the coverage of publicity in the form of theatrical performances and free medical consultations," Duan said.
A bilingual recreation center has been set up in the community to encourage older residents to participate in various cultural and sports activities with ethnic minority characteristics, such as bilingual speech contests and cultural festivals.
During the Spring Festival holiday, the Han people taught the Koreans to make dumplings and steamed stuffed buns, and the Koreans taught the Han how to pickle spicy cabbage and make rice cakes.
Jin Renzi, 58, likes taking part in the activities. "It's full of fun for us elder residents gathering together to play games, sing and dance," said Jin, wearing a traditional Korean costume.
When Jin learned that the community needed volunteers to teach Korean, she offered to help.
Due to epidemic prevention and control measures, the community has been providing online livestreaming learning. Jin has also learned new skills, such as live broadcasting. In the face of small class sizes, she remains enthusiastic, trying to attract more residents to learn.
"If you make a gift of a rose, the fragrance will linger in your hand," she said.
Han Junhong contributed to this story.