After centuries of waste, quota system helps Ningxia save water
Share - WeChat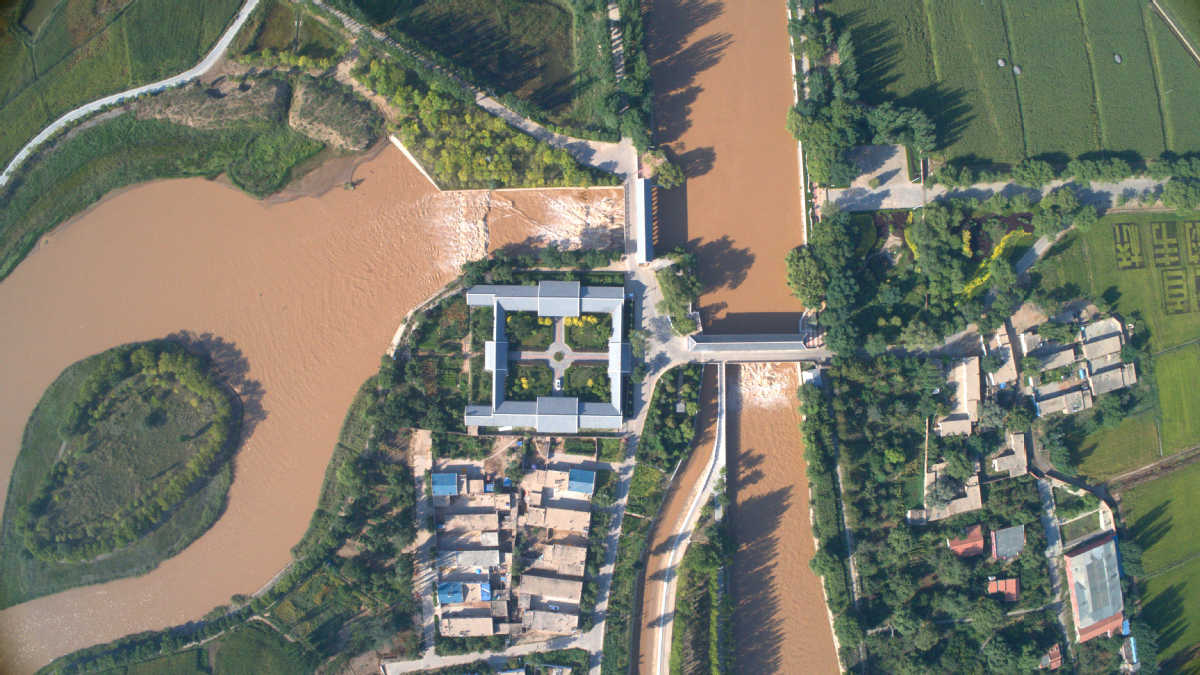 The Ningxia Hui autonomous region has been diverting water from the Yellow River, the country's second longest, to irrigate farms for over 2,000 years. While water diversion made the region-which has low rainfall and strong evaporation-a major food-producing area in Northwest China, the traditional method of flood irrigation results in a large amount of the precious water resources in China's mother river going to waste.
As China's central leadership attaches greater importance to protection and high-quality development of the Yellow River Basin, unprecedented changes have occurred as local governments promote the development of water-saving agriculture. A large amount of water has been saved and used to support industrial development in the Northwest China region.
President Xi Jinping called for concerted efforts to promote ecological protection and high-quality development of the Yellow River while chairing a symposium on Sept 18, 2019, during his inspection tour to Henan province, another one of the nine provincial regions the Yellow River runs through.
"The protection of the Yellow River is critical to the great rejuvenation and sustainable development of the Chinese nation," said Xi, adding that it is a major national strategy.
Xi pointed out difficulties and problems in protecting the Yellow River, citing a fragile environment, the severe condition of the water resource's preservation and the need to improve development quality. He also stressed better use of water resources, with rational population planning, and urban and industrial development to curb unreasonable water demand.
Water conservation efforts
Thanks to the dense irrigation channel network, water from the Yellow River can flow automatically into Wang Xingfeng's 0.7 hectares of farmland as long as he opens the sluice gates. Previously, the 50-year-old in Donggouwan village in Wuzhong city's Litong district, always found it troublesome to irrigate.
"Villagers irrigated when they were free. Many people did the work coincidently at the same time. The small flow, however, could not support them irrigating together," he said, adding that this resulted in many disputes over who should irrigate first.
Wang said he often chose to irrigate at night to avoid being involved in any conflicts with other villagers.
The unstable water flow caused by the disordered manner of irrigating made it difficult for villagers to judge if their farmlands had received enough water, and some people would leave their sluice gates open for an unnecessarily long period of time.
"You could often see the drainage ditch become inundated," he said.
Changes happened about four years ago when Ningxia's water resources department initiated a pilot program to introduce an intelligent system that could automatically control sluice gates and monitor the amount of water. The system doesn't control all the sluice gates, only the ones to each small zone where different farmlands share the same irrigation channel. Local authorities also helped villagers establish a water user association to help manage irrigation in different zones.
"Now, I am completely relieved from the trouble of irrigating my fields," Wang noted.
As a construction worker, he could usually make over 200 yuan ($30) a day. Previously, he had to stop work for at least a whole day every time his farmlands needed irrigating. Now, he only has to pay the association 100 yuan, and its workers will help him do the work, he said.
The concentrated management ensures stable water flow. Thanks to these workers' rich experiences in irrigation control, the excessive waste of water has been avoided. "Now, on most occasions, the drainage ditch is dry," he said.
He has seen his annual payment for irrigation water drop from 900 yuan to 600 yuan since the smart system was put into operation, though he could not tell how much water was saved each year in his farms. Farmers pay for water based on the total amount each zone consumes and the size of their fields.
According to the Ningxia water resources department, the smart system has covered almost 67,000 hectares of farmland in Litong district. On average, 1,500 cubic meters of water could be annually saved for every hectare of farmland. In total, irrigation in 182,000 hectares of farmland that use water diverted from the Yellow River for irrigation has been subjected to control of the intelligent system in Ningxia.
According to the Yellow River Conservancy Commission, with an average annual precipitation of 180 to 200 millimeters, the area in Ningxia that diverts water from the river covers 6,573 square kilometers, and almost 95 percent of the 220,000 hectares of cultivated land in the region are irrigated areas.
Yang Hanqing, head of Litong district's water authority, said 46 million cubic meters of water was saved last year in the district, up from 3 million in 2017.
Trading usage rights
Water consumed by the agricultural sector amounts to 70 percent of the total water consumption in the Yellow River Basin, according to the Ministry of Ecology and Environment's bureau for the basin in Henan provincial capital Zhengzhou.
According to a document unveiled by the State Council, or China's Cabinet, in 1987, Ningxia was given an annual quota of 4 billion cubic meters of water from the Yellow River. The quota was then allocated to different cities in the autonomous region and distributed to consumers.
Yang said the district has resorted to a tiered pricing mechanism to motivate farmers to conserve water. Farmers are charged 0.035 yuan for one cubic meter of water if the water they consume is less than their quota. The price will jump by 50 percent if farmers consume up to 20 percent more than the quota, and it will be triple if they consume more than 20 percent of their allocation.
The mechanism "has made people more proactive in promoting water conservancy", he said.
A water trading system, which was introduced to Ningxia in 2004 and allows trading of water rights, has been injecting more impetus into both water conservancy and industrial development in the autonomous region.
In the pilot program, water that was allocated but unused can be traded among water consumers' associations and different cities. Thanks to the agricultural water conservancy campaign, Litong district managed to sell over 14.8 million cubic meters of water, which was built up during the agricultural water-saving campaign, to Baofeng Energy in Ningxia's capital Yinchuan for 382 million yuan, he said.
According to local authorities, some of the money will be invested into agricultural water-saving projects to further promote water conservancy.
Yang said Baofeng will use the water for a chemical project that could annually output 600,000 metric tons of olefin. The money will be paid to the Litong government in five years, and, on average, the annual fiscal revenue of the district should increase by about 28 percent during that time.
Chen Dan, an official with the Ningxia water resources department, said that there have been 127 water quota trades in the autonomous region so far, and 195 million cubic meters of water has been sold for 2 billion yuan. Most of the quotas have been transferred to Ningdong Energy and Chemical Industry Base, where Baofeng Energy is located.
He said quota trading has made great contributions to industrial development in Ningxia. The value added in Ningxia's industrial sector only stood at 19.8 billion yuan when the pilot program was initiated in 2004. The number has currently reached 127 billion yuan. With 5 percent of Ningxia's water resources, the Ningdong base contributes to one-third of the current added value in the industrial sector in the region.
"The pilot program has addressed the problem that new industrial projects have no water consumption quota. What's more, it expands the financing channels for water conservancy projects and thus has further greatly enhanced water efficiency," he said.