A new look for a new era
By Xing Yi | China Daily | Updated: 2020-09-18 09:21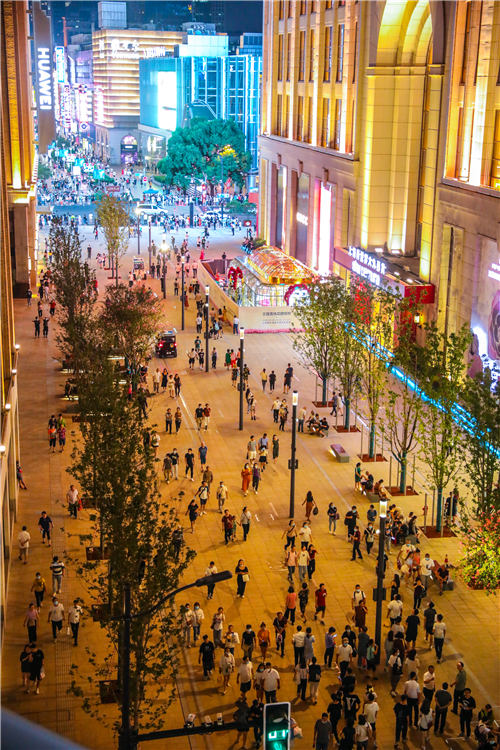 "A new era of Nanjing Road starts from tonight," she said on the opening day. "It's crowded yet exciting. Young and old, locals and tourists speaking different dialects, have all come to enjoy the road."
Qiao has been closely studying the history and development of the road for her book since 2017.
"During the 'golden age' in Shanghai's modern history from the 1920s to 1930s, Nanjing Road was a symbol of the prosperous international metropolis in the Far East, just like the Fifth Avenue of New York," she says.
After the founding of the People's Republic of China, the road was home to many big State-owned department stores, and people came to buy food and clothes that could not be found anywhere else.
But with new shopping malls emerging in the city in recent years, the road has gradually lost its appeal as those from the younger generation have turned to trendier malls. The eastern section soon became disorganized and filled with stores selling campy souvenirs for tourists.
"The local government also realized that the road cannot continue going this way and that the historical buildings need a rebirth," Qiao says.
A series of urban-renewal projects took place on the road in the past few years, and many initiatives were launched to upgrade the business and make the road appealing to young people again.
In 2015, the Shanghai New World Co Ltd and Japanese Daimaru Matsuzakaya Department Stores jointly opened the Shanghai New World Daimaru shopping mall on the eastern part of the road. The new mall houses a range of premium brands such as Gucci, Burberry and Tiffany& Co.