Bakambu insists Guo'an can prove doubters wrong in CSL title fight
Share - WeChat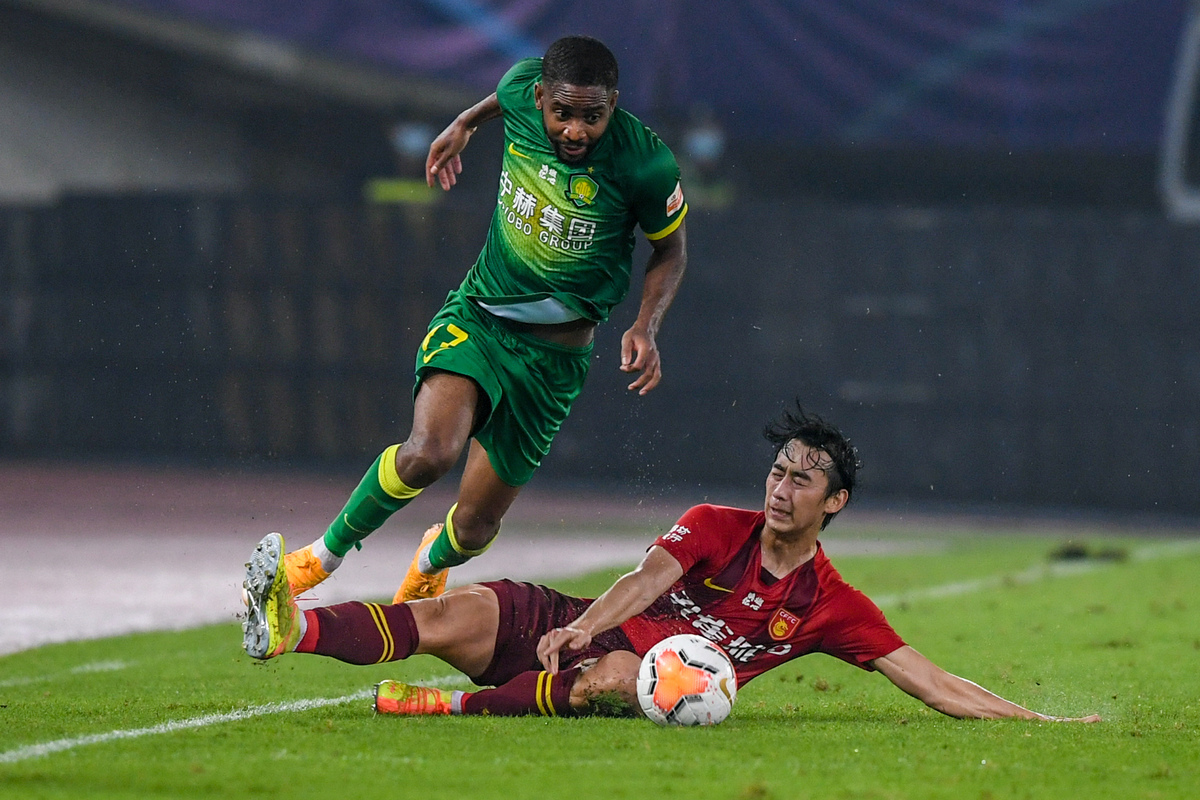 Cedric Bakambu has warned Beijing Guo'an's critics not to discount the capital club as title contenders despite its shaky recent form.
Last season's runner-up Guo'an has been second-best to Shanghai SIPG in Group B of the reformatted Chinese Super League and trails the 2018 champion by four points with two round-robin games left to play.
Draws against lesser-ranked opponents Wuhan Zall and Hebei China Fortune have been particularly alarming for Guo'an fans, however Congolese striker Bakambu is confident his team can move up a gear in the knockout stage, which begins Oct 16.
"It's not right to say our club is in trouble, and I don't quite feel that we are facing huge difficulties," the 29-year-old told media through an interpreter over the weekend.
"We lost to Shanghai SIPG and drew some games, but we are still in second place. So, generally speaking, for me we have so far done a good job this season.
"We're still very hopeful of winning the title. We will fight together. We may have not peaked yet, but at the same time we don't have major problems."
Many observers, though, would beg to differ. Guo'an's propensity to self-combust by conceding late goals was horribly exposed in the 3-3 draw with Hebei, which was 3-1 down with two minutes left before grabbing a point with two injury-time strikes.
Similar failings cost Guo'an the CSL title to Guangzhou Evergrande last year, but Bakambu is refusing to press the panic button.
"The season has not finished yet. For the team and me, we haven't reached our goal yet," he said. "The fans' expectations on us are very high, which brings a certain pressure. But we will still try our best on the pitch. No game is easy and we need to respect each of our opponents.
"It's a shame we did not win the title last season. We lost points in some very important matches. This year we still hope we can win the championship, and we have the strength to achieve that. We must take action on the pitch and to show our title credentials."
Due to the COVID-19 pandemic, the kickoff of the 2020 CSL season was delayed until July, with matches being played in a tournament-style format at bio-secure venues in Suzhou, Jiangsu province, and Dalian, Liaoning province.
The condensed campaign has taken a heavy physical toll on teams, who also have to cope with adhering to strict lockdown regulations at the host venues.
Bakambu admits the shortened season has been a draining experience for all concerned.
"Actually, I do feel tired physically as we have to play a game every three or four days," he said. "And mentally, I'm also a little tired because we've been in this lockdown environment for so long.
"But we are professional players, so we need to try our best to overcome these difficulties. We are tired and our rivals are tired too. We are all playing under the same conditions."
Guo'an head coach Bruno Genesio is endeavoring to keep his squad fresh as the knockout stage approaches.
"The schedule is very tight and we are reaching the end of the first phase of this season. So the players are tired physically and mentally," said the Frenchman through a translator.
"We have to prepare properly on two fronts: First, to manage the training load. Second, to manage the players' match minutes. So we can make sure all the players are in their best condition on the pitch."
Off the pitch, Bakambu says video games and cards are his relaxation methods of choice, with others spending their downtime shooting pool or participating in the table tennis competitions the CSL has organized in the bubbles.
Bakambu has led the forward line brilliantly for Guo'an, hitting the net nine times after featuring in all 11 matches so far. That's a statistic made all the more impressive by Genesio's plentiful supply of quality attackers, including naturalized Brazil-born star Alan, who is on loan from Evergrande.
"Actually this competition for places is very positive and very important inside our squad," said Bakambu.
"I partnered with Alan, Wang Ziming and Zhang Yuning. Squad depth is really vital and we're all here to win the league title.
"The media noise may have affected me slightly, but as a professional I just need to focus on my job and I'll try my best not to be distracted."