Mars probe makes midcourse maneuver
Share - WeChat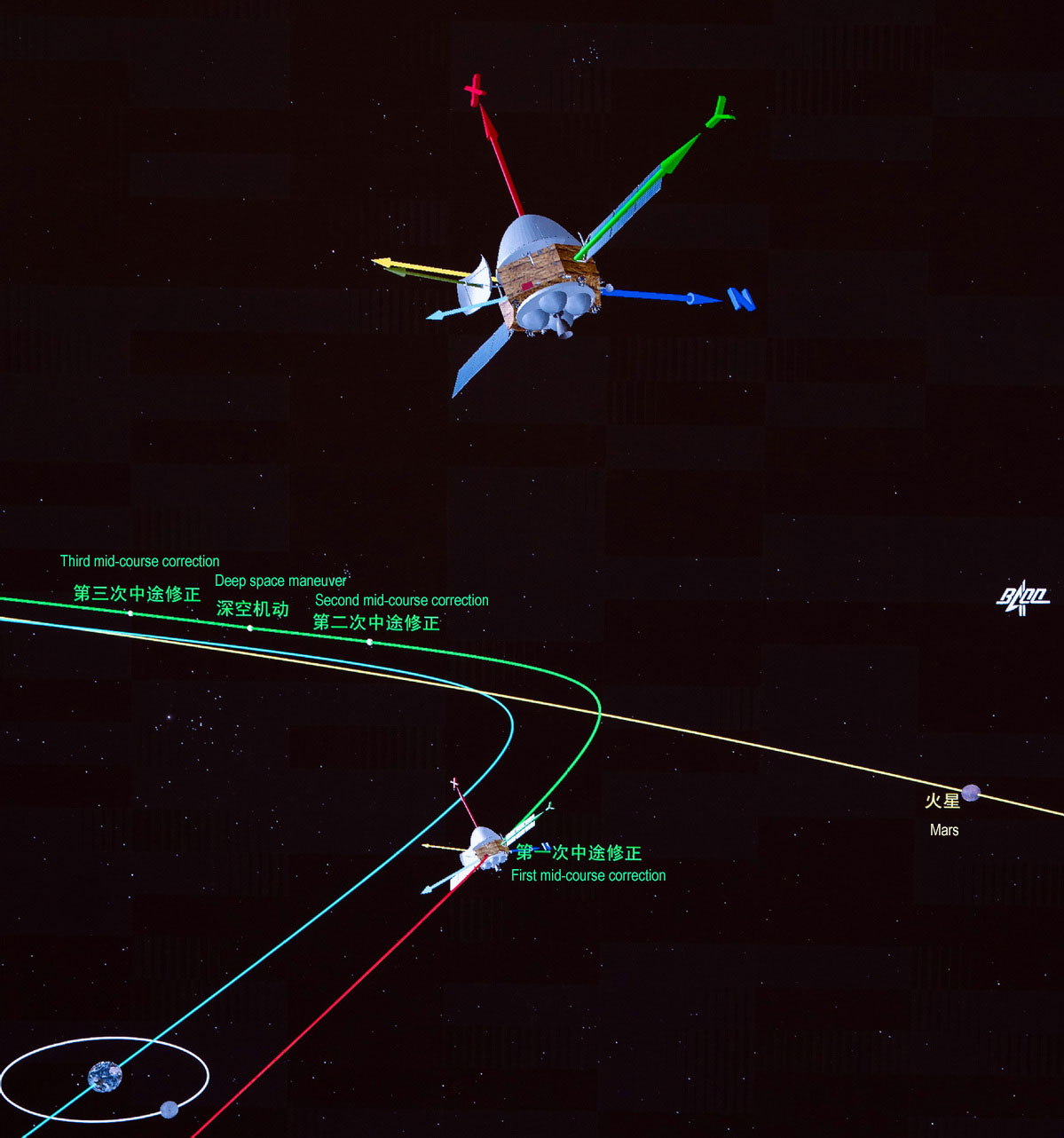 China's Tianwen 1 Mars probe carried out its second midcourse correction maneuver on Sunday night, according to the China National Space Administration.
The robotic spacecraft ran its four 120-Newton thrusters for 20 seconds at around 11 pm after receiving control signals from its ground controllers, the administration said in a statement on Monday morning.
By Monday morning, Tianwen 1 had traveled 160 million kilometers in an Earth-Mars transfer trajectory toward the red planet and was nearly 19 million km from Earth, it added.
China launched Tianwen 1, the country's first independent Mars mission, on July 23 at the Wenchang Space Launch Center in Hainan province, opening the nation's planetary exploration program.
On July 27, the probe sent back a photo of Earth and the moon, which was taken by its optical navigation sensor when it was about 1.2 million km from Earth. The photo was the only image from the spacecraft that has so far been made public.
The probe made its first midcourse correction on Aug 2 when it was about 3 million km from Earth. Next, it will conduct three more midcourse corrections and one deep-space maneuver to ensure it is precisely aimed at Mars.
If everything goes according to schedule, the 5-metric-ton Tianwen 1, which consists of an orbiter and the landing capsule, will travel more than 470 million km before being captured by the Martian gravitational field in February.
The mission's ultimate goal is to land a rover around May 2021 on the southern part of Mars' Utopia Planitia-a large plain within Utopia, the largest recognized impact basin on Mars and in the solar system-to make scientific surveys, the space administration said.
In another development, China launched its latest oceanographic research satellite, the HY-2C, on a Long March 4B carrier rocket from the Jiuquan Satellite Launch Center in the Gobi Desert on Monday afternoon, the administration said.
Developed by the China Academy of Space Technology in Beijing, HY-2C is the third in the HY-2 series marine satellite fleet, and, like its two predecessors, is tasked with studying the marine dynamic environment.
In 2021, the next satellite in the series, HY-2D, will be launched to join those already in orbit to form a network monitoring the marine dynamic environment around the clock, according to the administration.