Oscar gunning for more SIPG glory
Share - WeChat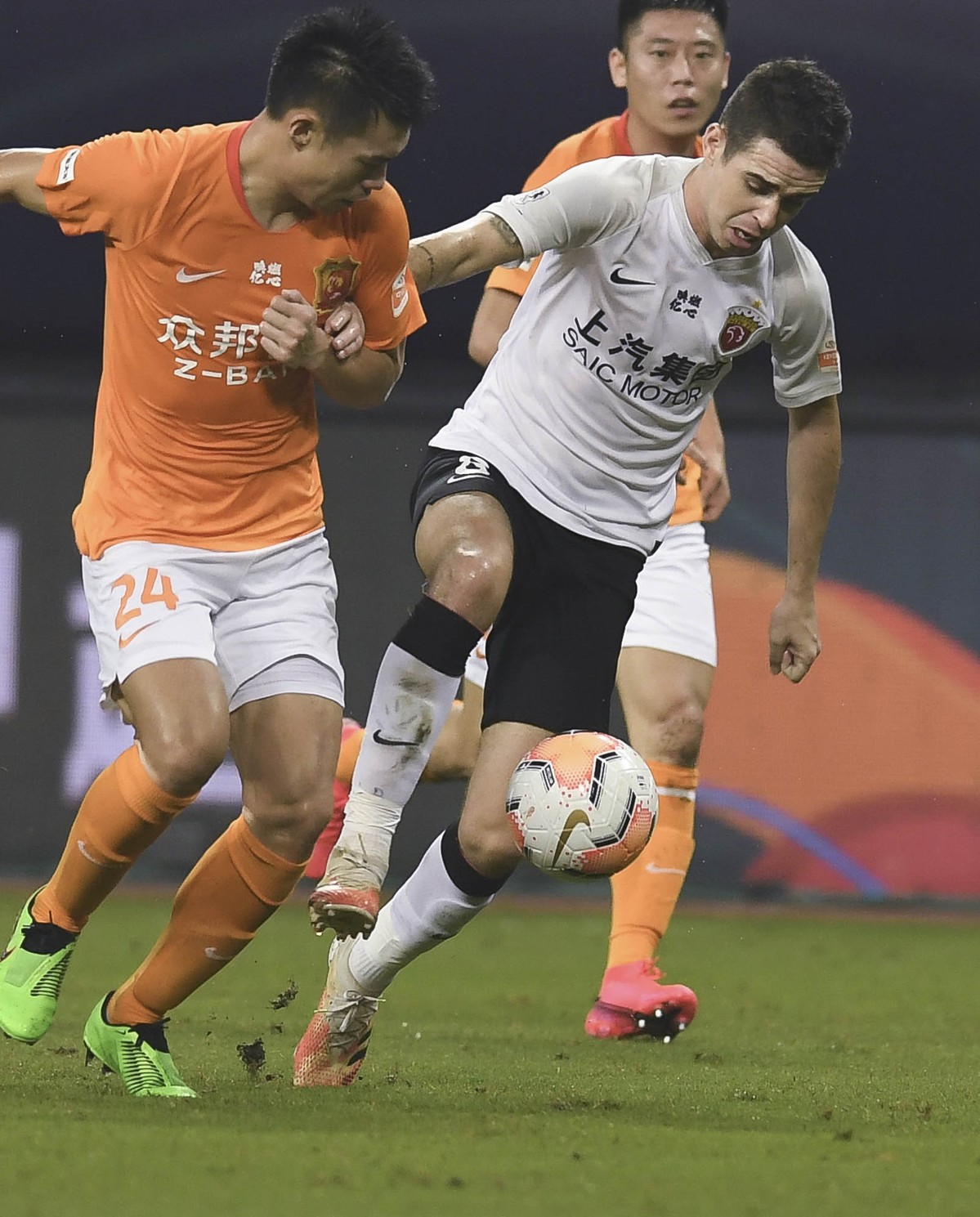 Brazilian star Oscar is desperate to get his hands on the Chinese Super League trophy again following Shanghai SIPG's impressive group-stage campaign this season.
With three games left, SIPG is on course to qualify for the knockout stage as Group B winner and looks like the strongest candidate to challenge defending champion and Group A leader Guangzhou Evergrande for the title.
"This year I still hope Shanghai SIPG can win the league title. I have played for SIPG for many years, and I want to win more honors for Shanghai and make more contributions," Oscar said through an interpreter in an interview with the CSL last weekend.
"This year has been tough, and now things are getting back on track. I hope our team can train hard and play well in each game to win."
After being postponed by the COVID-19 pandemic, this year's CSL is being contested in a tournament-style format, with Group A based in Dalian, Liaoning province, and Group B playing in Suzhou, Jiangsu province.
SIPG's only slip-ups so far have been a defeat to Hebei China Fortune and draws with Qingdao Huanghai and Shijiazhuang Ever Bright to leave Oscar's side leading Group B with a 26-point total, four ahead of second-place Beijing Guo'an.
As expected, Evergrande has been dominant in Dalian and boasts a 28-point tally. The second stage of the season will start on Oct 16, with the top four teams in each first-phase group moving into a Final A section to determine the eventual league champion and top-eight rankings. The bottom four squads in each group will fall into the Final B section to fight against relegation. Knockout games will be contested over two legs.
"So far this season we've lost only one game," said Oscar. "From the opening match, we've been showing great momentum… our goal is clear: Win the league title. So we have been paying attention to what's going on in Dalian.
"I think there are many strong teams this season, and there are many potential rivals. Currently, our goal is to enter the second phase as the top-ranked team in the Suzhou group and prepare for the knockout-stage matches."
SIPG head coach Vitor Pereira reckons the busy match schedule and hot weather in the host cities has taken a heavy physical toll on players.
"Many teams' core players are facing injuries and that's tough to cope with for clubs," said the Portuguese. "Everyone should be ready to fight for the team."
Oscar insists spirits remain high in SIPG's squad, with the former English Premier League star singling out the team's medical and fitness staff for special praise, saying: "They've helped us to recover as soon as possible after games."
Oscar arrived at SIPG from Chelsea in 2017 for a reported 60 million euros ($71 million). The playmaker has proved to be worth the hefty investment, helping SIPG win its first CSL crown in 2018 and becoming an indispensable creative force for the club-so much so that Chinese publication Soccer News has accused SIPG of "relying too much "on the Brazilian.
After signing a new three-year contract until 2024 earlier this year, Oscar is hoping to produce plenty more career highlights in the red of SIPG.
"Indeed, there were many teams contacting me hoping I would return to Europe," said Oscar. "But I think I'm still producing good performances in the CSL and I'm having a great time playing here. My teammates are good to me and my family is enjoying a good life in Shanghai. I'm used to life in China."
Beyond 2024, the 29-year-old is unsure what his next move will be.
"When you are in your 20s, you are considered an energetic young man, but when you reach 30, people think of you as 'old'," Oscar said.
"When the deal's over, I will have been in China for seven years. My decision at that time will depend on my condition... if my performances are not up to my current standard, I will consider leaving."