A lasting legacy of ancient wisdom
By Wang Kaihao | China Daily | Updated: 2020-09-24 08:00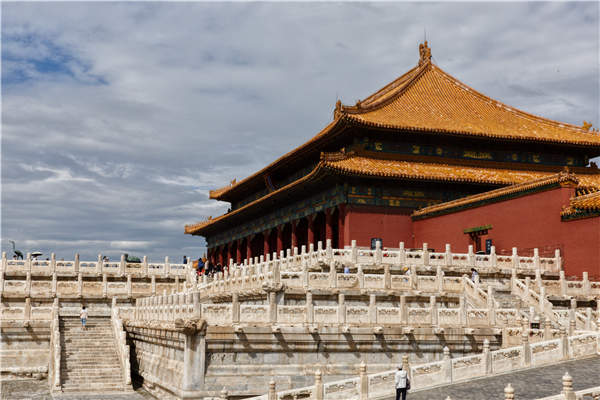 The complex was completed in 1420, after about 10 years of preparation and a massive three-year construction. The capital was officially relocated the next year.
"An amazing feature of the Forbidden City is that it rigidly follows certain formats no matter how times changed," Zhao says.
"This reflects traditional Chinese thought that emphasizes rituals and the harmony between humans and the heavens."
The Forbidden City was built following rules inherited throughout Chinese history.
As the exhibition shows, Kaogong Ji (Book of Diverse Crafts), a Spring and Autumn Period (770-476 BC) publication about craftsmanship, included in the fundamental Chinese classic on the rituals of organizational theory, Rites of Zhou, spells out the basics for palace construction.
It regulates a symmetrical layout for capital cities, which should be centered by a palace with a north-south axis.
The historical areas of today's Beijing, including the Forbidden City, precisely echo the rule.
"Finally, this ideal plan, which has been referred to for 2,000 years, reached its zenith when it was perfectly practiced in Beijing," Zhao says. Rites are represented through architectural details.
For example, only the Hall of Supreme Harmony (Taihe Dian), the palace's highest-status building, where the most important ceremonies took place, can have 10 deified creatures as ornaments on the roof.
The fewer the roof ornaments, the lower the building's rank.
And the hall also has 11 "rooms "on its facade, the most in the complex. (In ancient Chinese architecture, a "room", or jian, refers to a quadrangular indoor space between four pillars.)
The shape of the roof is another key indicator of a building's status. For example, Taihe Dian's roof adopts a pattern called chongyan wudian-a double-eave hip roof with curved and protruding edges-the design exclusively reserved for the highest-level structures.
In 1734, Qing Dynasty (1644-1911) Emperor Yongzheng released official guidelines for palace-construction formats. The more than 2,700 page book comprehensively regulated architectural criteria like pillar sizes and rooftop decor, which Zhao says is a benchmark of integrating rites with Chinese architecture.
Beijing's Forbidden City has two older cousins.