A lasting legacy of ancient wisdom
By Wang Kaihao | China Daily | Updated: 2020-09-24 08:00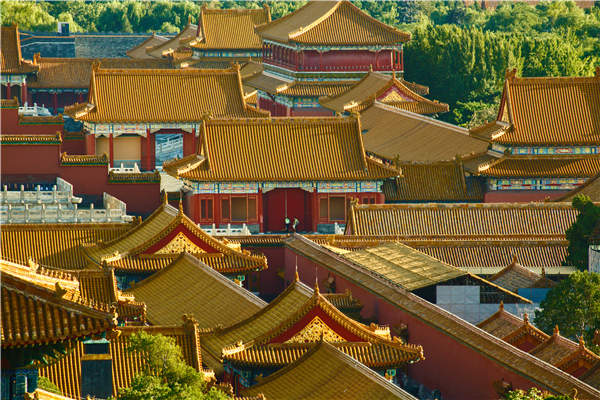 When Zhu Yuanzhang established the Ming empire, the ambitious emperor initially located the imperial city in his hometown in today's Fengyang county, Anhui province. But construction on the grand complex stopped abruptly for unknown reasons. He decided to instead build an imperial city in Nanjing.
Both imperial cities are in ruins but still offer some key findings, such as stone rails and tiles in the Meridian Gate Galleries, which indicate what the earliest architecture of the Forbidden City may have also looked like.
"Although the Forbidden City's basic layout remained the same, it was constantly being rebuilt and renovated throughout its imperial years," Palace Museum architecture researcher Zhang Jie says.
For example, the Hall of Supreme Harmony was swallowed by flame less than a year after its completion. It was rebuilt several times throughout history. The current hall was built in 1695, during the reign of Emperor Kangxi (1654-1722).
Before the invention of the lightning rod, the only way to combat the heaven-sent strikes was with prayers.
Among the roof ornaments, a thunder god is unique to Taihe Dian. Such an ornament is also exhibited for people to examine more closely.
Ancient artisans knew that more practical fire controls were needed. Firewalls have stood by the two wings of today's Taihe Dian since the 1695 rebuild. An exhibited Ming painting shows there were previously two wooden corridors.
"We've seen many references in paintings that indicate buildings' original appearances," says Di Yajing, deputy director of the museum's department of architectural heritage.
"However, we need further investigation, archaeological research and the study of documents to see if these paintings accurately match historical facts."
Some folk legends say Li Zicheng, a rebel leader, burned down the entire Forbidden City in 1644, marking the fall of the Ming Dynasty.
This has led many among the general public to believe that most key structures were rebuilt during the Qing Dynasty, but academic research indicates the opposite.
"The wooden frames of many Ming buildings are still very well preserved," Di says.
"And some buildings have Ming foundations but Qing roofs. It's difficult to judge which dynasty a building is from. Periodization is a complex procedure that needs detailed research of the beams, styles of colored decorations and building materials."
No matter how their ancestors' rules were passed down, it's understandable that successive emperors desired to decorate their new home.