A lasting legacy of ancient wisdom
By Wang Kaihao | China Daily | Updated: 2020-09-24 08:00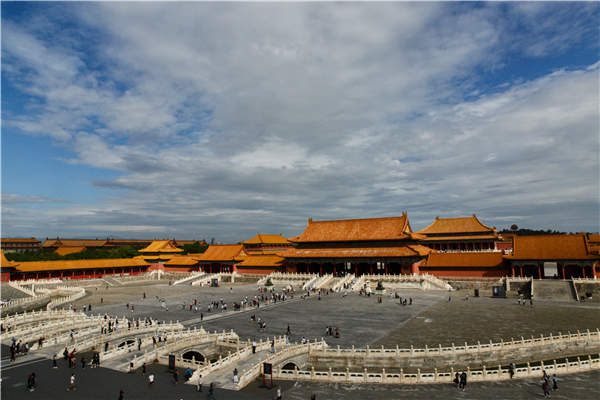 "Ming emperors preferred simple but grandiose appearances. So, buildings were larger then. But their Qing counterparts preferred more exquisite aesthetics," Di says.
Sometimes they had to, as it could be difficult to find giant pieces of timber from precious trees during the renovations. But they also wished to demonstrate their wealth and regal status through state-of-the-art craftsmanship.
Emperor Qianlong (1711-99), who adored fine arts, pushed the trend to a peak. In 1776, he ordered the construction of the Palace of Tranquil Longevity (Ningshou Gong) as a potential resort for when he'd retire. Its garden became a trove of exceptional interior decorations.
A displayed lacquered gauze that was once set on a window enables visitors to glimpse its extravagance, as the garden has never been opened to the public.
The silk piece also mixes papercuts, gilding, dyeing and lacquering, which means it required extraordinary cooperation among several artisans. The 12-layer gauze is as thin as a sheet of paper.
"We've tried to duplicate it but failed, despite today's advanced manufacturing," Di says. "This lost technique reminds us to take good care of our cultural heritage."
A comprehensive renovation of key buildings in the complex has been underway since 2002.
Although it was originally planned to be finished for this milestone anniversary, architectural experts ultimately decided to slow down and ensure they were acting in a responsible manner and respecting the history.
Everlasting splendor, it seems, may refer to not only physical structures, but also the desire of those working hard to maintain the legacy of our ancestors.